You have /5 articles left.
Sign up for a free account or log in.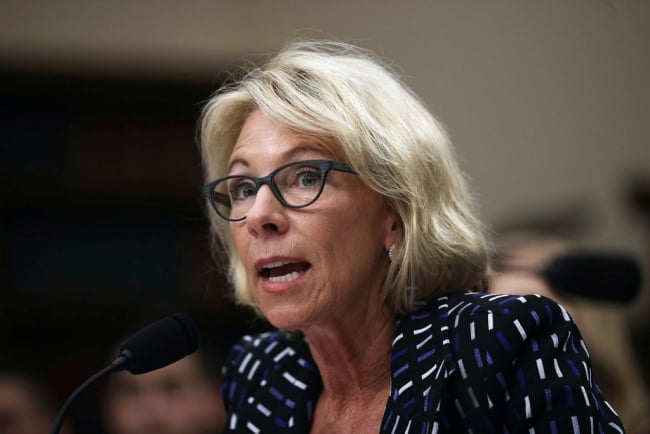 More than 2,000 career education programs serving over half a million students risked losing access to Title IV federal student aid under the Obama administration's gainful-employment rule.
Those programs look to be in the clear after Education Secretary Betsy DeVos said Friday she plans to rescind the regulation.
The move, which was widely expected and reported weeks earlier, is the latest step by DeVos to roll back Obama era student loan regulations that largely targeted the for-profit college sector. The announcement also made clear the Education Department's new preference for consumer information in place of accountability rules that could trigger the loss of access to federal aid for programs that perform poorly on federal standards.
Rescinding the rule, the department estimates, will mean an additional $5.3 billion over 10 years goes to programs, most of them for-profit, that would likely otherwise be cut off from federal funds -- about $4.5 billion of that from Pell Grants and the rest from student loans.
Another recent proposal to overhaul an Obama student loan forgiveness rule would mean $12.7 billion less in debt relief for borrowers over 10 years.
Bob Shireman, a senior fellow at the Century Foundation, said that taken together those steps amount to a "not-so-implicit stamp of approval on predatory colleges, while simultaneously stripping what few protections students have to protect themselves against abuse."
DeVos argues that more information on outcomes for all colleges will function as a better consumer protection. In place of the gainful-employment rule, the department will offer more program-level outcomes data through the College Scorecard -- a long-term goal of Obama officials who launched the consumer information tool. The department may also require that institutions disclose on each program's website information such as completion rates, cost, accreditation status and whether it meets licensure requirements for the state in which it the program is located.
"Students deserve useful and relevant data when making important decisions about their education post-high school," said DeVos in a statement. "That's why instead of targeting schools simply by their tax status, this administration is working to ensure students have transparent, meaningful information about all colleges and all programs. Our new approach will aid students across all sectors of higher education and improve accountability."
The 2014 rule applied to all nondegree programs at public and nonprofit institutions as well as all programs at for-profit colleges. Under the rule, programs would lose federal aid if the typical debt-to-earnings ratio of graduates exceeded a certain threshold in two out of three years. The first complete set of gainful-employment ratings released by the department last year showed about a tenth of career-education programs failed the standards -- the vast majority of them at for-profit institutions.
More than 800 programs failed the standards based on data for 2015 -- the first year the department began collecting information on all students who completed a program. Another 1,200 fell into probationary status.
Cosmetology certificate programs were the most common type of program in either category, followed by associate and certificate programs for medical assistants and certificate programs for massage therapists.
The for-profit sector has long said that the same federal accountability standards should apply to all higher ed programs -- an argument also advanced by many Republican lawmakers, although the gainful-employment regulations could not be applied to non-career-education programs. The House GOP plan to reauthorize the Higher Education Act released last year would have eliminated the rule entirely -- a goal fulfilled by the DeVos proposal.
Steve Gunderson, president and CEO of Career Education Colleges and Universities, the lobby group that represents for-profit institutions, said the department proposal advanced a single standard for measuring program quality.
"Only the most partisan advocates can argue that this proposal does not represent a better outcome for all students across all of higher education," he said. "This could be the most significant consumer protection for all college students in all colleges and all programs. When fully implemented every student and every prospective student in America will know what to expect from the programs they are considering at any college or university."
In justifying its decision to rescind the rule, the department argued that research undermined the validity of the debt-to-earnings metrics used for the gainful-employment standards and that disclosure requirements for institutions were overly burdensome. And it said that shifts in the economy or even small changes in interest rates could move many programs from passing to failing the standards.
The department also echoed claims frequently offered by the for-profit sector that denying funds to low-performing programs would deny access to higher ed to low-income students, women and minorities. Consumer advocates flatly rejected those arguments.
"As an attorney who works with low-income student borrowers, primarily women and people of color, I could not disagree more strongly," said Abby Shafroth, an attorney with the National Consumer Law Center's Student Loan Borrower Assistance Project. "Students don't need access to more failing schools; they need a student loan system that doesn't set them up to fail."
Reception to the decision in Congress was predictably split along party lines. Democrats on the House and Senate education committees blasted the decision. Washington senator Patty Murray, the ranking Democrat on the Senate education committee, said dropping the rule is "further proof that there is no line Secretary DeVos won't cross to pad the pockets of for-profit colleges -- even leaving students and taxpayers to foot the bill."
Senator Lamar Alexander, a Tennessee Republican and the chairman of the education committee, said dropping the rule would give Congress a chance to shape accountability for higher ed institutions through the next update to the Higher Education Act, indicating that his preference would be a measure based on loan-repayment rates.
"Secretary DeVos's regulation proposes to end a clumsy rule that consumed 945 pages to define two words in the higher education law and targeted just one segment of our 6,000 colleges and universities," he said in a statement. "This reset gives Congress an opportunity to create a more effective measure of accountability for student debt and quality of institutions."