You have /5 articles left.
Sign up for a free account or log in.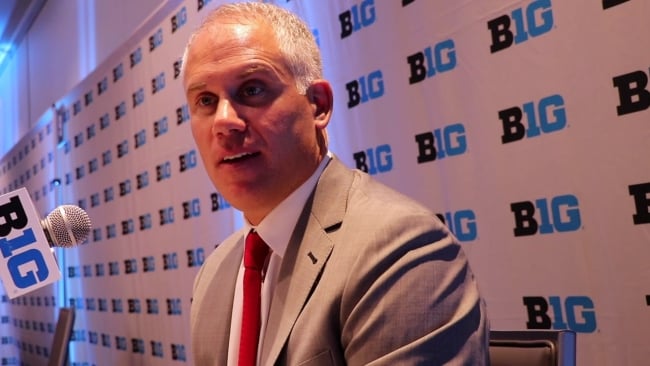 Four years ago, the University of Maryland at College Park officially joined the NCAA's prestigious and affluent Big Ten Conference, departing from its place in the Atlantic Coast Conference.
With the move came criticism that the institution was alienating its fan base by leaving behind a tradition-rich relationship with the ACC. Supporters were worried that the programs that would generate the most revenue -- men's basketball and football -- would struggle competitively. That in turn created concerns among faculty members and that coaches would feel intense pressure to do whatever was needed to succeed. 
Today, Maryland is the subject of a scandal alleging that coaches were exceptionally abusive toward players -- stemming, perhaps, from that need to win, experts said in interviews with Inside Higher Ed.
ESPN detailed in a report Friday a "toxic" environment for Maryland football players, in which they would have small weights hurled at them and were verbally put down. In one case, a player said he vomited after the coaching staff forced him to overeat.
Most troubling in the ESPN reporting were details of a football player's death in June, reportedly from heatstroke after a team workout in which his temperature reached at least 106 degrees. The outlet attempted to interview head football coach, DJ Durkin, and three other coaching staffers who were at the heart of the accusations, but were unsuccessful. 
"After the guy died a few months ago, you would think the university administration would be all over this damn program and making sure this never happened again," said Andrew Zimbalist, a sports economist and professor at Smith College. "To me, that is a really damning outcome -- that this has continued, and that the coaches have been able to get away with this. It's like turning Bill Cosby loose at a nightclub. You just shouldn't do it."
Details leaked out in the Maryland case before the university acted. The institution kept Durkin, Rick Court, the football team's strength and conditioning coach, athletics trainer Wes Robinson and Steve Nordwall, an assistant athletics director, in their jobs until the ESPN story aired the issues.
ESPN, citing current and former players and employees, some anonymously, reported that Durkin and Court were particularly demeaning and would often verbally abuse players. One former staffer recalled Court knocking a plate of food out of a player's hands as the player was rushing from a meal to get to a team meeting. Once an injured player was forced to do a tug-of-war competition with the entire defensive back unit until he passed out.
A former offensive lineman who was struggling with his weight was forced to eat candy bars as a form of humiliation and told ESPN that the coaching staff made him eat plates of food in front of them, sometimes until he vomited.
ESPN also described the death of Jordan McNair, the 19-year-old, 6-foot, 4-inch, 325-pound redshirt freshman who died after collapsing at a practice May 29. After sprint workouts, McNair was unable to control his breath, which led to a seizure, various news media reported. He died in the hospital 15 days later, on June 13.
Though Maryland is perhaps the most severe case in recent history of an alleged abusive culture, there are many more examples -- even within the Big Ten. Most prominently, Mike Rice, the former head men's basketball coach at Rutgers University, was fired in 2013 after a video of him surfaced calling players "faggots" and throwing basketballs at them. In February, the fiery men's basketball coach at Colorado State University, Larry Eustachy, resigned after the institution started investigating the program's "climate." The former athletics director had recommended Eustachy be fired several years prior to that, but the university president at the time overruled him, despite an investigation that found that Eustachy had emotionally abused his players and assistant coaches.
At Maryland, the investigation into McNair's death started with the help of an outside consultant, but ESPN reported that interviews with players were brief and conducted near Durkin's office. It was easy for him, then, to figure out who had signed up to speak with the lawyer Maryland hired, even though the interviews were supposed to be anonymous.
Even if an athlete dies, it is unusual to put staffers on leave, and so Maryland was not outside the norm for not immediately doing so with Durkin, said Christian Dennie, a lawyer and partner at the Texas-based Barlow Garsek and Simon, who specializes in sports law cases. Only when there is the potential for liability would someone be placed on leave, Dennie said.
"Or in the alternative, you are attempting to remove someone influential from being influential over other people in the investigation -- trying to separate them to get the true and honest facts of the case," Dennie said.
Maryland likely did not suspend or fire Durkin outright after the ESPN story because it did not want to give the appearance of being unfair to him, Michael McCann, director of the Sports and Entertainment Law Institute at the University of New Hampshire, noted in a Sports Illustrated column. In case the institution eventually did terminate Durkin, administrators would not want him to say that they did so unlawfully, McCann wrote. Firing him without cause would also cost the university a lot of money, McCann indicated.
Durkin's type of behavior is not isolated, though it certainly is extreme, said Kenneth L. Shropshire, chief executive of the Global Sport Institute at Arizona State University. He said that even back in the early 1970s, when he was a football player at Stanford University, coaches would curse and use inappropriate language to the team -- a model of intimidation and dominance, testing players' masculinity, seems to be the norm, Shropshire said.
Durkin was hired away from the University of Michigan, where he worked as the defensive coordinator under Jim Harbaugh. Durkin also worked with Urban Meyer at Ohio State University. Meyer was also recently put on leave while the university investigates allegations that one of Meyer's former assistant coaches, Zach Smith, abused his wife, and that Meyer potentially knew about it. Durkin has reportedly tried to put his stamp on the Maryland program and deliberately tried to schedule practices during some of the hottest days, news media have reported.
Maryland's athletics director, Damon Evans, is also relatively new in his position -- and was a controversial pick. Before he left his job as athletics director at University of Georgia in 2010, he was arrested for drunk driving and told police, "I am not trying to bribe you, but I am the athletic director of the University of Georgia."
The coaches at Maryland were likely pressured to win because of the institution's fairly recent entry into the Big Ten, Smith College's Zimbalist said. While theoretically the Big Ten's TV contracts would yield Maryland more money, if the football team constantly loses games to powerhouses in the conference such as Ohio State University and the University of Michigan, fans and donors would be turned off, he said.
Creating a credible team would ensure the coaches stayed longer, and eventually likely lead to a better offer from another institution, Zimbalist said.
"Overwhelmingly, there are incentives to win," he said. "I think that's what's going on."