You have /5 articles left.
Sign up for a free account or log in.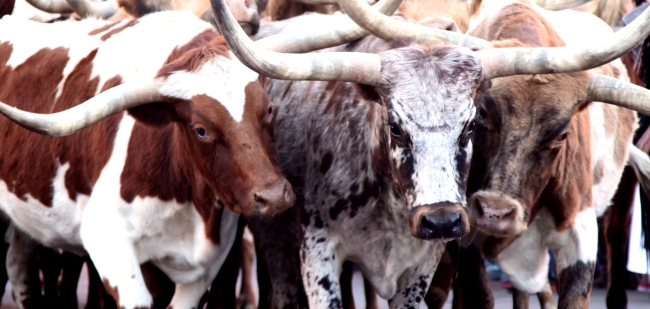 Texas needs more large-animal veterinarians. The state is home to over 12 million cattle with fewer than 200 veterinarians to tend to them.
Texas A&M University and Texas Tech University have both stepped up, announcing plans to expand existing or develop new veterinary programs in Amarillo, a city in the northwestern part of Texas referred to as the Panhandle. Both universities have trumpeted their commitment to the agriculture industry, but any well-intentioned effort to help Texas farmers has been colored by a political showdown between the two universities.
The veterinary arms race began in 2009, when the Texas Higher Education Coordinating Board released a report that encouraged Texas A&M to expand enrollment at its highly competitive veterinary school to address the statewide shortage of veterinarians who tend to cattle, pigs, sheep, horses and other large animals (in Texas, as elsewhere, the trend is for veterinarians to focus on dogs and cats in the suburbs, a specialty that leads to a comfortable life for many animal doctors). At that time, the coordinating board did not recommend the creation of a new veterinary school. In 2016, the coordinating board released another report reiterating the 2009 findings with a renewed urgency, but still did not go so far as to recommend a new veterinary college.
Instead, the coordinating board recommended funding for a loan-forgiveness program that places graduates in rural counties with veterinary "shortage situations" and the creation of a four-year undergraduate program for veterinary science. The board also said that it would consider "a proposal designed to specifically produce large-animal veterinarians."
Jockeying to provide such a proposal, Texas A&M and Texas Tech announced their veterinary college plans on the same day in March. Texas A&M has had the state's only veterinary school at its main campus in College Station, but Texas Tech hopes to give the university a run for its money.
Texas A&M plans to construct a $22.8 million building for veterinary education at the West Texas A&M campus, located in Amarillo, as part of almost $90 million earmarked for "new commitments to the state agriculture industry." Students enrolled in Texas A&M's veterinary program will be able to take courses, participate in externships and conduct research at the new Veterinary Education, Research & Outreach (VERO) Center, which is expected to be completed in 2020.
The city of Amarillo revealed Tech's plans when it announced that the city council had approved $69 million for a brand-new veterinary school at the Texas Tech University Health Sciences Center, where the pharmacy and medical schools are currently located. The two new veterinary school buildings will cost $89.82 million, with an additional five-year operating budget of $82.29 million. According to an article by the Journal of the American Veterinary Medical Association, the Amarillo city council offered Texas Tech a $15 million sales tax rebate if it began construction on the new college by September 2018 and opened before 2022, but the project has been put on pause several times since its approval by the city, and the exact timeline for completion is yet to be determined.
Supporters of the Texas Tech project were surprised and concerned when, last week, Robert Duncan, chancellor of the Texas Tech University System and longtime champion of the new veterinary school, unexpectedly announced his retirement, effective Aug. 31.
His announcement didn't reference debates about the veterinary schools, but it is highly unusual for system chancellors to step down with only a few weeks' notice.
Multiple media sources cited tensions over the veterinary college among the Texas Tech Board of Regents as a potential reason for Duncan's departure. A source "familiar with the matter but not authorized to speak publicly" told the Austin American-Statesman that five out of nine regents wanted Duncan to retire, and four wanted him to stay.
Regardless of rumored intraboard turmoil, the veterinary school project will move forward as planned. In a press release issued Wednesday, the Texas Tech University System announced that the board voted unanimously during its meeting the week prior to approve the stage-one budget of $1.37 million to provide planning and design services for the facilities.
John Sharp, chancellor of the Texas A&M University System, has publicly criticized Texas Tech's veterinary college plans.
"Texas does not need another veterinarian school to train rural veterinarians. Texas needs to find a way for more rural veterinarians to make a living," he wrote in an op-ed in June. Of the 116 students who graduated from Texas A&M's veterinary program in 2018, 33 of them work in rural Texas.
Sharp argued that the new school would duplicate the services that A&M already provides and would ultimately waste taxpayer dollars. He was also pointed about the timing of Texas Tech's announcement.
"In 2015, we talked to Texas Tech about [the expansion plan]. Texas Tech Chancellor Robert Duncan asked me to make Tech one of the schools. But since West Texas A&M was only a short distance away from Tech, it was not cost effective," Sharp wrote. "Duncan announced his veterinary school plans days later, knowing we were a week away from announcing the five-school collaboration, which we had been planning for more than two years."
Sharp concluded by saying, "If there is some kind of rivalry between Tech and A&M, somebody forgot to tell us."
Chris Copeland, executive director of the Texas Veterinary Medical Association, said the association is "very supportive" of A&M's expansion plans and has faith in the university's already established program. For Copeland, Texas Tech's new school is more of a gamble.
"Without having actually opened a school and tried this, it's really hard to say [how it will go]," he said. "What A&M is trying, it's not 100 percent clear whether that will be the model that works or not, either, but A&M has already has a jump on it."
Addressing the veterinarian shortage will not be an easy feat. Many of the working veterinarians in Texas are from out of state; transplants outnumber Texas A&M graduates three to one. While the majority of A&M graduates stay in the state, coaxing them to rural towns can be difficult.
"For a kid who grew up in an urban area like Houston, getting them to move to the Panhandle, that can be jarring," Copeland said. "Somebody who is from that [rural] background, who grew up in that background, is more likely to assimilate to that area and stay there."
Gender is another factor.
"We've seen a shift in the gender of the profession," Copeland said. "Years ago … when the male in the family was the veterinarian and was interested in working in a rural community, many times the spouse would go along with him."
It's not that women are uninterested in working with large animals, but rural communities often lack job opportunities for the rest of their families.
"If they want to go work in a rural area, it's likely that their spouse is also a breadwinner, and the likelihood that he is going to get a job in that area is low," Copeland said. "You've got to find positions for two people, not just one. It's certainly easier for the other spouse to get a job in a big city like Houston."