You have /5 articles left.
Sign up for a free account or log in.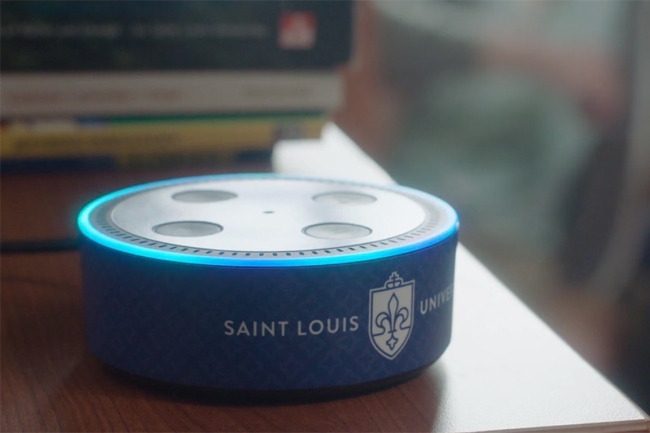 All students moving into residence halls at Saint Louis University this week will find a corner of their desks already taken up by a new roommate. Her name is Alexa.
Housed in a SLU-branded Amazon Echo Dot, Alexa is the anthropomorphic personal assistant every 21st-century student needs, or so says David Hakanson, chief innovation officer at SLU.
SLU purchased 2,300 Echo Dots from Amazon to put in students' dorm rooms.
The devices are preloaded with an Alexa voice app or skill, called "SLU", which enables students to easily access information about what's going on on-campus. Alexa can currently answer around 130 campus-related questions, and more questions and answers will be added at students' request, said Hakanson. The SLU skill was developed with n-Powered -- an ed-tech company spun out of Northeastern University.
The Echo Dots were purchased using money from SLU's IT equipment budget. Hakanson confirmed that the devices, currently priced at $39.99, were purchased at a discount, but he would not say by how much. An Amazon spokeswoman declined to discuss specific customer accounts and pricing.
It would be easy to dismiss SLU's Echo Dot purchase as a marketing gimmick -- a cool new toy for students that's cheaper for institutions to provide than an iPad or laptop. But Hakanson says that SLU's decision to invest in the Alexa devices and develop the SLU skill is part of an institutional strategy to help students feel more connected to the university and get engaged in campus life quickly. Time spent searching online to figure out when the library opens, or how to get to the registrar's office, is time wasted, said Hakanson. Why not just ask Alexa instead?
This immediate access to information could be game-changing, says Hakanson. He thinks voice-activated technology will play an important role in higher ed and help students, faculty members and staff to increase their productivity.
For now, the virtual personal assistants at SLU can't get that personal with students. Students can't link their personal Amazon accounts to the Echo Dots, and the devices are managed centrally by SLU through an Alexa for Business account.
Putting devices in students' bedrooms does raise privacy concerns, Hakanson said. That's why students' personal information is not linked to the Echo Dots, and the SLU skill can only give out publicly available information.
Hakanson added that SLU cannot access transcripts of conversations recorded by Alexa and has "no visibility" into the data collected by the Echo devices, apart from the usage analytics that Amazon Web Services provides to administrators, indicating, for example, how popular the SLU skill is with students relative to other skills.
In the future, Hakanson would like students to be able to access personalized information, such as their GPA or class schedule, but university administrators "did not feel it was the right time" to take that step because of concerns that students might be able to access each other's information, he said.
SLU is not the first university to experiment with Alexa devices. Arizona State University placed 1,600 Echo Dots (reportedly donated by Amazon) in a residence hall for engineering students last year. The University of Oklahoma also encouraged students to develop Alexa skills that would be useful to OU students by hosting a hackathon competition. It provided 600 devices to residential students.
Northeastern University has perhaps gone the furthest with Alexa. Working with n-Powered, the start-up spun out of the university earlier this year, Northeastern has developed an Alexa skill called Husky Helper that will be accessible not only to students with Amazon Echo devices but any student with a smartphone later this year.
Somen Saha, formerly director of IT systems at Northeastern, and Joel Evans, an expert mobile developer and entrepreneur, are the joint CEOs and co-founders of n-Powered. They explained that the Alexa skills they developed for universities are available in two versions: a basic version that can provide users with publicly available information about campus life, and a more complex version that can access students' personal data with their permission. SLU offers only the basic "unauthenticated" version for now; Northeastern is introducing both.
To access the more complex, personalized version of the Husky Helper skill, Northeastern students will be required to authenticate their account using their institutional ID and password. They will also have to consent to the Alexa skill accessing their student information or be restricted to the basic version of the skill.
Sophia Cope, a staff attorney at the Electronic Frontier Foundation, a group that campaigns for digital privacy rights, said that universities must obtain this consent to be compliant with FERPA -- a federal law that protects the privacy of student education records -- unless certain exceptions are met. She added that universities "have an obligation to find out what data these devices collect, how the company intends to use that data, and to control data collection and use through the contract."
"Privacy and security is a valid concern and one which universities should be asking questions about," said Saha. He said that n-Powered takes the issue very seriously and has ensured that all data stored on its platform is encrypted.
Saha explained that although the voice-enabled aspect of their product is "cool," they are tackling a bigger problem for universities -- connecting information systems.
"Every university has a problem with multiple systems that don't talk to each other," he said.
Not only does the personalized Alexa skill make it easier for students to find information such as when various school payments are due, or who their academic adviser is, it also makes it easier for administrators to find that information via an institutional platform, said Saha.
Madeleine Estabrook, senior vice provost for student affairs at Northeastern, said students were very receptive to the personalized Husky Helper skill when it was tested earlier this year. "We have very big dreams for this," she said.
Estabrook said that Northeastern wants to be an innovator in voice-controlled technology, not only using it to help students find information but also exploring the role the technology might play in teaching and learning, and even student advising.
"We want to stay at the forefront of the way that learners want to access information," she said.
Like n-Powered, ed-tech companies such as Ellucian have been exploring how voice-controlled devices might be used to access student information. Brian Knotts, senior vice president and chief architect at Ellucian, said many institutions are interested in the technology. He suggested, however, that in areas such as advising, chat bots might be a better choice, not only because there is no risk of one student's voice being mistaken for another, but also because text can be exchanged more privately. Voice-enabled technology is "fun," said Knotts, but not always practical.
"How often are students in private locations to ask questions? They're not going to ask their GPA in front of their roommate."
Knotts is not the only one skeptical about the popularity of voice-controlled technology among students.
Writing in a recent blog post for Inside Higher Ed, Barbara Fister, librarian at Gustavus Adolphus College, said that the technology "makes a lot of sense for people with sight impairments, but for the rest of us? I don't get it."
Fister also raised concerns about privacy. "Inviting Alexa into your bedroom is like inviting a bunch of strangers to sit beside your bed and take notes," she said.
Doug Levin, president of consulting company EdTech Strategies, described the trend of universities giving students Alexa devices as "a terrific idea for Amazon," but "tech theater" for institutions.
"It's a way to seem cutting-edge by outsourcing core services to a gimmick technology which could as easily be offered via a mobile app or web interface -- and without introducing new privacy or security concerns."
More from Tech & Innovation