You have /5 articles left.
Sign up for a free account or log in.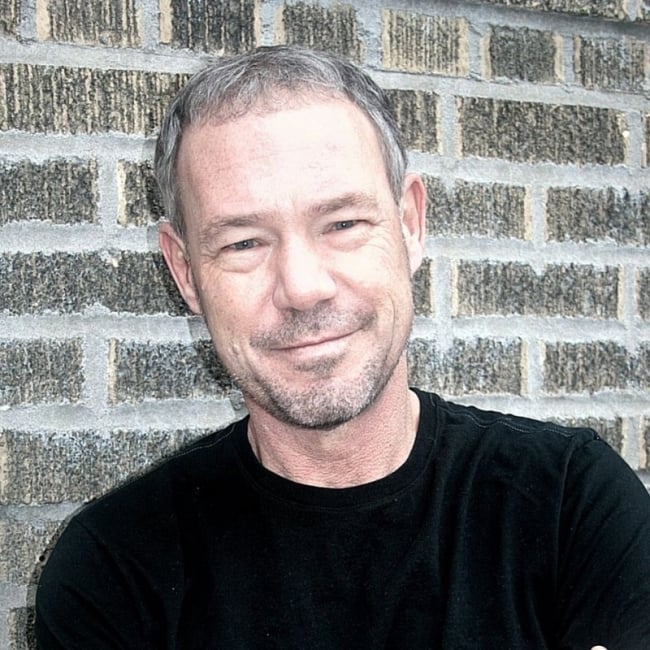 All of your favorite free-speech players -- alt-right vigilantes, First Amendment purists and champions of academic freedom -- have once again gathered to debate the conduct of a professor, this time of Rutgers University history professor James Livingston.
After a visit to the burger joint Harlem Shake in May, Livingston posted to Facebook what he called a satirical critique of gentrification and white privilege in Harlem.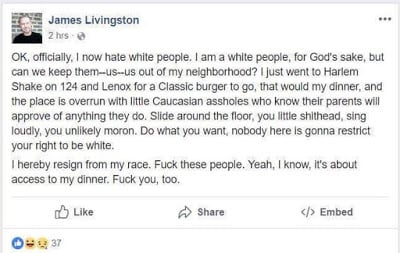 "OK, officially, I now hate white people," Livingston wrote. "I am white people, for God's sake, but can we keep them -- us -- us out of my neighborhood? I just went to Harlem Shake on 124 and Lenox for a Classic burger to go, that would be my dinner, and the place is overrun by little Caucasian assholes who know their parents will approve of anything they do. Slide around the floor, you little shithead, sing loudly, you unlikely moron. Do what you want, nobody here is gonna restrict your right to be white. I hereby resign from my race. Fuck these people. Yeah, I know, it's about my access to dinner. Fuck you, too."
Facebook removed the post, citing a violation of community standards, prompting Livingston to write another.
"I just don't want little Caucasians overrunning my life, as they did last night," he wrote. "Please God, remand them to the suburbs, where they and their parents can colonize every restaurant, all while pretending that the idiotic indulgence of their privilege signifies cosmopolitan -- you know, as in sophisticated 'European' -- commitments."
Right-wing media and Rutgers University didn't find Livingston's satire very funny. Although he says he was making points about gentrification, he was attacked as a racist. His posts quickly bounced around the alt-right corners of the internet, gaining traction on popular sites including The Daily Caller, The Blaze, The College Fix and Fox News. The attention also landed him a spot on Turning Point USA's infamous Professor Watch List.
With the media attention came online harassment and death threats.
"Almost immediately the white supremacists came out of the cyber-woodwork and began sending vile messages -- including a half-dozen death threats -- to my email account and to Facebook," Livingston wrote in a statement. "To date, I've received roughly 200 hate emails, in which my correspondents call me, for example, a '[N-word] lover,' a 'filthy [N-word],' a 'piece of shit,' a 'racist fuckstain,' a 'race traitor,' and so forth."
The Rutgers history department had received at least one death threat, and the university fielded anonymous complaints through the Rutgers Compliance Hotline, prompting an investigation into Livingston's post by Carolyn Dellatore, the associate director of the Office of Employment Equity at Rutgers.
"All the complainants generally described Professor Livingston's statements as 'racist' and demanded action from the university," Dellatore wrote in a memo about her investigation's findings. "For example, one individual wrote, 'I have 2 kids and I would never send them to a university that employs someone that has such a one-way attitude towards race.' Another complainant emailed: 'Racism is evil in all forms even when applied to your own race. His Caucasian students and parents should all be concerned.'"
In July, Dellatore determined that Livingston had violated the university's discrimination and harassment policy.
"Professor Livingston clearly was on notice that his words were offensive, yet instead of clarifying that he meant to comment on gentrification, he chose to make another belligerent barb against whites," Dellatore wrote. "Given Professor Livingston's insistence on making disparaging racial comments, a reasonable student may have concerns that he or she would be stigmatized in his classes because of his or her race. As such, Professor Livingston's comments violated university policy."
Livingston argued to Dellatore that his post was not racist because white people, the racial group that holds the most social capital, cannot be discriminated against. Dellatore wrote that the law says otherwise.
"While Professor Livingston's assertion is frequently espoused in academic circles, applicable federal and state laws do not exclude any race from their protections," she wrote, and included versions of Livingston's posts with "white" and "Caucasian" replaced by other minority labels.
Dory Devlin, a spokesperson for Rutgers, said Wednesday that the "matter remains under review." Rutgers has yet to dole out a punishment to the tenured professor, but university policy says that disciplinary action "up to and including discharge" could be taken against employees who violate the policy.
The Foundation for Individual Rights in Education stands behind Livingston and argues that Rutgers's decision violates Livingston's First Amendment rights and academic freedom. According to Will Creeley, senior vice president of legal and public advocacy at FIRE, the organization is also concerned that Rutgers's response emboldens internet trolls to ruin professors' careers by publicizing personal posts that put pressure on the university.
"Rutgers has effectively subcontracted out its obligations as a public institution under the First Amendment to outraged internet mobs," Creeley said. "The real concern for us is that this is part of a trend, and if would-be internet trolls see that flooding universities with hate mail and being loud online is a successful way to silence faculty members whose views they disagree with, that will be repeated."
In response to Creeley's concerns, Devlin wrote that "Rutgers' position on free speech is clear: 'All of the members of our community, including faculty and staff, are free to express their viewpoints in public forums as private citizens. Yet at Rutgers University we also must foster an environment free from discrimination, as articulated in our policy prohibiting discrimination.'"
Creeley said that he and Livingston are considering their options for legal action.
"We've given Rutgers two weeks to be back in touch, and given the violation of his First Amendment rights, Professor Livingston is keeping his options open," he said.
Livingston did not respond to a request for comment.
Today PEN America, which defends free expression rights, issued a statement denouncing what Rutgers has done in the case as "a wrong-headed approach that threatens free expression on Rutgers' campus."