Protesters with Confederate flags object to removal of statue that many at UNC saw as symbol of white supremacy. They are shouted down by what appears to be larger group of students and others who are glad statue is down.
The saga of Silent Sam continued Saturday as a small group of protesters hoisting Confederate flags gathered at the University of North Carolina at Chapel Hill to protest Monday night's removal of a statue of a Confederate soldier.
There had been seven arrests, according to UNC officials:
Three for assault
Two for assault, destruction of property and inciting a riot
One for destruction of property
One for resisting an officer
At a press conference Saturday afternoon, Chancellor Carol Folt said that about 100 people were at the protest and counter-protest. She said that none of those arrested were affiliated with the university.
Video posted online suggested that the pro-Confederate group was relatively small, and that the group was shouted down by students and others. While some of the interactions were peaceful, scuffles broke out as well.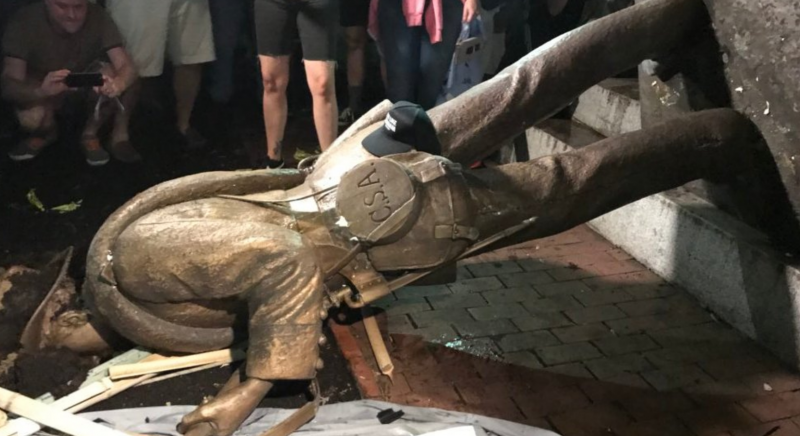 The march followed a protest Monday night in which participants pulled down Silent Sam, a Confederate statue (at right after being pulled down) whose presence has upset many students and faculty members for years. University officials (both at Chapel Hill and in the system) had insisted that they lacked the legal authority to bring down the statue, and many state politicians had urged that it not be moved. But to students and faculty members, the statue has long been associated with white supremacy and the university's former policies of segregation.
The statue has been taken off campus, and UNC officials declined at a briefing for reporters Thursday to say what would happen to it.
UNC released a statement Friday urging students not to attend today's events.
"We respect and believe in the First Amendment, the Campus Free Speech Act and the rights of peaceful protestors," the statement said. "We do not know for sure what groups may attend, but we are mindful that the current atmosphere is highly charged, and protests that begin peacefully do not always remain that way. For this reason, we urge you not to attend. For those who do attend, please know that we will do all we can to protect and keep everyone safe."
Many on campus have been applauding the student protest that took down the statue and contrasting UNC's inaction on the issue with the way Duke University responded a year ago, after the violence in Charlottesville, Va., by removing a statue of Robert E. Lee from the university chapel. Duke recently announced that it would leave empty the spot where the statue of Lee stood, symbolizing the racial problems in American society.
At the same time, UNC leaders have repeatedly since Monday denounced the protest that removed the statue, saying that it was illegal and could have resulted in harm to students or others.
In other developments:
On Friday, campus police issued three arrest warrants in connection with the Monday night protest.
A member of the Board of Governors of the UNC System took to Twitter to vow that Silent Sam would be reinstalled on campus.