You have /5 articles left.
Sign up for a free account or log in.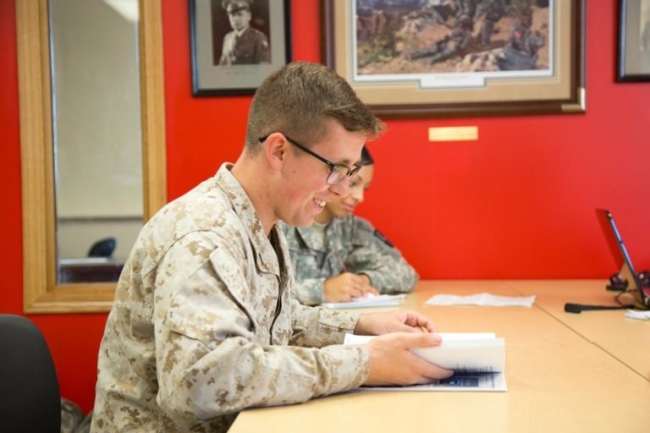 The California agency that certifies colleges to award federal education aid to veterans and service members in the state has in recent weeks suspended the eligibility of colleges from other states -- including three from Missouri that on Wednesday persuaded a judge to temporarily block the agency's actions.
Park University, Webster University and Columbia College were granted a temporary restraining order Wednesday by the San Diego Superior Court to keep the California State Approving Agency for Veterans Education from moving forward with their suspension.
CSAAVE, which determines which colleges are eligible for GI Bill reimbursement in California, has sent suspension letters to several colleges outside the state based on the agency's "new interpretation of federal regulations," according to a statement from the three Missouri institutions. Several institutions from other states have been similarly disqualified in recent weeks.
According to the suspension letters sent to the colleges, CSAAVE based its decision on the perceived inadequacy of the colleges' locations in California. The suspension means that students at those institutions who qualify for the military benefits could see their funding cut off or reduced.
CSAAVE did not respond to requests from Inside Higher Ed for comment about the court order, which gives the agency until Sept. 21 to show why the suspensions should stand. The agency did confirm that a number of institutions have been "operating out of compliance" and received notices that they have 60 days to correct the deficiencies.
In a suspension letter to Park, CSAAVE education administrator Latanaya Johnson wrote, "Park University is not recognized as a main campus or a branch campus by the Higher Learning Commission, but rather as an off-campus instructional site. According to HLC, an off-campus instructional site is operationally dependent on the main campus." HLC accredits all three of the Missouri colleges.
Johnson wrote that the state approving agency may combine approval of courses offered by a college or university's extension location with its approval of the main or branch campus, but only if the extension is located within the same state as the campus it is dependent on.
CSAAVE also suspended the California locations for only offering "individual subject courses, not a complete program of education." The letter to Park, for example, asserts that the university's California locations do not confer a degree, certificate or diploma and that is consistent with HLC's designation for off-campus sites.
CSAAVE required all three institutions to provide evidence disputing the claims in the suspension letters, and according to their lawsuit, each institution's president submitted documents from their accreditor showing they are in compliance with state law.
"Nevertheless, CSAAVE refused to rescind its suspensions, instead citing irrelevant and different sections of the applicable federal rules and regulations," according to the court complaint filed by the colleges.
"We've been unable to understand why they're raising these concerns at this time," said Greg Gunderson, Park's president. "We are unclear what disqualifies us. If it's because the location of our incorporation is Missouri, that's not a problem we've faced anywhere else in the U.S."
Park has had locations in California since 1990 and has campuses on Marine Corps Base Camp Pendleton, Barstow Community College, Fort Irwin National Training Center and Victor Valley College.
Gunderson said the institution has 42 campuses in 22 states and hasn't had this issue with any other state approving agency beside California's.
Impact Elsewhere
Although the three Missouri colleges have received a temporary order blocking the suspension, other colleges around the country have been affected by the California agency's apparent change in policy. Officials at Embry-Riddle Aeronautical University, University of Maryland University College and Central Texas College confirmed they had also received suspension letters.
"We have been providing educational services to active-duty military and veterans around the world since 1947 including in California," Bob Ludwig, assistant vice president for media relations at the University of Maryland University College, said in an email. "Our San Diego education center remains open and we continue to provide advising and other services to our veteran students. We hope to once again offer face-to-face classes when this issue is resolved."
An official from Central Texas College said the institution is currently looking into the issue.
Officials from Embry-Riddle said they have approval and support from the Florida approving agency for veterans' affairs to certify all of their California veterans under a code that would allow those students to receive military housing allowances of about $825 a month -- lower than the "in-person" amounts those students received before the CSAAVE suspension, which ranged from about $1,300 to $3,500 a month.
"The university has appealed CSAAVE's suspension," John Watret, chancellor of Embry-Riddle Worldwide, which has 17 physical locations in California, of which eight are located on military bases, said in an email. "This appeal was submitted in advance of their August 14 deadline and no response has been received. CSAAVE is refusing to speak with Embry-Riddle on the status of our appeal or what specific criteria they use to determine whether an institution is considered in-state."
Watret said the college has about 950 students in California receiving GI Bill benefits, and about 450 receive the monthly housing allotment.
"Students have been notified by CSAAVE that their school is at risk of losing GI Bill approval and the potential impact of such action," said Curt Cashour, press secretary at the federal Veteran Affairs Department, in an email.
Cashour said the VA is working with CSAAVE and the affected colleges to address the situation.