You have /5 articles left.
Sign up for a free account or log in.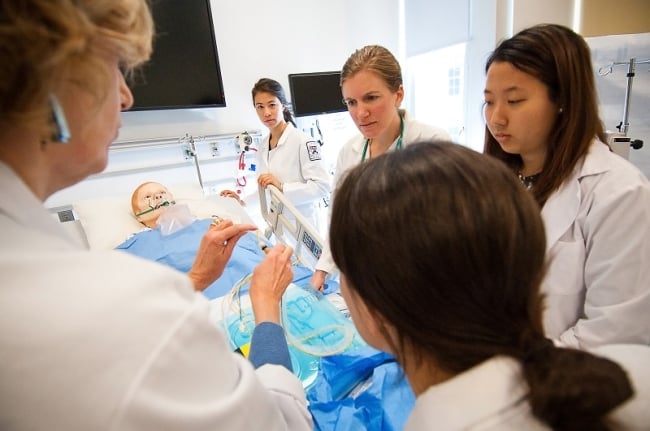 Apprenticeships may be the most effective way to encourage more nurses to pursue bachelor's degrees in nursing, according to a new report released today by New America.
The report examines a unique registered apprenticeship at Fairview Health Services of Minnesota that partners with universities to offer a different pathway for registered nurses to earn their bachelor's degrees.
"There's a really strong professional push" for the bachelor's of science in nursing, said Ivy Love, a policy analyst at the Center on Education and Skills at New America and a co-author of the report. "Even within organizations that work with associate degree programs, ending up with a B.S.N. is something folks can get around."
While there is still some debate over whether the associate or the bachelor's degree should be the entry-level credential into the profession, the Health and Medicine Division of the National Academy of Sciences, formerly the Institute of Medicine, has proposed increasing the population of bachelor's-degreed nurses from 50 percent to 80 percent by 2020. In the U.S., registered nurses can have an associate degree, a bachelor's or a diploma from an accredited hospital-based training program.
A registered apprenticeship in nursing may be a more affordable and flexible option for many nurses as opposed to the traditional registered nurse-to-B.S.N. pathway that universities traditionally offer, Love said.
"Going to school on top of a job that requires an enormous amount of mental, physical and emotional strength, and adding course work on top of that, is very difficult, and that's not counting the cost of tuition," she said. "With an apprenticeship, we're hoping nurses can have a schedule that can incorporate classes toward a degree and on-the-job learning."
Apprenticeships are increasingly being viewed as effective methods of helping people achieve their career goals. Earlier this year the U.S. Department of Labor released a report calling on higher education to embrace apprenticeships as adequate ways to prepare graduates for the work force.
At Fairview, which is Minnesota's fourth-largest employer and the only academic medical center in the state, officials wanted to increase the number of nurses with bachelor's degrees as they pursue "magnet" status for the hospital. The status is a prestigious designation given to hospitals that exemplify the best practices in nursing leadership, patient care and education.
"In Minnesota, only half of the nurses who graduate with prelicensure have a bachelor's degree or higher," said Laura Beeth, vice president of talent acquisition at Fairview. The others have associate degrees, and they're usually nontraditional students and people of color, she said.
"We want to keep our doors open to have this program be for all individuals by being able to continue to take associate-degree nurses we can hire," she said. "We can help them finish that [bachelor's] degree, and it's our intention to mirror our patient population."
Nurses in the apprenticeship program are eligible for the hospital's tuition reimbursement program. They apply and enroll in a B.S.N. program through a university that is open to partnering with the hospital. The program has had about 130 nurses enroll, and so far about 10 have achieved their bachelor's degrees, said Keisha Powell, work-force development operations manager at Fairview.
Beeth said the hospital worked with the Minnesota State Colleges and Universities System, as well as some private institutions such as Rasmussen College, Bethel University and St. Catherine University.
"We found the universities to be very interested in this," she said. "Industry is their main partner, and we need to find multiple ways to help people succeed. We still hire traditional nurses with B.S.N.s and still offer tuition reimbursement and scholarships, but the apprenticeship is there to bundle everything together."
The Fairview apprenticeship is already getting attention elsewhere. Beeth said she's been contacted by work-force and labor officials in Oregon about replicating the program, and she has attended White House summits about expanding apprenticeships to other medical fields.
The apprenticeship doesn't require Fairview nurses to stay employed at the hospitals where they apprenticed. However, if they accepted tuition reimbursement, they are required to work in the health system for a year, Beeth said.
"It's an exciting time, because the apprenticeship model is expanding into fields where it wasn't before," Love said. "Even though registered apprenticeship is not common in nursing, the idea of integrating training on the job and fostering learning is very familiar."