You have /5 articles left.
Sign up for a free account or log in.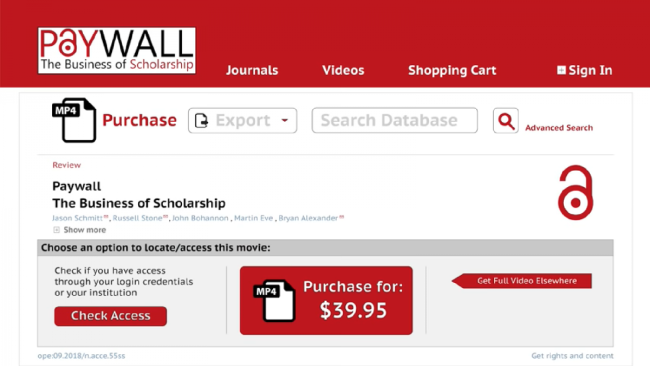 One minute and 58 seconds into Paywall: The Business of Scholarship, a film promoting open-access publishing, a pop-up appears on screen that demands viewers pay $39.95 to watch the rest of the movie.
The interruption is a metaphor for research articles that are locked behind paywalls. These articles published online in scholarly journals always come with a free abstract summarizing their findings, but unless you have a subscription to the journals, a prompt will require you to pay to read the rest.
True to the spirit of openness the movie encourages, the film is, of course, free to watch and registered under an open copyright license that allows anyone to share or adapt the movie however they wish, as long as they give credit to the creators.
"I would be a hypocrite if it wasn't," said director Jason Schmitt, speaking at Paywall's premiere at the Landmark E Street Cinema in Washington Wednesday.
Schmitt is an associate professor of communication and media at Clarkson University in Potsdam, N.Y. He's also a filmmaker and journalist who previously worked in the music industry.
Early on in his film, Schmitt describes how 20 years ago, Forbes predicted that the academic publishing business would be "the internet's first victim." But the academic publishing industry has proven remarkably resilient, he said.
In Schmitt's view, one that is shared by many of the people who appear in his film, the publishing industry has been able to thrive because it has taken advantage of the people who provide its core product -- researchers.
"Publishing is so profitable because the workers don't get paid," says John Adler, a professor of neurosurgery at Stanford University who is featured in the film.
Richard Price, founder and CEO of academic social networking site academia.edu, also appears in the film and notes that publishers have been able to sustain this model because they have made themselves indispensable.
"It's not like the university librarian could say, 'Well, the Elsevier papers are too expensive; we'll just go with Wiley this year.' You kind of need all of them." Publishers, therefore, have the "ability to charge whatever they want, and universities will rarely actually balk," said Price.
Schmitt's film raises some important questions -- how is it possible that big for-profit publishers, such as Elsevier, have fatter profit margins than some of the biggest corporations in the world? Why can't everyone read all publicly funded research for free?
Discussion of these questions in the film is undoubtedly one-sided. Of around 70 people featured in the film, just a handful work for publishers with subscription journals such as Springer-Nature or the American Association for the Advancement of Science -- and they don't get much screen time. There is also no representative from Elsevier, despite the publisher being the focus of much criticism in the film. This was not for lack of trying, said Schmitt. "I offered Elsevier a five-minute section of the film that they could have full creative control over," he said. "They turned me down."
Schmitt said he made Paywall not for academics and scholars but for the general public. He wants people to understand how scholarly publishing works, and why they should care that they can't access research paid for with their tax dollars.
The film could be interpreted as a response to the growing ire of academics and librarians against big publishers. Several academic libraries, already facing tight budgets, have threatened to cancel their bundled-journal subscription deals with big publishers in recent years.
The film is also a reflection of the growing power of the open-access movement, which is no longer just the domain of die-hard advocates. It's also a central focus of politicians, policy makers and research funders -- particularly in Europe, which earlier this month unveiled "Plan S" -- an initiative to push E.U.-funded researchers to publish only in fully open-access journals.
Tom Callaway, a university outreach leader for open-source software company Red Hat, was featured in the film and discussed his frustration with paywalls.
"My wife had a pulmonary embolism, and nobody was sure why," he said. Wanting to learn more about his wife's condition, Callaway started to research it online but soon came up against a paywall.
"I can't afford to spend the money to read a research paper only to discover that it's not relevant to her," he said.
The film highlights that even academics in the U.S. and Europe, whose institutions have subscriptions to thousands of journals, hit paywalls from time to time. Outside the Western world, the problem is even worse.
Roshan Kumar Karn, a medical doctor in Nepal featured in the movie, said when he hits a paywall, "I feel really pissed."
Paywall's message got a sympathetic response at the D.C. premiere; the audience was largely composed of open-access advocates and friends and family of the film's producers. There were knowing nods and chuckles when the figures featured in the film expressed their frustration with the status quo or criticized big publishers.
The 65-minute film features dozens of interviews spliced together, most sharing one message: the system for disseminating research information is broken and needs to be fixed.
Nonacademics watching the film might walk away from it believing that open access is a straightforward solution to knowledge being locked behind paywalls. But it isn't, says John Warren, director of George Washington University's publishing master's program, who was at the premiere.
"Open access is a good goal, I think we can all agree on that," he said. But open-access publishing doesn't happen for free and shifts costs from the reader to the author -- a point that Warren feels was not adequately addressed in the film. Open-access articles are free to read because someone (either the author, their institution or a research funder) has paid for it to be free. Funding to publish in open-access journals is often limited. Researchers looking to gain tenure may also be incentivized to publish in high-impact subscription journals, and not lower-impact open-access ones.
Warren, who has worked for both for-profit and nonprofit publishers over the last 25 years, said before watching the film that he expected it to be one-sided and "more advocacy than educational." Watching it confirmed his expectations. The film didn't really explain how open access works or the pros and cons of different models, he said.
John Wilbanks, chief commons officer at Sage Bionetworks, a nonprofit organization that promotes open science, agreed with Warren that the film "does not present a neutral view." But Wilbanks, who is an open-access advocate, said he was comfortable with that.
"We've been making scientific arguments about the benefits of open access for years," he said. "Maybe it's time for us to have a harder edge."
Though Wilbanks still wants open-access policies to be informed by facts and rational argument, he hopes that the emotive approach Paywall takes will "wake people up" to the issues the open-access movement is trying to address.
"My hope is that that it will lead people to learn more, to make up their minds for themselves," he said.
For his part, Schmitt was pleased with the reception to his film and is delighted that it will be screened at over 150 universities in the coming months.
Warren said he would encourage people to watch the movie, but with a caveat. He'd like to see universities organize discussions at screenings that include representatives from the publishing industry so audiences can "get a more balanced view."
For-profit publishers have a duty to make profits for their shareholders, but that doesn't make them inherently evil, said Warren.
A spokesperson for the society of Association of American Publishers said that the film didn't explain the role that publishers play in the research dissemination process.
"In addition to financing and managing the peer-review process, publishers make significant investments in technology, distribution platforms, data analytics and other cutting-edge innovations that enable doctors, scientists, researchers and educators to get the greatest possible value from research," the spokesperson said. The spokesperson added that academics have "many choices on how to make their research publicly available," and for many of them "publishers are a critical partner."
One issue highlighted in the film -- the sheer level of profit generated by big publishers -- is worth thinking about, said Warren. "AT&T was broken up by Congress when it got too big," he said. "That's maybe something I'd be concerned about if I worked at Elsevier."
Michael Carroll, a professor of law at American University and founding member of Creative Commons Inc. -- a global organization that provides standardized copyright licenses that instruct people on how the content can legally be used -- said Paywall highlighted that there is "too much profit and not enough competition" among academic publishers.
Though Carroll, who is featured in the movie, hopes that it will be watched by a broad audience, he believes that the most important viewers are scholars, students and policy makers. "They are the ones who could change the system," he said
He hopes the key message viewers will take away from the movie is that paywalls hinder innovation by creating barriers to accessing knowledge.
"We're holding ourselves back," he said.
More from Books & Publishing