You have /5 articles left.
Sign up for a free account or log in.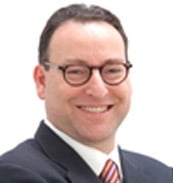 The Trump administration has made free speech on college campuses a signature issue. Attorney General Jeff Sessions warned last year that college campuses were becoming echo chambers "of political correctness and homogenous thought."
But civil liberties groups have long warned that a new definition of anti-Semitism quietly adopted by the Education Department would stifle speech on campuses.
Kenneth Marcus, the department's assistant secretary for civil rights, wrote in a letter last month reopening a previously dismissed complaint of anti-Jewish discrimination that the Office for Civil Rights would begin using a more expansive definition of anti-Semitism supported by many pro-Israel groups. The New York Times first reported the letter Tuesday.
The definition is one that Marcus himself had advocated for before joining the department this year. It includes arguments against the existence of the Israeli state or double standards applied to Israel "not expected or demanded of any other democratic nation" as examples of potential anti-Semitism. Marcus also wrote that the term "Zionist" -- a political label denoting support for creation of the Jewish state -- could be used as code for anti-Semitic discrimination.
The new definition has been hailed by some Jewish organizations who support the state of Israel. But civil liberties organizations, Palestinian rights groups and liberal Jewish groups say it would lead to a suppression of free speech, in particular criticism of Israel or advocacy for the Boycott, Divestment, Sanctions movement.
Liz Hill, a spokeswoman for the department, said the Office for Civil Rights examines the factual circumstances of each complaint to determine whether discrimination based on race, ethnicity or national origin occurred.
"OCR vigorously protects the Title VI rights of students who may be targeted for harassment based on their membership in groups that exhibit both ethnic and religious characteristics, including Jewish students, but OCR does not predetermine the nature of conduct or speech that might be the subject of a Title VI investigation," she said.
The new definition of anti-Semitism was already being used at the State Department. Some public colleges in recent years have considered adopting the standard for their own campuses. Lawmakers have also made several bipartisan attempts in recent years to have the Education Department "take into consideration" the State Department definition. At the same time, colleges and universities often host groups that advocate for the Israel boycott in ways that violate the State Department definition, and most legal experts have said that public colleges would be on shaky ground to bar such groups on their campuses.
The Foundation for Individual Rights in Education has written that the new definition threatens First Amendment-protected speech on campus and has called the State Department definition "problematically vague."
"Synchronizing the Department of Education's review of alleged Title VI violations with this unbounded definition places campus speech rights at risk," wrote Will Creeley, FIRE's senior vice president of legal and public advocacy, earlier this year.
FIRE's survey of campus speech codes has been cited by Sessions, who attacked the free speech climate on college campuses in a speech at Georgetown Law Center last year.
Education Secretary Betsy DeVos said at a CPAC event earlier this year that the U.S. has "seen more and more examples on college campuses in recent years of shutting down free and open expression and debate around ideas."
But Dima Khalidi, the founder and director of Palestine Legal, said OCR has previously understood the distinction between First Amendment-protected speech and discrimination on college campuses. She said Marcus is destroying that distinction in favor of a pro-Israel agenda.
"This is where these debates are supposed to happen. This is where these conversations are supposed to happen. To have the government intervene or declare a whole range of political speech out of bounds is exactly what the First Amendment is designed to prevent," she said.
J-Street, a liberal Jewish group that opposes the BDS movement, said in a statement that the Trump administration is essentially equating criticism of Zionism with anti-Semitism and said the definition being adopted by the OCR was never intended to be applied on college campuses. Ken Stern, who authored the definition, opposed the Congressional legislation that would have codified the State Department definition into law.
Jason Stanley, a professor of philosophy at Yale University, on Wednesday spoke to those free speech concerns on Twitter.
If I were someone incensed by threats to free speech on campus, I would wake up this morning outraged by the Department of Ed's decision to make expressions of anti-Zionism into civil rights violations punishable by loss of federal funding.

-- Jason Stanley (@jasonintrator) September 12, 2018
The American Jewish Council praised the new definition adopted by the department and said it is an important tool in identifying anti-Semitism in its various forms.
"It informs (colleges) that you could have something that maybe at first glance looks like just a political action, but might be a mask for anti-Semitic action," said Andrew Baker, director of International Jewish Affairs at the American Jewish Committee. "I don't think you leave your reason and judgment at the door when you have this definition at hand. The whole idea is to help you, not hinder you."
Marcus outlined OCR's adoption of the new anti-Semitism definition in a letter notifying the Zionist Organization of America that it would reopen the group's 2011 civil rights complaint of anti-Jewish discrimination at Rutgers University. At issue in the complaint was an event at the university's Brunswick, New Jersey campus where an outside pro-Palestinian group charged a $5 fee after the event was initially advertised as free to the public.
The Zionist organization alleged the fee was applied selectively to Jewish and pro-Israel students. But the Obama administration closed the case in 2014 finding no evidence the fees were discriminatory or that the university mishandled the incident.
In a statement on its website, the Zionist Organization of America called the Marcus decision "groundbreaking."
"This definition accurately recognizes that anti-Israelism, extreme Israel bashing and anti-Zionism may well be a camouflage for anti-Semitism," the group said.
ZOA has accused J-Street of "siding with Israel's enemies." And J-Street in turn has referred to the organization, which hosted white nationalist Steve Bannon last year, as an "ultra-right group."
DeVos and the Trump administration have frequently criticized the Obama administration for not pursuing proper notice and comment before introducing sweeping guidelines on campus sexual misconduct.
But the change in Office for Civil Rights policy was made with no public notice other than the letter to ZOA. And the department did not say whether guidance would be forthcoming for colleges although DeVos has expressed a distaste for issuing federal guidance documents.
Peter McDonough, general counsel for the American Council on Education, said the new approach at OCR appeared inconsistent with many of the free speech concerns expressed by the department elsewhere.
"It's a curiosity as to why the current Department of Education that is concerned about chilling speech would reopen a case where it was found, after a pretty robust investigation, what was at issue was essentially speech and discordant expressions between students," he said. "It's a head scratcher to me as to why this OCR is taking issue with a finding after a pretty fulsome investigation by its own folks years ago."