You have /5 articles left.
Sign up for a free account or log in.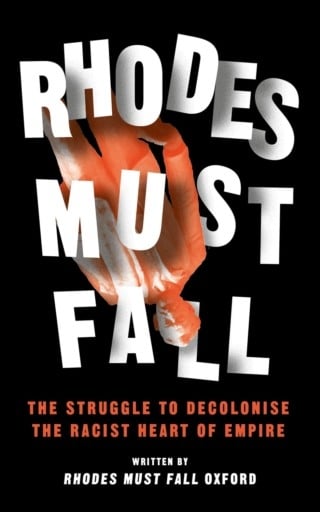 When a statue of Cecil Rhodes, a British mining magnate and colonizer, came down at the University of Cape Town, it was just the beginning of a now worldwide conversation about colonization in higher education. Rhodes was instrumental in founding universities and scholarship programs around the world, but he was also a noted imperialist who acted with disregard for the people who lived in much of the world. Since the statue fell in 2015, students and faculty at a number of universities have begun to argue for decolonization at their own institutions, in part by removing honors for Rhodes.
At the University of Oxford, where another statue of Rhodes still stands, student and faculty activists find themselves pushing back against those who tell them that "the past is the past" and to be grateful for Rhodes's contributions to higher education (notably, the Rhodes scholarship). Having each been involved in Rhodes Must Fall Oxford in different ways, editors Roseanne Chantiluke, Brian Kwoba and Athinangamso Nkopo put together a comprehensive story of the movement in their new book, Rhodes Must Fall (Zed Books).
All three editors answered questions about the book via email.
Q: Instead of writing one narrative about the Rhodes Must Fall movements, you strung together a series of primary accounts, interviews, poetry and writings from the protests. Why did you decide to put the book together this way?
Kwoba: We wanted to give expression to a wide range of different voices and experiences, because that is ultimately what made up the movement as a whole. Not "me" but "we."
Nkopo: The varying accounts we put together in the book are also a reflection, to a great extent, of what the movement Rhodes Must Fall has inspired and made possible not just in South Africa but throughout higher education the world over.
Q: Why did you decide to get involved with Rhodes Must Fall at Oxford?
Kwoba: I co-founded the Rhodes Must Fall Oxford movement because I was inspired by the action that black students took at the University of Cape Town. They made the statue of Cecil Rhodes a focal point for a much larger conversation and mass movement against the white coloniality of that institution. Oxford has its own statue of Rhodes, so after our initial solidarity demonstration, we came to realize that Oxford, too, needed to be decolonized in a similar way.
Chantiluke: I decided to organize for Rhodes Must Fall Oxford because I was inspired by the fact that the movement did not seek to work within the university's structural framework, but sought to work outside of it, in solidarity with students from across the globe.
Nkopo: I went to Oxford from the University of the Witwatersrand, and there I had already gotten involved with the Decolonise Wits movement and in organizing some of what would result in the Fees Must Fall movements. Rhodes Must Fall Oxford was a welcome and natural step in my career as an activist intellectual. It was also very appealing that the movement in Oxford was a global one in terms of the students involved and organizing in the small city.
Q: Several voices in the book, including Roseanne and Athinangamso in your "Skin Deep" interview, discuss the need to focus on decolonizing higher education rather simply implementing greater diversity and inclusion initiatives. Can you explain how those two goals are different?
Chantiluke: Diversity operates on the higher education institution's public facing level only. It is a marketing ploy that convinces external stakeholders that a university is doing all that it can to improve the lives and experiences of brown, differently abled, LGBT+ and nonbinary people by virtue of inviting them to study there. Meanwhile, the university is allowed to operate as normal without reforming the systems, structures and attitudes that are hostile to such people. On the other hand, decolonization operates at the political, epistemic and ideological heart of the university, with reformative implications for every facet of a university's operation. It involves the decentering of Eurocentric value systems and knowledge production, the overhaul of the hierarchy of European ideologies and the reappraisal of whitewashed history. Decolonizing the university is a prerequisite for true diversity of thought and peoples to exist there fully.
Q: What's the biggest difference you observed between the Rhodes Must Fall movement in South Africa and the protests at Oxford?
Nkopo: In a sense, there was no great difference in terms of the structure and complexity of the university. The formerly white universities in South Africa are dominated by white academic staff and the curriculum is no different in terms of representation. The perspectives, histories and epistemological outlook of universities like UCT, where I am now a TA, are Eurocentric … Similarly, students of color there experience the kind of impostor syndrome students at Oxford experience, perhaps for slightly different reasons. The institutional culture of formerly white universities in South Africa, like in Oxford, remains white and the configuration of those spaces still uphold and glorify villainous white men and women such as Cecil John Rhodes, Jan Smuts and the like.
Kwoba: We were both up against educational institutions of white supremacy and coloniality, but in Oxford we were a tiny minority of black and Asian students in a majority-white imperialist country, whereas in SA black students are in a majority-black neocolonial country. Internally, Rhodes Must Fall in South Africa had a much clearer articulation of its political boundaries, basing itself on black consciousness, black feminism, the black radical tradition and pan-Africanism. Rhodes Must Fall in Oxford structured itself more loosely (and less politically) around decolonizing the iconography, curriculum and racial representation of the university.
Q: What do movements like Rhodes Must Fall need to do to be successful?
Kwoba: One thing we need to do better is to build links with university workers and working people in the larger urban environment in which the university is housed. The support and mobilization of community organizations, political parties, trade unions and oppressed people on a larger and extracurricular scale is what it took to kick the colonizers out historically.
Chantiluke: The demands for action and organizing can often leave very little time for a movement's internal education. Internal education refers to conversations that relate to the ethos and ideology of a movement: What are the core principles of a movement and why/how are they formed? Should they be open to adaptation as a movement's trajectory develops? How do we develop our thought and how do we learn? Time must be made to ensure that organizers engage in internal education as a collective with an end to ensuring consistency of ideology and ethos across organizers. Otherwise, assumptions are made about the ideological cohesiveness of organizers, which is extremely problematic.
Nkopo: We need to decentralize movements away from individuals, while preparing for a time when an organizing group have left the university as students.
Q: Similarly, where do you typically see movements falter?
Kwoba: One place that student movements often falter is by failing to train and prepare the next generation (e.g. first- and second-year students) to continue the movement. The university administration knows it can just stall until the most vocal and active students eventually graduate, and that is what often happens. Also, as one of our book chapters explains, Rhodes Must Fall Oxford really faltered on place of blackness and its relationship to feminist politics within the movement.
Chantiluke: Patriarchy always finds a way of blocking progress in these movements through the toxic social dynamics of the movement, the gendering of work and the ideas of "leadership" and hierarchy that it brings. Also, to challenge a powerful white institution as a nonwhite student involves an incredible amount of physical and psychological exertion that can be extremely destructive if left unchecked. The demands for action and organizing often appear to trump the individual demands for rest, wellness and self-care. Movements need to ensure that their organizers are looked after as much as possible and must operate on a politics of radical compassion.