You have /5 articles left.
Sign up for a free account or log in.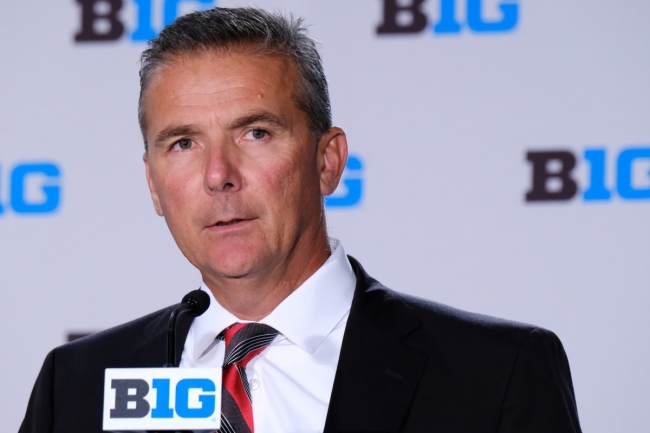 During a press conference in 2011, then Ohio State University president E. Gordon Gee infamously fumbled a quip about the head football coach, who at the time was being publicly punished for concealing his players' illicit trading of memorabilia.
Asked if Gee had considered firing Jim Tressel, Gee paused and stumbled: "Let me just be very clear: I'm just hopeful the coach doesn't dismiss me."
Silence.
Perhaps it's because the joke illustrated a sensitive point about a dynamic in college athletics, one seldom acknowledged among university leaders: that a winning and powerful coach can sometimes eclipse the influence of the rest of a university's operation, namely the president. A coach who brings in revenue for an institution can dodge the harshest consequences, which would likely be applied without question to any other official, say some commentators and college sports experts.
The public saw another example of this power imbalance at Ohio State last month, as Tressel's successor, Urban Meyer, was given a three-game suspension for his handling of domestic abuse allegations against a former assistant coach. After a near 12-hour meeting between Ohio State's current president, Michael V. Drake, and its Board of Trustees, the board handed Meyer a light punishment -- proving once again, some observers and experts said, that Ohio State values sports above all else.
Drake and others maintained that while Meyer acted improperly, he did not intentionally lie. But documents released by the university suggest otherwise, depicting Meyer as inconsistent in his story and deliberate in his attempts to subvert a public-records request for his text messages.
"The university has invested much in him and often administrations will take a silo approach to save a valuable employee until they become more of a liability like Tressel eventually did because of [National Collegiate Athletic Association] issues," said Dave Ridpath, president of the Drake Group, a college athletics ethics watchdog group. "Make no mistake, however: if Meyer was a .500 coach, he would have already been fired and OSU would likely have taken the high moral stance of firing him for not doing the 'right thing.'"
Ohio State's intentional emphasis on athletics has resulted not just in Meyer's case, but other, simultaneous scandals. Ohio State officials are also investigating allegations that a former team physician, now deceased, molested more than 100 athletes in his time at the university in the 1980s and 1990s, a purported open secret that went unreported until the investigation was announced in April.
John R. Thelin, professor of higher education and public policy at the University of Kentucky's College of Education, said he wasn't convinced that Gee was joking in that news conference seven years ago.
"Despite strong academics and research, the Big Ten athletics culture and priority is so strong that it surpasses any president and even any coach," Thelin said.
Ohio State's Program
After Tressel resigned, Meyer took over the program, and he is widely considered to be one of the top football coaches in the country, matched only, perhaps, by the University of Alabama's Nick Saban. He is certainly paid like it: Meyer's current salary is $7.6 million (by comparison, Drake earns nearly $849,000 a year). Ohio State trustees gave Meyer a $1.2 million raise in April, months before he was temporarily suspended over questions as to whether he had failed to report domestic violence accusations against a former assistant football coach, Zach Smith, by Smith's now ex-wife, Courtney.
Ohio State's football program alone has been valued by The Wall Street Journal at $1 billion and brings in $90 million in annual revenue.
Because football is such a valuable asset, officials didn't want to fire Meyer, even though they had might have had cause, as Michael McCann, associate dean for academic affairs and director of the Sports and Entertainment Law Institute at the University of New Hampshire, wrote in a recent Sports Illustrated column. But they could have, McCann noted, as Meyer's contract explicitly said that he could be terminated for violating university rules, including flouting his reporting obligations.
But this would have invited questions about why Gene Smith, the athletics director -- who was suspended without pay for about two weeks for his role in the Smith controversy -- wasn't fired as well. It could have opened the university to a lengthy and potentially damaging lawsuit, McCann wrote.
"Given that Meyer has been employed in such a prominent position at Ohio State since 2011, he is likely aware of numerous pieces of information that might reflect negatively on various persons employed by the university," McCann wrote. "Meyer is, in short, a threatening figure and not someone the university would take lightly in litigation. A lawsuit by Meyer would most likely lead to a financial settlement with the university, thereby negating some of the cost advantages for the school in firing Meyer for cause."
In a nutshell: firing Meyer would have likely hurt a major revenue generator for the university and potentially further damaged the university's reputation.
Firing him was never really in question. As The New York Times reported, only a single trustee was adamant that Meyer should be more harshly disciplined. That board member, Jeffrey Wadsworth, resigned, saying he did not agree with the outcome. Though the Times did not mention Drake's views about that more than 11-hour meeting, they clearly would not have mattered, as Wadsworth said the other trustees settled quickly on a suspension.
Drake has shared little about his personal thoughts on Meyer's behavior and was not made available for an interview with Inside Higher Ed. And since he announced the sanction at a press conference last month, neither professors nor administrators have been vocal on how the university handled the situation, or athletics as a whole. Twenty-five members of Ohio State's University Senate did not respond to Inside Higher Ed's request for comment, even to speak anonymously.
History of Valuing Sports
Ohio State does care about its athletics -- as has been evident for decades.
In 1987, the university got rid of its head football coach, Earle Bruce, who happened to be Meyer's mentor and Zach Smith's grandfather -- not for reasons of misconduct, like Meyer's predecessor, but for the simple fact that he did not rack up the kind of winning record expected of him by the president and donors. Bruce had lost three significant games in the 1987 season. The athletics director at the time, Rick Bay, resigned in protest after Bruce's dismissal and publicly bashed the Ohio State administration.
"It's a dark day for Ohio State," Bay told the Associated Press.
In that case, the Ohio State president had urged Bay to fire Bruce. But in many instances today, university presidents have allowed athletics to function outside the regulations that other departments have to follow, said Walter Harrison, president emeritus of the University of Hartford and former chairman of the NCAA Executive Committee (now the Board of Governors).
Harrison pointed to the recent scandal at Michigan State University involving the serial sexual abuser and former team physician Larry Nassar, whose victims reported to athletics officials early on but were often brushed off.
"University presidents ought to be working to re-establish control of athletics," Harrison said, adding that since Meyer knew about the allegations against Zach Smith but just didn't report them, "that would indicate a real moral breakdown."
Charles Clotfelter, professor of public policy, law and economics at Duke University, recalled a phrase used in a report about the Jerry Sandusky case at Penn State University: "a culture of reverence" toward football that seemingly extends to other programs at prominent campuses nationwide. The results are apparent, Clotfelter said: the silence surrounding rampant sexual assaults by athletes at Baylor University, the cover-up of decades-long academic fraud at University of North Carolina, Chapel Hill -- and at Ohio State.
A "culture of reverence" for the programs is "so strong that it quiets the instinct of otherwise decent people to do the right thing," Clotfelter said. "They think that 'If we did this, it would tarnish something so precious to us all.' So they look the other way."