You have /5 articles left.
Sign up for a free account or log in.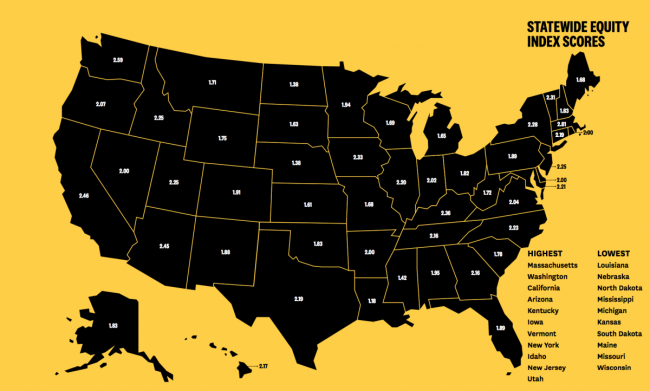 University of Southern California's Center on Race and Equity
The issue is nothing new for universities: the need to diversify the student body (and their faculty).
Now every public university in the country can see how well it is serving black students -- at least by a few metrics -- with a new report card from the University of Southern California's Race and Equity Center.
And universities need improvement, according to Shaun Harper, the center's executive director and a prominent race-relations consultant for campuses.
This is the first time Harper has graded both the nation's public, four-year universities and all 50 states using federal data. Harper said in an interview with Inside Higher Ed that many institutions are "failing black students."
"I think that this makes painstakingly clear that the failure is systemic. That it's not just a handful of institutions," he said, adding that blame around black students' shortcomings is often placed on the students, not universities.
Harper and his research associate Isaiah Simmons pulled from the U.S. Census Bureau and the Integrated Postsecondary Education Data System, or IPEDS, to measure the following:
Whether an institution's percentage of black undergraduates matches the overall black population, ages 18 to 24, in that university's home state.
If a college or university enrolls the same percentage of black men and women as the percentage of men and women across all racial and ethnic groups nationwide -- roughly 56 percent women and 44 percent men.
The extent to which black students graduate from a university within six years and if it matches an institution's overall graduation rate.
The ratio of black students to black full-time professors.
For each of those four benchmarks, the center assigned a letter grade, A through F, and then used the four letter grades to calculate a score -- an "equity index score" for each university.
Every institution's score was averaged to calculate the overall state score. For instance, Idaho's 2.25 was based on four institutions' individual scores (Boise State University, 2.25; Idaho State University, 2.5; Lewis-Clark State College, 2.25; and University of Idaho, 2).
The methodology has a few flaws. IPEDS can't track students who transfer, so they would have been counted as dropouts. And the comparisons between certain institutions could be skewed. Florida Polytechnic University, which was identified in the report as the least successful institution with a score of 0.33, only opened in 2014, so the graduation rate data point couldn't be counted (the center relied on data from four cohorts of students).
Florida Polytech was also only accredited last year, meaning it couldn't offer federal financial assistance, which often helps minority students. That made it more difficult to attract them, said B. Matthew Corpus, the university's assistant vice provost of admissions and financial aid.
"As you well know, affordability is access, which is paramount to recruitment and retention for students of color," he said. "We see an immense amount of interest now that students see us a viable option with financial aid."
The university's six majors are built around science, technology, engineering and mathematics, traditionally fields with fewer minority students, Corpus noted.
"I think this is wonderful as a part of the national dialogue," Corpus said of the report. "But it's very difficult to compare ourselves to other institutions."
The country's top three institutions, all with scores of 3.5, were Massachusetts College of Liberal Arts (MCLA), the University of Louisville and the University of California, San Diego. Massachusetts had the highest ranking of all states, at 2.81.
In a statement, a Louisville spokesman, John Karman, said that diversity "is a long-standing core value," even more so under the leadership of the new president Neeli Bendapudi, but that officials "realize there is always work to do."
UC San Diego chancellor Pradeep K. Khosla said in a statement that the results in the report acknowledge the institution's commitment to student academic success -- "with a renewed focus on black academic excellence, our goal is to become an exemplar for exceptional strategies that help achieve greater equity, diversity and inclusion," Khosla said.
Christopher MacDonald-Dennis, chief diversity officer for MCLA, said in a statement that the institution "was honored to be identified" in the USC report.
"While we are thrilled to be recognized for the steps we have taken to create an equitable campus, we see this recognition as a call to action and further impetus for infusing diversity, equity, and inclusion in everything we do," MacDonald-Dennis said.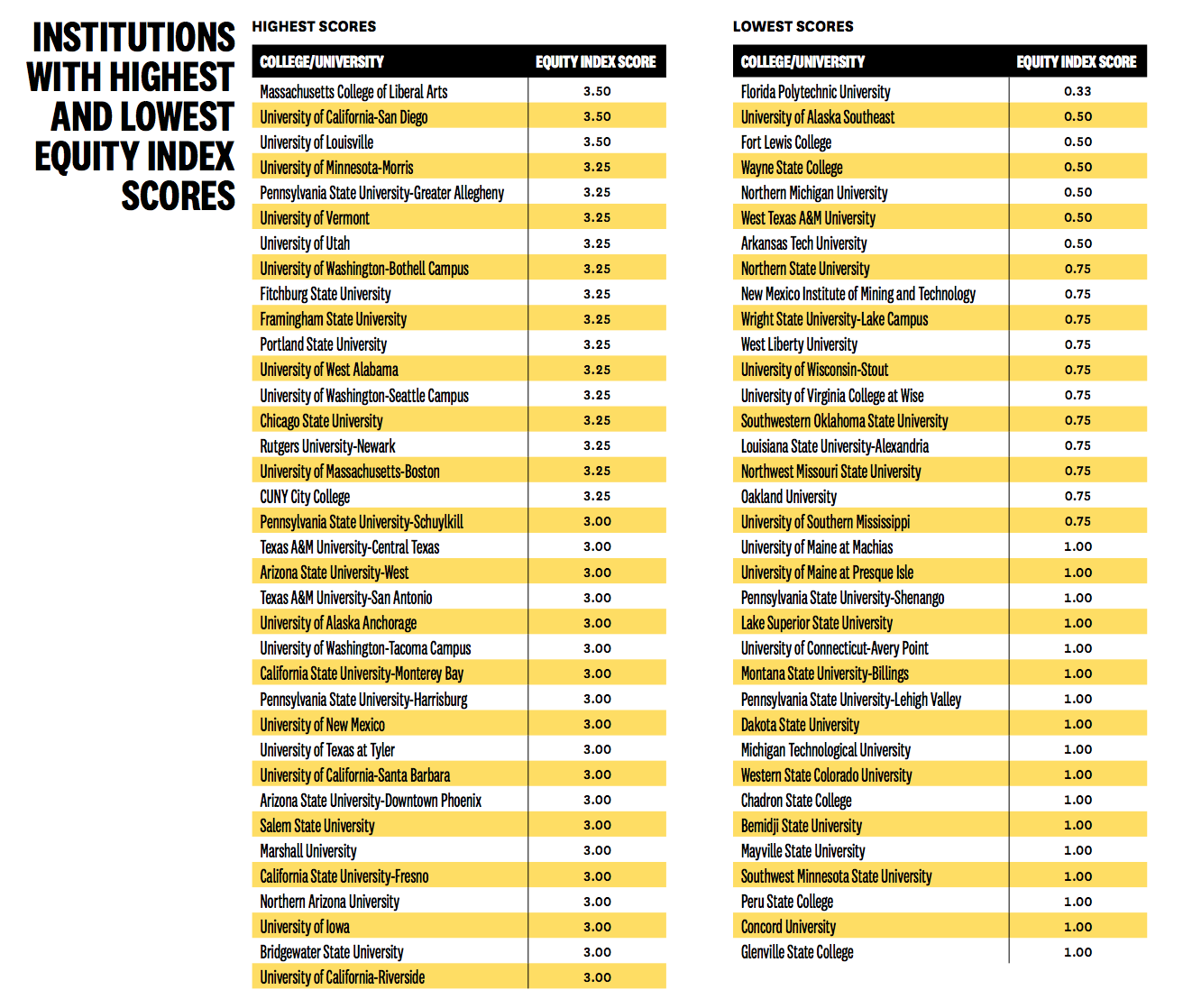 Harper will be sending a hard copy of the research, which was funded with a $25,000 grant from the Ford Foundation, to every president of a public college and university in the country. In the report, he outlines ways for institutions to work on their ranking. He advised state systems of higher education to gather and share what is being achieved at individual institutions. Harper pointed out that most universities are succeeding in at least one part of the four criteria.
He offers other recommendations -- that admissions staffers should expand recruiting beyond only four to five cities and high schools within given areas, which is often the case, Harper said. The report also notes that admissions directors are predominantly white, so increasing the numbers of black staff members would "undoubtedly" yield more black students, he said.
An article in Pacific Standard earlier this year attracted attention in the admissions world when it connected a lack of diversity within the profession to admissions outcomes. A National Association for College Admission Counseling report from four years ago also showed that fewer black and Latino people occupy senior admissions positions.
Many institutions, too, prioritize recruiting from wealthy and white-dominated high schools, visiting high schools where the average annual income in the neighborhood hits or exceeds six figures, and not from nearby high schools where incomes are lower, according to one study.
Harper also suggested that institutions be more deliberate about hiring black professors -- not just placing advertisements, but making sure hiring committees are trained in inherent biases and held accountable to produce a pool of applicants that is diverse, he said.
The USC center in November plans to launch a networking website called PRISM for higher education professionals of color, Harper said. Professors and administrators will be able to create a profile with their skills and academic disciplines and upload their résumés and published works, and institutions can search for people that might match their job openings, Harper said.
Harper said he plans to repeat the report card every four years. While the study does give institutions a snapshot of the needs of their black students, it does not measure campus climate, he noted. In February, the center will start conducting that type of survey, the National Assessment of Collegiate Campus Climates, for institutions that want to sign up, he said.