You have /5 articles left.
Sign up for a free account or log in.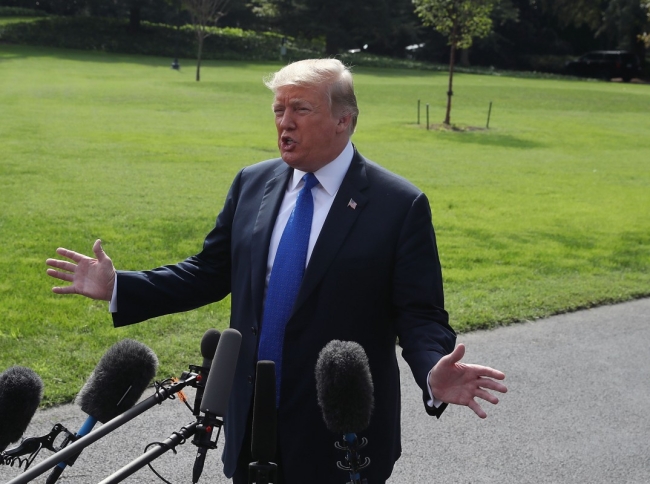 President Donald Trump on Tuesday bemoaned "a very scary time for young men in America" following allegations of sexual assault against his Supreme Court nominee Brett Kavanaugh.
The comments earned Trump sharp rebukes from advocates for sexual assault survivors.
Speaking to reporters at the White House, Trump said, "My whole life I've heard you're innocent until proven guilty, but now you're guilty until proven innocent -- that is a very difficult standard."
"This is a very difficult time. What's happening here has much more to do than even the appointment of a Supreme Court justice," Trump said.
The Trump administration has long railed against what it perceives as a lack of due process in campus sexual assault investigations. U.S. Secretary of Education Betsy DeVos last year withdrew guidance from 2011 surrounding Title IX of the Education Amendments of 1972, the federal gender antidiscrimination law protecting against sexual violence. DeVos said the Obama-era rules had been unfairly slanted against accused students.
While activists have credited the Title IX rules with bolstering protections for survivors, colleges and universities in some cases have apparently been too zealous in their interpretations, resulting in a number of accused students winning lawsuits and having their sentences reversed over the past several years.
New Title IX regulations are expected from the department soon. A leaked draft of the document shows that the regulations would boost the rights of the accused and drastically reduce the number of federal sexual misconduct probes.
Advocacy groups for survivors criticized Trump's remarks in interviews with Inside Higher Ed.
"I think it's not a scary time for men who have not committed sexual assault," said Carly Mee, interim executive director of SurvJustice. "Maybe it's a scary for men who might be held accountable, but this notion that people are now guilty until proven innocent is just not true."
Mee added, "It really comes down to the fact that men who have engaged in improper misconduct are concerned that they can't get away with that. My answer is that if [they] treat women with respect and aren't committing sexual misconduct, they have nothing to worry about. If someone is worried, I would wonder why they're so worried."
In his remarks, Trump was conflating the process surrounding criminal charges with what is essentially a job interview for Kavanaugh -- "a significant job promotion" to the Supreme Court, Mee said. She likened this to the difference between campus sexual assault adjudication and court trials: one process determines whether a student should be kept on campus, while the other decides whether someone will be sentenced to jail time and lose his or her freedom entirely.
And survivors still must prove they were raped, Me said. The burden of proof falls to them.
Rates of false sexual assault reports are quite low, reportedly between 2 and 8 percent, a fact that belies the administration's rhetoric, said Laura Dunn, a lawyer with the Washington-based firm the Fierberg National Law Group.
"The reality that is sexual harassment, misconduct and violence are prevalent with historical discrimination against women, resulting in low prosecution rates for these crimes," Dunn said in an email. "Furthermore, there is a long history of institutional cover-ups to avoid civil liability and administrative obligations to survivors. Think of the Catholic Church, Michigan State, Penn State, etc. We have so many scandals because survivors are not believed. Trump is furthering a misinformation campaign that contributes to disbelieving survivors specifically, and women more generally, when they sound the alarm about sexual misconduct."
Alyssa Peterson, a state organizer with the activist group Know Your IX called it "unconscionable" that the Education Department is pushing the rollback of protections for survivors despite the Me Too movement and the continued national reckoning around sexual assault issues, noting that Trump too has been publicly accused of sexual misconduct by at least 15 women.
"It just shows how out of touch they are," Peterson said.