You have /5 articles left.
Sign up for a free account or log in.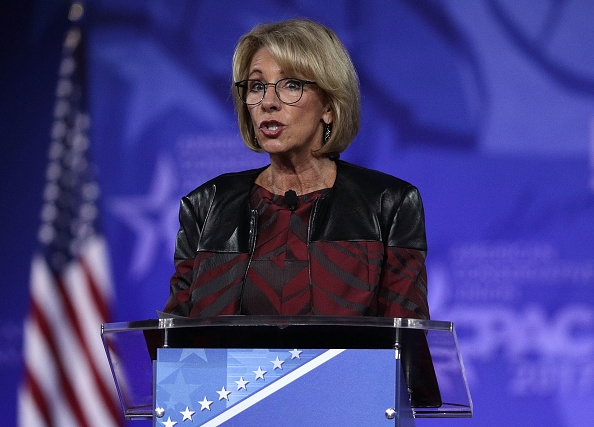 The U.S. Department of Education will blow a key deadline next month in its bid to overhaul two Obama-era student loan rules.
Education Secretary Betsy DeVos is seeking to issue a more restrictive version of a loan-forgiveness rule known as borrower defense and to entirely repeal an accountability rule for career education programs, known as gainful employment. Rolling back both regulations has been the Trump administration's top higher education priority.
The missed deadline means the earliest date for either outcome is now July 2020 -- a year later than the department had planned.
Bloomberg Government first reported the development, which throws into doubt whether the administration will be able to continue to delay enforcement of either rule for another 21 months.
A federal district court is currently weighing whether the 2016 Obama borrower-defense rule should take effect after it ruled that DeVos last year illegally delayed the regulation.
Consumer groups that are suing the administration have argued that key provisions from the rule -- banning mandatory arbitration in enrollment agreements and allowing for automatic group discharge -- should go into effect immediately. The government had argued that sudden implementation of the rule would be a logistical nightmare.
Student advocates called the department's admission of missing the deadline a win for borrowers and the public.
"Betsy DeVos' proposed rule would gut protections for borrowers and leave taxpayers footing the bill for predatory schools' risky conduct," Julie Murray, a lawyer with Public Citizen, said in a written statement. "It's high time for the secretary to stop making excuses and put the Obama-era rule in place, as it should have been for more than a year now."
The lobby group representing for-profit colleges also took the department to task for failing to finish the rules by Nov. 1.
"This is simply unacceptable! This delay will only invite more litigation, more legal confrontation, and more uncertainty and chaos in the operation of our schools," said Steve Gunderson, president and CEO of Career Education Colleges and Universities, in a written statement.
Bureaucratic Hurdles
In a court filing Tuesday, the Education Department cited as a reason for the delay the large number of public comments -- more than 38,000 -- it was required to consider before issuing a final rule. But Gunderson noted the Obama administration also reviewed thousands of comments before issuing a final rule in 2016. He said the failure was directly related to understaffing at the department.
"This is a classic example of being penny-wise and pound foolish," Gunderson said. "They pride themselves in not fully staffing the department. Unfortunately, as a result of understaffing, students and career schools suffer."
An Inside Higher Ed analysis found that by April, the overall staffing at the department was down by 13 percent since the beginning of the Trump administration. And Gunderson noted the department was understaffed in key offices involved in rule making, such as the Office of Planning, Evaluation and Policy Development and the Office of the Under Secretary.
Clare McCann, deputy director for federal higher education policy at New America and a former department official in the Obama administration, said the Trump administration appeared to have bitten off more than it could chew by rewriting both rules with many key positions unfilled.
"They need manpower if they're going to try to do something that's this ambitious," she said.
Nate Bailey, a spokesman for the department, said the goal is to have strong regulations that treat students and taxpayers fairly, rather than meeting a deadline.
"We are thoughtfully addressing all of the comments received, including the responses to the directed questions we posed, which provided useful feedback," he said. "The department will publish final regulations when they are completed."
Both the borrower-defense and gainful-employment rules had been opposed for years by the for-profit sector and congressional Republicans. The borrower-defense rule was written to provide a single federal standard for loan forgiveness claims by defrauded students after the collapse of Corinthian Colleges. Gainful employment was crafted to try to ensure that career education and for-profit programs aren't producing graduates with more debt than they can repay.
Months into her tenure, DeVos announced that she would block the borrower-defense rule from going into effect and would undertake a rewrite of both regulations through a process known as negotiated rule making, to better take into account the concerns of institutions. On borrower defense, colleges have complained the Obama borrower-defense rule in particular would substantially broaden instances of misrepresentation that could be the subject of loan-relief claims.
The department in July released a new proposed borrower-defense rule that would make loan forgiveness more restrictive. And in August it proposed repealing gainful employment entirely. That left little time to review tens of thousands of public comments it received on both rules before issuing final orders. Many of the comments were basically form letters. But others raised serious technical questions about the department's actions -- the kind that could arise in a lawsuit.
Senator Patty Murray, a Washington Democrat and the ranking member on the Senate education committee, in a statement credited students and their families with stopping DeVos and President Trump from "ramming through their harmful plans to deny debt relief for cheated student loan borrowers and roll back student protections against predatory career training programs."
But Dennis Cariello, a former department official and lawyer, said delays clearing the rule at the Office of Management and Budget were partly to blame for the department missing the November deadline. And he argued that the Trump administration had pursued a thoughtful course-negotiating process for crafting new student loan rules that incorporated a range of different opinions.