You have /5 articles left.
Sign up for a free account or log in.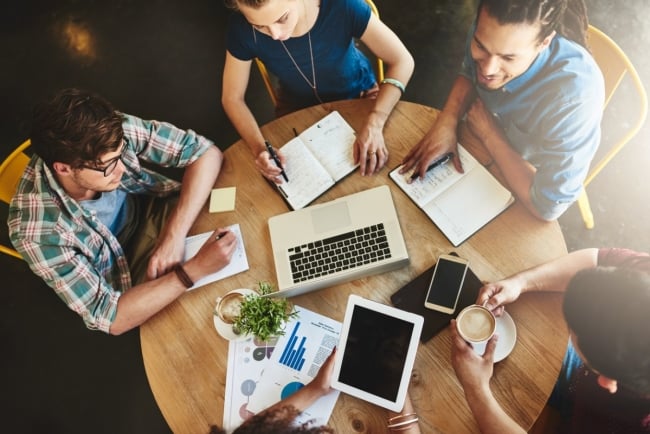 Istockphoto.com/PeopleImages
First-generation students make up a third of all college students. Yet only 27 percent of this group graduates within four years, according to a new report released today. And while an increasing number of colleges recognize a need for student support services aimed at first-generation students, the report identified a notable lack of guidance about what those services should look like and how to scale them effectively.
Sarah Whitley, co-author of the report and senior director of the Center for First Generation Student Success at NASPA: Student Affairs Administrators in Higher Education, hopes the new paper will help fill those gaps. Put together by the center in partnership with Entangled Solutions, a higher education consulting agency, the report outlines the current state of programs for first-generation students and presents concrete suggestions, backed by data, to improve their success.
"As I started this process, I said I thought I'd be able to find a good number of institutions who are doing this work, and it seems like the number has exploded … so many campuses are turning their attention [toward first-generation students]," Whitley said.
Eighty percent of the institutions surveyed now identify first-generation status at the point of admission, according to the report. Yet only 61 percent track outcomes for those students. And although programs targeting first-generation students are growing, the report said they tend to lack depth.
To give the programs more impact and greater reach, it emphasizes a focus on intersectionality -- that institutions must consider how students' first-generation status intersects with other aspects of their identity. The report refers to these subgroups as "first-gen plus." Focusing on students' whole identity is important, according to the report, because assuming that first-generation students are all the same -- that they are all low income or members of minority groups -- can leave those who don't fit that picture without support.
Survey data revealed that 75 percent of first-generation student programs are housed in student affairs, 48 percent in academic affairs and 43 percent in student success. Some colleges, Whitley said, choose to route their first-generation student services through the campus multicultural office or to tie it to a financial aid program. But first-generation students who wouldn't otherwise visit that office or use that program could then miss out on those critical services.
The report employed a "mixed-method" research strategy that was split in two phases. The first was a series of qualitative interviews with 78 faculty members, administrators and leaders from 45 four-year institutions, 15 leaders from 12 nonprofits focused on student success, and 40 first-generation students, which were conducted through focus groups at eight four-year institutions. The second phase was a survey of 371 faculty members and administrators across 273 four-year institutions.
Another recommendation from the report was that institutions must shift from focusing on whether a student is "college ready" to whether or not the college is "student ready." In other words, college leadership should reflect on and change policies and procedures that might inhibit student success. Necessary changes could be as small as clarifying college lingo, which can be trickier for first-generation students to decipher if they haven't heard it before.
"I talked to some students during this study who said, 'I just don't get what add/drop is and why do we call it that?' Whitley said, adding that Wichita State University "made a decision to shift the term 'office hours' to 'student hours,' because some first-gen students were saying they didn't know what office hours meant."
First-generation students also shouldn't be penalized for juggling additional responsibilities, she said, such as having a job or caring for family members. The perspectives and experiences of first-generation students should be an asset, not a shortcoming.
"It is OK for you to be a full-time college student and also have this job or be part of your family," Whitley said. "[Colleges] should not see that as you not being engaged in the classroom, or you not wanting to be here or not belonging here."
Two-year institutions, where first-generation students make up a majority of the student population, were not part of this report. Whitley and the Center for First Generation Student Success plan to undertake additional research focusing specifically on two-year institutions.