You have /5 articles left.
Sign up for a free account or log in.
There are students who struggle with issues such as anxiety and depression on every college campus.
Some students will seek help on their own and find a mental health counselor or other health-care professional.
But reaching students who are reluctant to come forward, or who don't realize they need help, is another story. This is a challenge that Colorado State University and many other colleges are trying to address while balancing increasing demand from students who already use mental health services.
Three years ago, Colorado State approached a company called Grit Digital Health about working together to build a technology to reach those students who might never speak out – particularly those at risk of harming themselves or others. The campus had experienced a handful of student suicides and was looking for new ways to reach students who might need help.
The college and the tech company developed YOU at College, a platform that gives students information on how to recognize mental health issues and access resources on campus that might help them. The platform doesn't put mental health front and center, however, and it's not marketed to students as a "mental health" tool. Instead, the platform addresses mental health as just one part of academic success and well-being.
"It's kind of like hiding the vegetables," said Janelle Patrias, manager of mental health initiatives at Colorado State.
Students might not visit the platform thinking they have a mental health issue, said Patrias. They might just be having trouble sleeping, for example. But by searching for advice on how to get better sleep, users will find information about stress and anxiety and be directed to resources on campus that can help. 
Since YOU at College was launched at Colorado State, 20 other U.S. universities have launched the platform, and five more are planning to launch soon, said Nathaan Demers, vice president and director of clinical programs for YOU at College. Each platform is tailored so that students see information relevant to their own campus. The cost to institutions ranges from $0.75 to $3.00 per student per year, depending on campus enrollment and the level of customization they require, said Demers.
Kevin Kruger, president of NASPA: Student Affairs Administrators in Higher Education, said many colleges are thinking more intentionally about how to promote wellness on campus and are encouraging students to eat right, sleep well and exercise regularly, as happy and healthy students are more likely to graduate.
"The context of all of this is that there has been a year-on-year increase in the number of students who present with mental health issues," said Kruger. He said over the last seven years, colleges have been increasing mental health staff, "But there's an acknowledgment that you can't hire enough counselors. That's why there's interest in taking a sort of public health approach -- looking at what you can do to proactively address wellness issues in a broader way."
There are a number of digital tools that explicitly address mental health issues, such as Talkspace, SAM, PTSD coach, CBT-I Coach, Operation Reach Out and Optimism. However, Amy Galley, director of well-being and accessibility at Western Wyoming Community College, said that the YOU at College platform was different because it takes a holistic approach to students' overall health and academic success. She also "loved the ease and look" of the platform, which was partially inspired by Pinterest -- a popular virtual pin board for saving and sharing links and images.
YOU at College contains a wide variety of short articles, fact sheets and tips covering three broad areas – academic success, personal growth and overall physical and mental well-being. The platform encourages users to take surveys called "Reality Checks" in each of these three areas to determine where they might have room for improvement. The results of these surveys can be used as a benchmark for students to set goals.
When students log into the platform using their institutional ID, they see a lineup of content that is personalized to them based on the results of their Reality Checks. The content can also be tailored based on personal demographic information that students provide (if they choose to) such as gender, age, ethnicity and other details such as whether or not they have served in the military.
Although students log in to the platform with their institutional IDs, all their activities on the platform are anonymized to protect their privacy. Students wouldn't likely use the platform if they knew they were being surveilled by administrators, said Demers. Institutions can see pooled data such as the most popular topics students are viewing.
Though YOU is designed with students in mind, it can be used by anyone on campus -- including faculty and staff, said Demers. Patrias sees YOU as a hub for campus information. The platform links students to resources on campus such as career advising and mental health services, as well as to student clubs and support groups that might be of interest to them. Although inspired by social media, the platform doesn't contain any messaging function.
Patrias said that YOU@CSU has been "really positive for our campus" and "a good way to deliver information" to students, particularly about mental health. She was pleased to see that many Colorado State students are looking at the platform before they even arrive on campus -- proactively reading about how to succeed academically and manage stress, as well as checking out what clubs and social activities are available on campus. More than 5,000 new students registered to use the platform this summer, she said.
Patrias has a student staff member working with her 15 hours a week to make sure the content, all of which she personally reviews, is relevant to students. Colorado State and Grit Digital Health recently won an award from the WICHE Cooperative for Educational Technologies for their work on YOU at College. The WCET Outstanding Work (WOW) Awards recognize initiatives that apply innovative technology-based solutions to problems facing students.
Colorado State has seen good student engagement with the platform, said Patrias. Between February 2016 and September 2018, YOU@CSU had over 56,000 users. Around 20 percent of users used the platform more than once. Colorado State's total student enrollment is around 33,000.
More than 10,000 students have completed the Reality Check screenings in the platform, said Patrias. Survey results found that 75 percent of students said using the portal helped them better manage their stress. Among first-year students, 98 percent said they learned new skills to support their academic success through YOU@CSU.
"This isn't the kind of resource students need every day," said Patrias. "We want it to be the place they go to look first when they have an issue."
In a recent promotional video created by Colorado State and Grit Digital Health, Colorado State students said they liked that the platform was accessible at any time and described how they used it to look up study tips and articles on mindfulness during final exams.
Kiera Butler is an applied psychology student at CSU, and vice-president of the campus chapter of Active Minds – a national non-profit organization that ends to help end the stigma surrounding mental health and connect students to resources. She thinks YOU at College is effective because it's "applicable to everyone and anyone."
"Even if you don't believe you need to change in a certain area, YOU can provide articles or resources that can spark an interest and expand that person's knowledge," she said.  
Mental health counselors at Colorado State have seen increased demand since YOU@CSU was introduced, but it's difficult to know whether this is because more students have become aware of counseling services through the platform, said Patrias. Colorado State and Grit Digital Health are planning to conduct more research to determine the impact of the platform on student success.
"We don't really have anything to benchmark the efficacy of this with," said Patrias. "But we feel encouraged to see engagement grow from year to year." She noted that the platform is "still pretty early in its development" but has "so much potential to reach students in different ways."
At Western Wyoming Community College, initial engagement numbers are promising, said Galley. The college has a total enrollment of around 3,600 students, and 600 students signed up over the summer before classes started. Galley hopes that three-quarters of full-time students will register over time. She is excited about what the institution can learn from the analytics the platform collects (example dashboard pictured below); the articles that students read could guide what initiatives the college launches.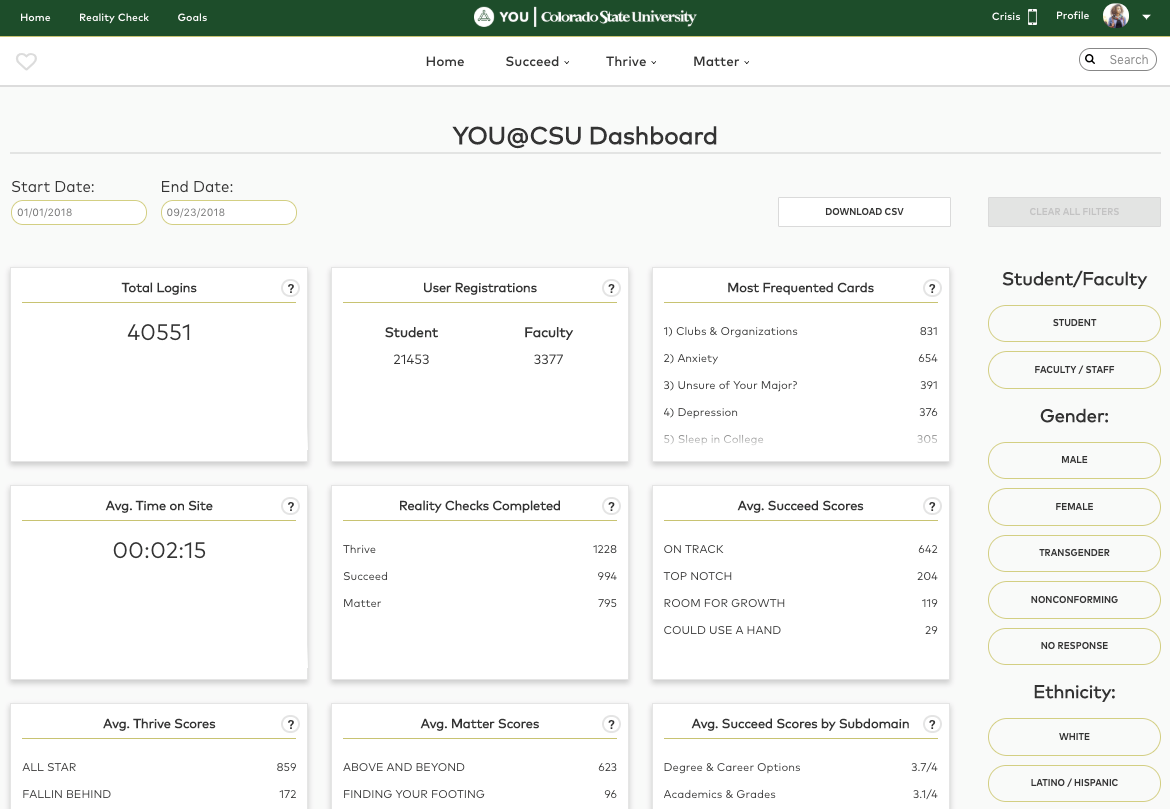 Western Wyoming previously sent students an e-magazine addressing wellness issues called Student Health 101, but it has discontinued this subscription in favor of YOU at College.
"We liked the content in the newsletter," said Galley. But YOU at College felt "fresher, offered easier access and is more campus orientated."
She said the platform is costly but college administrators believe it's worth it for students to have a "place to go to 24-7 to get information about the campus, wellness and mental health, plus emergency contacts and all of those things."
Connecticut College also rolled out the YOU at College platform this year but doesn't yet have any data on engagement. Sarah Cardwell, associate dean, said she looked into the platform after hearing about Colorado's success with it. The platform fit in well with Connecticut's strategic plan to "educate students on the relationship between health, well-being and success," she said.
"What particularly struck a note with us is that the platform is designed to meet students where they're at, which is online," said Cardwell.
Tina Hardy, disability services coordinator at Illinois Valley Community College, said she applied for a grant to bring YOU at College to her institution last year, and the college budgeted money this year to keep the platform going.
"Engagement has been excellent since the inception," said Hardy. "To date, we've had almost 900 student account registrations and 80 faculty staff registrations." The college has a total enrollment of around 3,700 students.
Users are spending seven minutes on average on the platform and are most frequently searching for information about anxiety, study skills, prioritizing their time and how to connect with clubs and activities, she said.
"We are using this information to build opportunities and resources for students in the areas we know they need help with," said Hardy. "I would say that IVCC has found YOU to be worthwhile."
Still, the anonymity of the platform comes with a big drawback. College administrators aren't alerted when a student indicates they are at risk of hurting themselves or others. Whether keeping students anonymous under these circumstances is advisable is "something we wrestled with," said Demers.
The company built in features that will enable students to get immediate access to support when they need it -- with pop-ups advising students on whom to contact on campus in a crisis, and referrals to outside services such as suicide prevention hotlines with 24-7 messaging services.
Janelle Johnson, senior mental health counselor at Santa Fe Community College and president of the American College Counseling Association, believes there should be some way to contact students "if it is clear they are in danger of suicide or harming others."
Apps and platforms can help students access information, but they "don't replace the human connection" many students need, she said. "Assessments of mental health concerns must still be done by trained professionals."
"I think that colleges see the use of tech as a way for students to explore and communicate about difficulties they may be experiencing, and to normalize the student experience," said Johnson. But apps and other technology "cannot replace services provided by licensed counselors and mental health professionals."
"While these apps have become more prevalent, we also see more colleges coming up with additional funding to increase staffing in their counseling centers," said Johnson.
Santa Fe Community College does not offer YOU at College, but it did offer an app that "students never really adopted," said Johnson. "Oftentimes it seems that the technology of the apps is not impressive to students who are very tech savvy," she said.
Lynn Linde, senior director of the Center for Counseling Practice, Policy and Research at the American Counseling Association, said while investing in student well-being is a good thing, platforms such as YOU at College and a growing number of other platforms and apps for college counseling -- including chat bots powered by artificial intelligence -- should be seen as a supplement, not a replacement for in-person counseling services.
"This is a huge market," she said. "Institutions need to make sure that companies have the best interests of students in mind. We need to ask questions about who is developing these products."