You have /5 articles left.
Sign up for a free account or log in.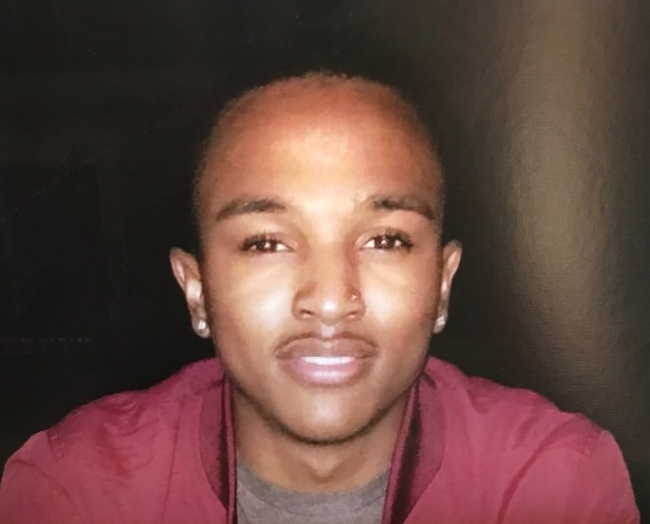 It's been 17 months since David Josiah Lawson, a black student at Humboldt State University, was killed at an off-campus party in the mostly white town of Arcata in Northern California. Since then, local police have arrested and released one suspect. The investigation has stalled. Press attention, which was minimal outside of Arcata to begin with, has languished. Lawson's mother, Charmaine Lawson, continues to push the Arcata Police Department and the university to solve her son's murder, but she's fighting an uphill battle.
"I say I'm living a parent's worst nightmare, to receive a call in the early hours telling me that my son has been stabbed and taken to the hospital," Charmaine Lawson said. "There's still so many unanswered questions -- 17 months and still no justice for my son, and it's frustrating."
When Mollie Tibbetts, a student at the University of Iowa, disappeared in July, the public and police response was swift and thorough. National media broadcast the tragedy far and wide. A multistate investigation led police to Cristhian Bahena Rivera, who confessed to her killing and was charged with first-degree murder in August. Fox News and other conservative news outlets covered Tibbetts's case with a renewed vigor after it was revealed that Rivera was an undocumented immigrant.
The circumstances of their deaths were different, and every murder of a college student is a tragedy, but the lack of public attention led some to wonder if Josiah Lawson's case was ignored because he was black.
"If it were a white kid, I think we would probably know what happened in this case," said Michael Harriot, a staff writer for The Root, an Afrocentric online magazine. "I think that the local outcry and more of a national outcry would put more pressure on the local authorities to look into this case."
The murder has "opened up a can of worms," as Charmaine Lawson puts it, at Humboldt State. She wonders why the university would recruit black students to an unsafe city. Students of color wonder if it could have been them.
Lawson, who went by his middle name, wasn't murdered on campus but in the surrounding town, and university officials say they're doing everything they can to help the police investigation. But to some, it's not enough.
No one can agree on exactly what happened the night Josiah Lawson was killed. Archived police scanner audio revealed that police responded to reports of a "large, aggressive crowd" around 3 a.m. on April 15, 2017, at an off-campus house party. When they arrived at the scene, Josiah Lawson had been stabbed, and his friend and fellow student Elijah Chandler was performing CPR.
A police report notes that officers "immediately began lifesaving efforts" when they arrived, but Chandler disputes that. He told a crowd of Humboldt faculty, students and staff during a prayer service that he administered CPR to Josiah Lawson for 15 minutes before an ambulance arrived and told the Mad River Union, a local Arcata newspaper, that EMTs and officers at the scene were hesitant and passive.
Rick Ehle, the interim Arcata police chief, who joined the department in June, denied these allegations and noted that in times of distress, the response time of emergency medical services can feel longer than it actually is.
Chandler also told the Union that he overheard two white women wishing for Josiah Lawson's death.
"They were saying, 'I really wish that [N-word] does die. I really hope that [N-word] dies.' They just kept repeating it, and I heard this as I am giving Josiah compressions to fight for his life," Chandler told the Union.
Lawson was transferred to Mad River Hospital, where he succumbed to his injuries.
Kyle Zoellner, a 24-year-old man from Mckinleyville, a city just five miles north of Arcata, was arrested as the primary suspect. A knife was found at the scene but had no usable fingerprints.
A Stale Investigation
A preliminary hearing was conducted in May 2017. Zoellner admitted to fighting with Lawson but denied stabbing him. After five days of testimony, Dale Reinholtsen, Humboldt County Superior Court judge, ruled that there wasn't enough evidence for Zoellner to stand trial for murder.
Lisa Rossbacher, Humboldt State University president, said she and other university officials were present for all five days of the hearing. After Reinholtsen's decision, the university issued a statement expressing its disappointment.
"It is difficult to be patient, but sometimes necessary in the pursuit of justice," the statement read. "This is not over. The investigation is continuing, and the university will continue providing assistance to local law enforcement."
One university police officer from Humboldt State's 15-member force, Sergeant Chance Carpenter, has been assigned to work with the Arcata police on Lawson's case, and Rossbacher said she's had a number of private conversations with city officials about continuing the investigation.
"One way in which the university has been involved in [the case] is encouraging the city to continue to invest resources in the case, which they have done recently. They've significantly increased the number of investigators on the case," Rossbacher said. "It's their investigation, and it would be inappropriate and perhaps damaging to the outcome if we were to insert ourselves more in that process."
Charmaine Lawson organized regular public forums and vigils in the months following her son's death to update students on the case. The updates quickly became fewer and farther between.
"Students were so angry, because they were hearing the same thing about Josiah's case, which was no real updates," said Tina Sampay, a Humboldt State graduate who has been in close contact with Charmaine Lawson and has written about the case on her news blog, Slauson Girl.
Rossbacher said she attended several of the public forums but "by no means all of them." After a while, the forums ended.
"There was nothing new to report, and this is my theory: the reaction to having nothing new to report was so negative that the process of continuing the updates when there was nothing new to report was more disruptive than it was helpful," Rossbacher said.
Students didn't think that was the right call, Sampay said. She called the university's decision "chess moves" and felt officials were ignoring student input.
"They're not really understanding what the hell [we're angry about]. They're looking at it like it's just students yelling," she said.
She also noticed that Humboldt State faculty remained silent on the matter.
"There was no support from the faculty at HSU," Sampay said. "The way I saw it, there was a lot of theory without practice. All of the teachers who taught me this stuff, the reason that I'm out here being able to pinpoint institutional racism, they were nowhere to be found."
Stephanie Burkhalter, general faculty president at Humboldt State, wrote in an email that faculty were "deeply affected" by Josiah Lawson's murder.
"While I am not aware of a formally organized response by faculty to the murder and to the issues that persist in the criminal case, individual faculty members have been active in different ways," she wrote. "For example, immediately after the murder I encouraged students in my classes to provide the police with any information they had about what happened, explaining to the students that information and witness testimony were critical to the early stages of a criminal case. I regularly follow news about the case, and I belong to the Justice for Josiah Facebook group. I have attended rallies on campus to show my support for the movement, and I have spoken with the Arcata mayor about what the city can do to facilitate a successful investigation."
Police officers have made little progress on the investigation since Zoellner's release. Tom Parker, a former FBI agent who was consulting on the case pro bono, terminated his contract with the city due to a "lack of cooperation." Karen Diemer, Arcata city manager, told the North Coast Journal that Chapman was "unaware" of Parker's final decision when he announced his own resignation. Ehle, interim chief, said he has pushed hard to move the investigation forward.
"We're optimistic, we're getting there," Ehle said. "We're still waiting on evidence and we've been collecting additional evidence. Most of what we're doing is elimination. We're reaching out to everybody by last name, first name and nickname."
He hopes to have a resolution in six to eight weeks.
A Divided Path Forward
What Humboldt State should do next is contested. Student activists are calling for greater accountability on behalf of the university. So is Charmaine Lawson.
She discounts officials' references to the murder occurring off campus. "So what? It happened in the same city where he was attending school," she said. "I think they're just trying to not be held accountable, and for me, I hold them accountable. They knew the type of environment where my son was going to school, and yet they recruited him. They recruited many students of color knowing that Arcata isn't a safe town."
After serving as president for four years, Rossbacher announced her retirement Monday, effective on June 30, 2019.
Addressing Charmaine Lawson's recruitment concerns, Frank Whitlatch, a spokesman for Humboldt State, said the university is working to better address student safety and life in the local community.
"We know that HSU and the North Coast need to do more to support equity and inclusion," he wrote in an email. "As a country, we struggle with a history of racism and racial inequality on the national and local levels, and we need to find ways to make a positive difference. We take very seriously our recent affirmation of accreditation letter from [WASC Senior College and University Commission]. One of the commendations was 'Student recruitment efforts, particularly in the Los Angeles region, are an appropriate response to the increasing diversity in California.'"
After watching the public forums fall by the wayside, Sampay is worried about keeping Josiah Lawson's memory alive.
"Josiah's name doesn't really come up anymore," she said. "It's like a forbidden word."
Her concerns aren't for nothing. Until Lawson's death, she had never heard about Corey Clark, a black student at Humboldt State who was shot and killed in 2001.
"How could I come to this school eight years later, and there's no trace of it?" she said.
Clark's case was never solved. Cheryl Johnson, executive director for diversity, equity and inclusion, said that she's been trying to keep Clark's name in the discussions about potential memorials on campus.
"In different contexts and meetings -- because there was talk of the university creating a memorial grove with a plaque for Josiah and other students we've lost -- I said don't forget Corey. I just want to keep his name in the discussion," she said.
Much of Humboldt State's efforts are directed toward Equity Arcata, a joint initiative with the city. Johnson serves as point person for the project.
"Complex social problems cannot be solved by one institution -- it has to be a collective effort," Johnson said. Equity Arcata's efforts are divided into seven subgroups focused on police and student safety, communication, housing equity, creating welcoming businesses, training and learning, the development of a bias reporting tool, and community building. 
Charmaine Lawson has also been urging the California State University Board of Trustees to get involved in her son's case. She spoke first at the July meeting and again in September accompanied by supportive members of the California Faculty Association. She has yet to receive a formal response from the board but does plan to accompany Adam Day, board chair, to Humboldt State during his first visit this year. (Note: This article has been updated from an earlier version to eliminate language about what happened at the board meeting.)
"I'm going to continue even after my son's case is solved and the person who took his life is held accountable for his death," Charmaine Lawson said. "I want to continue reaching out to the trustees and reaching out to the university and to the parents … Changes have to be made. If it starts with me, then it starts with me."