You have /5 articles left.
Sign up for a free account or log in.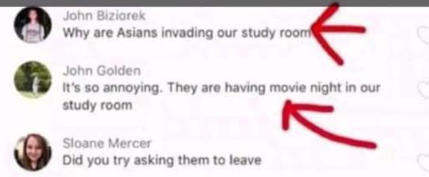 When Han Ju Seo, a senior at Washington University in St. Louis, first saw messages calling Asian students invaders of campus study spaces, she felt "immediate anger."
"I'm not embarrassed to admit that I had a very visceral emotional reaction," she said.
Seo is Korean American, and she said she wasn't upset about what the messages said but about the racist connotations they carried. Anti-Asian racism is something that she and other Asian American students felt everyday.
The characterization of Asian students as "taking over" is common, and not just specific to Washington University, said Julie Park, an associate professor at the University of Maryland at College Park. In 2011, a student at the University of California, Los Angeles, posted a YouTube video that criticized Asian students for talking loudly in the library and having family members visit them.
"One manifestation of anti-Asian racism tends to be this theme that they're 'taking over' somehow, which is similar to what happened at Wash U," Park wrote in an email. "Another theme is the perpetual foreigner stereotype, where Asian Americans are perceived to be un-American or foreign, even when they're U.S.-born or don't have connections to Asia."
The messages were sent on Oct. 3 in a group chat among the residents of the first floor of a freshman dorm at Washington University. One of Seo's friends sent her a screenshot.
"Why are Asians invading our study room," the first messaged read. Several others chimed in: "It's so annoying, they're having movie night in our study room," "Did you try asking them to leave," "Fuck, there's one in my room too."
Seo posted the screenshot to Facebook.
"Thanks for the reminder that no matter my citizenship, the years I've spent in America, and my proficiency in English, I'm always going to [be] a foreigner," she wrote alongside the screenshot. "No matter how much we excel in our careers, achieve incredible things, and work to the point of utter exhaustion we're still unwanted. Go ahead and love my culture, love my food, and love my music; call me when I'm welcome. I'm tired."
Several students filed bias incident reports with the university, although Seo didn't know exactly how many. Both Lori White, vice chancellor for student affairs, and Emelyn dela Peña, associate vice chancellor for student affairs and dean of the center for diversity and inclusion, sent emails to students saying they'd been alerted to the messages.
"We recognize the messages can easily be interpreted as portraying Asians and Asian Americans as invaders and are a characterization of Asian people as forever foreign and generally not welcome in our community," dela Peña wrote. "These messages are inconsistent with the university's goal of creating an inclusive and diverse environment and are just one example of the broader bias and oppression that Asian and Asian American students experience."
Dela Peña also provided details for two campus events, one to support students who had been affected by the messages and a workshop about the "racialization of Asians and Asian Americans."
Seo was glad the university addressed the issue but was concerned that the response came across "a little bit more like damage control."
She doesn't know what she'd like to see the university do differently, and that, to her, is part of the problem.
"In terms of practical steps or actionable steps, it's hard for me to formulate [what those would be], because Asian American issues aren't something that's really talked about," she said.
To address underlying issues of racism and prejudice against Asian students, Park encourages universities to provide support for Asian American studies, promote ethnic student organizations and hire upper-level administrators who are comfortable talking about race.
In 2017, Asian students made up 17 percent of the student body at Washington University in St. Louis, which is double the percentage of other racial minorities on campus, yet Seo noticed that racism and microaggressions against Asian students seem to be discussed less often than those against other racial minorities.
"I'd actually say that it is talked about, but maybe less so in mainstream outlets," Park said. "Asian Americans are stereotyped as being more passive, which leads to the assumption that people can make these types of comments without Asian Americans pushing back, unfortunately." She added that she was proud of the students at Washington University for calling out the problematic comments.
Since Seo made her original Facebook post, one of the students involved in the message thread reached out to her to apologize.
"He was very, very intentional about the whole thing," she said. "He was not making excuses."
That student, who spoke to Inside Higher Ed but asked not to be identified, said that his message was an ill-advised joke and that he regretted his comment.
"I'm not trying to make an excuse," he said. "I understand that I messed up and I'm very sorry that I did."
Another student involved, who also asked not to be identified, said that "it was a very poor choice of words that was not meant in any way to be racially insensitive or derogatory, and right afterwards I realized that it did come across as racist."
Washington University issued the following statement to Inside Higher Ed about the incident.
"We were disappointed to learn about the insensitive comments that were made in the group chat, which are not at all in line with our community values of diversity and inclusion. We have worked with all students involved to facilitate opportunities for constructive dialogue so we can hold one another accountable and work to prevent something like this from happening again," the statement read. "This was an unfortunate incident, but one that we hope will give us an opportunity to listen, learn and become stronger as a community."
Seo hopes that the post will spark a broader discussion about Asian American experiences and racism at Washington University and in America.
"We could sit there and talk about the post for ages, about what they said and what this means, but what I really want is consideration for the larger implications," she said. "Yeah, this one post sucked, but there is such a bigger story behind it. My anger is not just directed towards those boys; it's directed to the problem in general -- that we are not wanted in America."