You have /5 articles left.
Sign up for a free account or log in.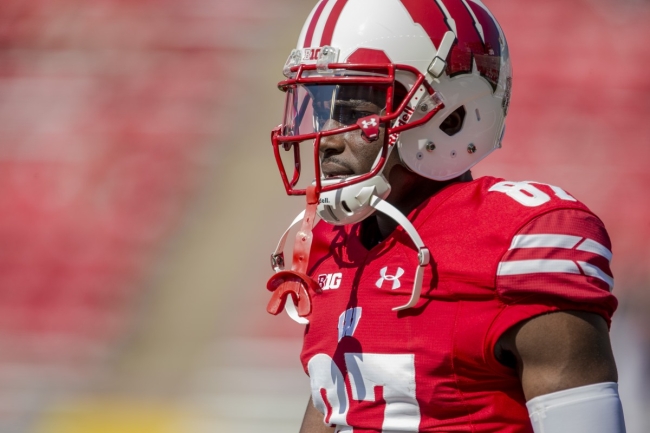 In August, authorities in Wisconsin charged Quintez Cephus, a University of Wisconsin at Madison wide receiver, with raping two women.
But that didn't stop the institution from continuing its own investigation of the incident from April -- a decision that Cephus believes is unfair because he can't participate without implicating himself in criminal proceedings, a violation of his Fifth Amendment rights, he alleges. He's suing the university.
Lawyers unconnected to the case interviewed by Inside Higher Ed said it represents an unsettled area of law. This coincides with the Trump administration's imminent release of new regulations on how campuses would adjudicate sexual assaults under the federal gender antidiscrimination law Title IX of the Education Amendments of 1972.
The Fifth Amendment, in part, protects subjects of a criminal investigation against having to incriminate themselves.
"The situation is a very common one that comes up with students at both private and public schools," said Naomi Shatz, a lawyer specializing in students' rights and Title IX at Zalkind Duncan & Bernstein in Boston. "Students are often required to make a decision about whether to participate in a Title IX investigation while a criminal investigation or case is or may be pending, and at that point they have to decide whether to protect their Fifth Amendment rights and not say anything to the school -- thereby increasing the likelihood they are found responsible in the school proceeding -- or waive those rights and participate in the school process knowing that the statements they make there may be used in a subsequent criminal proceeding."
According to court filings, Cephus had sex with two female students in April. He and the women disagree whether the encounter was consensual -- the young women said that they were too intoxicated to consent. In the subsequent weeks, Cephus would be barred with having contact with the students and told by university officials that he may have violated the conduct code.
Cephus and his lawyer worked with administrators to set up an interview in August for the university investigation. But before he could sit down with them, he was told that the Dane County district attorney's office would be filing charges against him. Cephus's lawyer then told officials Cephus could no longer participate in the adjudication process because it would infringe on his Fifth Amendment rights.
A university lawyer wrote back to Cephus, informing him the institutional inquiry "is expected to move more swiftly" than criminal proceedings. The university refused to delay the process, the lawsuit states.
The institution issued an initial report on the incident, frustrating Cephus, because he and his lawyer claimed that the district attorney's office had evidence that would call into question the women's accusations. This information was not included in that report, which instead had statements from six witnesses. Cephus said he could not respond to the statements because of the criminal charges.
Cephus also accused the university of allowing the father of one of the women, a prominent donor, to pressure the university to move forward with the proceedings regardless of the circumstances.
In a statement, UW Madison said the U.S. Department of Education requires these cases be resolved promptly. The statement also cites federal guidance from 2001 that says court proceedings don't excuse institutions from responding to sexual assault allegations.
"It is standard practice at UW and at many universities across the country to handle student misconduct allegations independent of the criminal justice process," the statement reads. "This applies not just to sexual misconduct but to all types of misconduct."
Cephus officially sued this week, alleging Fifth Amendment and due process violations, as well as racial discrimination. He is asking for an unspecified sum for emotional and psychological damages -- specifically his reputation and career prospects. And Cephus wants the university to halt its investigation.
Joshua Adam Engel, a partner at the Ohio-based firm Engel & Martin, questioned why the university wouldn't simply delay its proceedings, as he has seen other institutions do. He said postponing the investigation a few months would not put the university in violation of Title IX. And if Cephus were found guilty criminally, he would likely be jailed and kicked out of school anyway.
He called this "the next cutting-edge issue" in this area of law. The only case Engel thought was similar was the famous Supreme Court decision Garrity v. New Jersey, decided in 1967. In the early 1960s, police officers in New Jersey were accused of ticket fixing. They were questioned during a state investigation and told that they needed to answer incriminating questions or risk losing their jobs. Their answers were later used in criminal proceedings and led to convictions -- the court decided that public employees need not incriminate themselves with such investigations.
But Brett Sokolow, a lawyer and president of the Association for Title IX Administrators, said he was unsure whether Garrity would apply here -- he said a statement from Cephus to the institution wouldn't be admissible in court because officials would have compelled him to give it.
"It's unsettled, but I would say there are equal arguments for and against," Sokolow said.