You have /5 articles left.
Sign up for a free account or log in.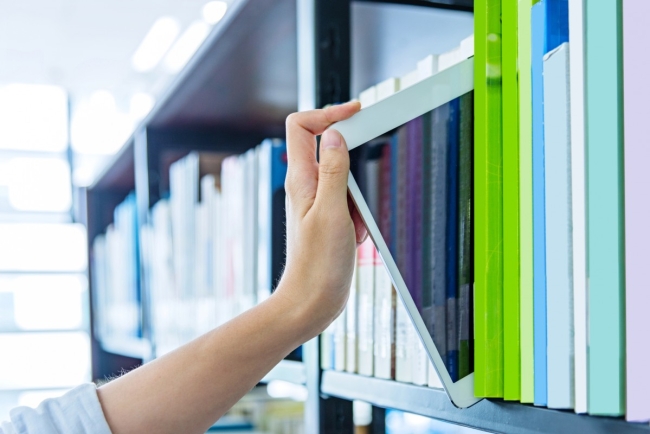 MIT Press and the University of Michigan Press have both announced plans to start selling their ebook collections directly to libraries by creating their own distribution platforms.
The publishers previously did not have a mechanism for selling to institutions directly. Instead, access to ebooks was largely brokered through third-party acquisition services such as EBSCO, ProQuest, OverDrive, Project Muse and JSTOR.
Amy Brand, director of MIT Press, said she had been thinking about how to move away from these third-party platforms, known as aggregators, for some time.
"We determined that the MIT Press brand was prestigious enough, and that the collection was large enough, that we could go it on our own," she said. 
Not only do these platforms take a "significant percentage" of the revenue from ebook sales, they also create a barrier between university presses and their customers, said Brand. She'd like to build a closer relationship with the libraries that purchase from MIT Press and also gain more insight into how they use the content they buy. Detailed customer usage data is not always made available to publishers from aggregators, she said.
MIT Press's new distribution platform, called MIT Press Direct, is being developed by a company called Silverchair and will launch in beta this December.
Terry Ehling, director for strategic initiatives at MIT Press, said the new platform would give the press greater flexibility in what it can publish.
"Having our own platform allows us to create new products and new services around those products," said Ehling. "We can control the delivery and the look and feel of our products. That was very appealing to us." 
Developing its own platform means MIT Press can set its own terms for how content is used, said Brand. For example, there will be no limit on the number of people who can access one ebook at a time -- a common restriction on content sold through aggregators.
The University of Michigan Press is planning to offer its ebook collection directly to libraries in the next few months. Charles Watkinson, director of the press, said the ebook collection will launch in January 2019 on Fulcrum -- an open-source publishing platform being developed with funding from the Andrew W. Mellon Foundation.
"For us, it's very much about taking back some control of our digital content," said Watkinson. It was "impossible" to sell some of the publisher's more experimental content, such as this ebook with 3-D modeling, through the aggregators' platforms, said Watkinson.
Like Brand, Watkinson worried that his organization "simply lost touch with the library market."
"Despite being based in a library at the University of Michigan, we no longer have a good sense of what our most important companies are thinking and needing, and by extension what their faculty and student users are interested in," he said.
The University of Michigan Press will continue to offer access to individual titles through JSTOR, Project Muse, ProQuest, EBSCO and OverDrive, said Watkinson. "But we'll only offer our comprehensive collection of scholarly ebooks directly," he said.
Both MIT Press and the University of Michigan Press will offer tiered pricing structures for their collections -- with prices corresponding to the size of the institutions buying the books. Ehling said that MIT Press has not yet finalized pricing for its collections, but plans to do so by mid-December.
Watkinson said that the list price for the University of Michigan ebook collection would be $6,800, but university libraries will pay between $694 and $5,780 per year based on their size. For this price, the libraries will get perpetual access to all titles published in 2019, and a year's access to approximately 1,000 titles in the publisher's back catalog. Watkinson said the press expects to publish at least 80 titles in 2019. 
By taking control of the distribution of their ebook collections, MIT Press and the University of Michigan Press will soon join a very select group of university presses that sell their collections directly to libraries -- including the presses of Oxford and Cambridge Universities in Britain and Duke University in North Carolina.
Allison Belan, assistant director for digital strategy at Duke University Press, said Duke has been selling its ebook collection directly to libraries since 2008. The press already had a sales team that sold journal access to libraries, so it "wasn't a huge leap" to do the same for ebooks, she said.
One of the biggest barriers to other universities selling their collections directly to libraries is cost. Many university presses don't have the money to invest in platforms or sales teams.
"There's a big investment for a university press to sell bundles directly," Belan said.
Peter Berkery, executive director of the Association of University Presses, said it was too soon to describe the movement as a trend. "There's a lot of experimentation," he said, noting the unlikeliness of all university presses deciding to start selling directly to customers any time soon. Many university presses will be watching the progress of MIT and Michigan's efforts with interest, however.
"Whenever MIT or Michigan do something, people pay attention," said Berkery.
Frank Smith, director of books at JSTOR, said he is pleased to see university presses experimenting. He thinks there is enough diversity of opinion and business models in the sector that there will always be some university presses that want to work with aggregators.
Joseph Esposito, senior partner at publishing consultancy Clarke & Esposito, also believes more university presses trying to sell their ebooks directly to libraries is a good thing. But notes it is a "tough market" with lots of competition.
"Will libraries buy books directly from an individual university press, or do the libraries experience such administrative efficiency by going through [third-party acquisition services] that the university presses will only be able to get a small number of customers?" he asked.
Rick Anderson, associate dean for collections and scholarly communication at the Marriott Library at the University of Utah, said whether libraries choose to work directly with university presses or not will likely come down to a question of scale.
It will be "relatively easy" to work with larger presses like MIT Press or the University of Michigan Press, but "if we had to deal with all university presses individually, that would be a problem," he said.
Smaller university presses could, however, offer "deep discounts in return for direct dealing," said Anderson. "My door is always open to a publisher that wants to talk about discounts. We might be willing to invest more staff time if the price is right."
The market for ebooks is changing, said Watkinson, of Michigan. Constrained budgets mean some libraries prefer to buy ebooks on a title by title basis, rather than purchasing whole collections. He thinks only about 100 libraries will purchase the University of Michigan Press ebook collection.
"We are targeting a high-end group," he said.