You have /5 articles left.
Sign up for a free account or log in.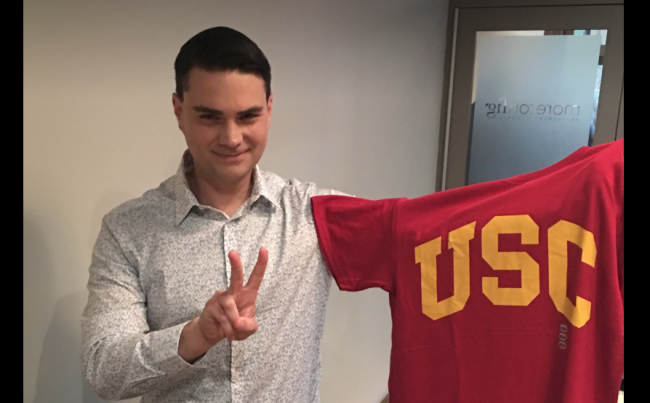 Young Americans for Freedom at USC
Earlier this month, a conservative campus group at the University of Southern California hosted Ben Shapiro, an author notorious for his comments that offend, such as remarks that transgender people suffer from mental illness.
This event alone may have not been so unusual. While some conservative speakers have been shouted down, many of them -- including Shapiro -- speak regularly on campuses. But in the case of his USC appearance, some students have questioned whether the group that brought him did so in a way that squelched free expression.
The USC chapter of Young Americans for Freedom canceled at least 150 of the free tickets students had reserved, reportedly out of fear that some of them would disrupt the event. Some of these students were leaders of organizations that represent minority students -- the Black Student Assembly, for instance -- or activist groups such as Student Assembly for Gender Empowerment. A representative from the Latinx Student Assembly​ provided Inside Higher Ed with a screenshot showing that Young Americans for Freedom had canceled her ticket. Some tickets had been reserved under obviously fake names or with curse words.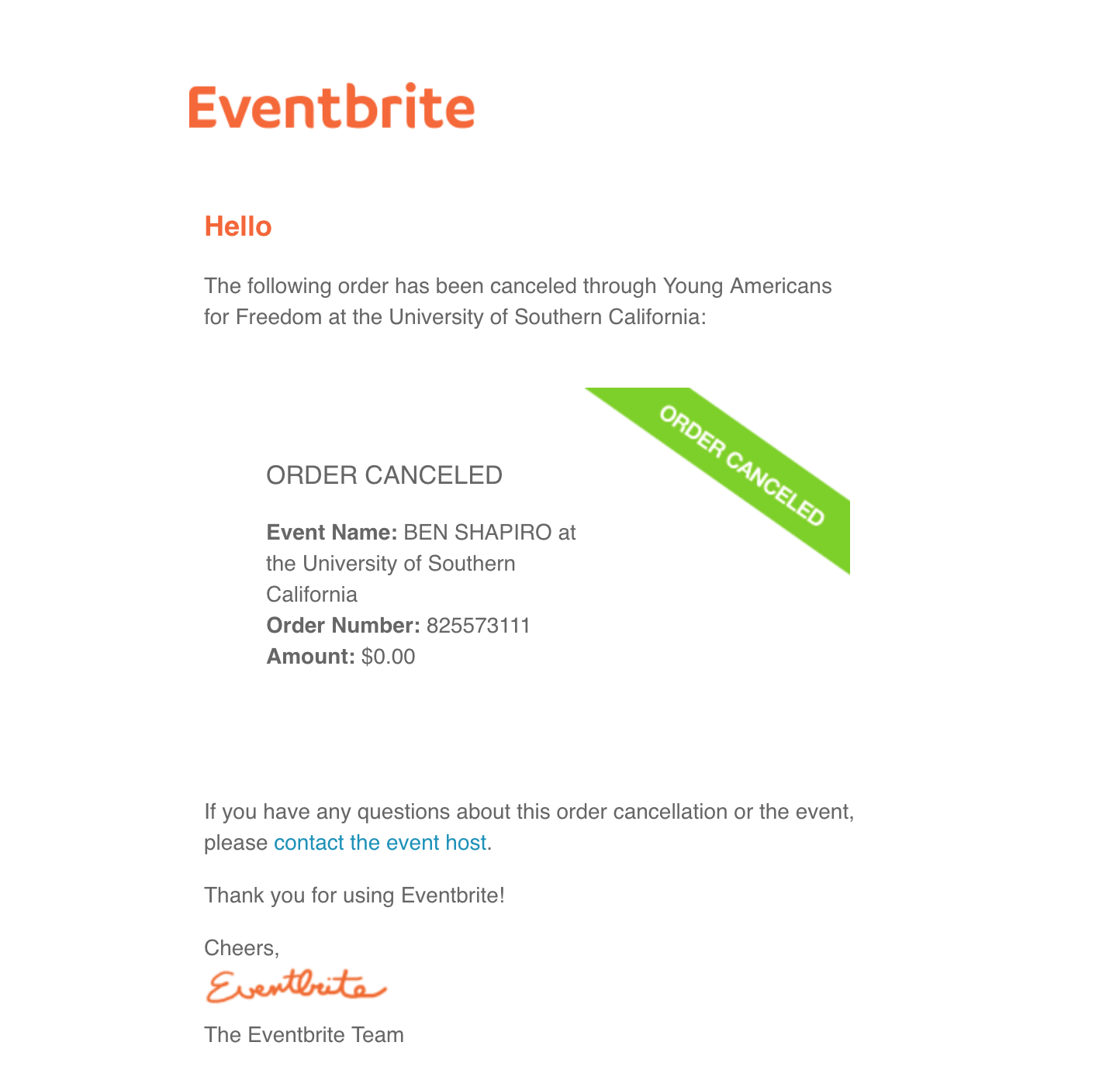 Because the university chapter of Young Americans for Freedom did not respond to request for comment, it is unclear whether certain students were ultimately excluded from the event. Representatives from groups who had their tickets canceled also did not respond to request for comment.
The Shapiro event on Oct. 4 went off with no hitches. A couple hundred people protested outside the hall where Shapiro was giving his talk, but the protest was peaceful; inside the venue, no one tried to drown out Shapiro.
USC spokesman Eddie North-Hager confirmed that the Office of Campus Activities inquired into the ticketing incident and found no violation of the university's policies.
However, North-Hager also said that the student government, which has some separate guidelines from the university, gave Young Americans for Freedom $4,100 out of its discretionary fund for student events -- the maximum amount allowed per academic year. Per the rules of that funding, the event must be free for all undergraduate students. The Undergraduate Student Government treasurer did not respond to a question about why the group was able to use that money for Shapiro's talk or whether Young Americans for Freedom would be punished.
The Foundation for Individual Rights in Education, or FIRE, a civil liberties watchdog group in academe, said that a student organization hosting an event can decline to give reservations to those who publicly indicate they are not actually attending or who have announced they want to disrupt an event.
"But that doesn't extend to turning away students simply because organizers think they're opposed to the event happening or to the speaker's views," Adam Steinbaugh, director of FIRE's individual rights defense program, said in a statement to Inside Higher Ed. "The entire point is to allow individuals to engage with views they find objectionable. Excluding dissenters who haven't expressed an intent to disrupt the event would not be a narrow way of preventing disruption."
It does not appear that these student groups publicly announced they would interrupt Shapiro. Several student groups posted on social media a statement with the #SoundtheAlarm hashtag that suggested Shapiro's presence would be a "catalyst" for "dangerously radical conservatives" and white supremacists on campus. But it also contained some misinformation, purporting that the university spent thousands of dollars for the event to pay for security and police K-9 units.
According to a statement last month from John Thomas, chief of the USC Department of Public Safety, Young Americans for Freedom paid for security costs associated with the event. It said police dogs were never part of the security plan.
North-Hager did not respond to a question about how much security cost, but said the student government money that the group secured went toward that.
"Our role is to make sure that all parties on campus may safely exercise their First Amendment rights in accordance with university policy," Thomas said in his statement.
Young Americans for Freedom is a recognized organization with the university, meaning it enjoys such perks as applying for institutional funding, discounts on renting facilities and using the name, logo and other trademarks associated with USC.
The university has been largely quiet about the Shapiro event, other than to correct false statements. But Ainsley Carry, vice president for student affairs, wrote in a letter to the student newspaper, The Daily Trojan, that he found Shapiro's views "abhorrent, painful, offensive and hateful." Carry wrote that his gut instincts questioned why a university could not simply outright deny a speaker like Shapiro a platform.
"It is true that our constitutional inability to deny or restrict hateful speech runs counter to our sincere efforts to advance equity and inclusion," wrote Carry, who is black. "However, I want to remind our community that no single speaker in one evening can set back all that has been achieved over the past decade. Our cultural centers, cultural assemblies and student leaders have made tremendous strides in making this campus a safer space for so many marginalized student populations. Is it really possible this speaker can unravel all that has been accomplished to make our university better? Should we grant any speaker that much power? I hope the answer to these questions is 'hell, no!'"