You have /5 articles left.
Sign up for a free account or log in.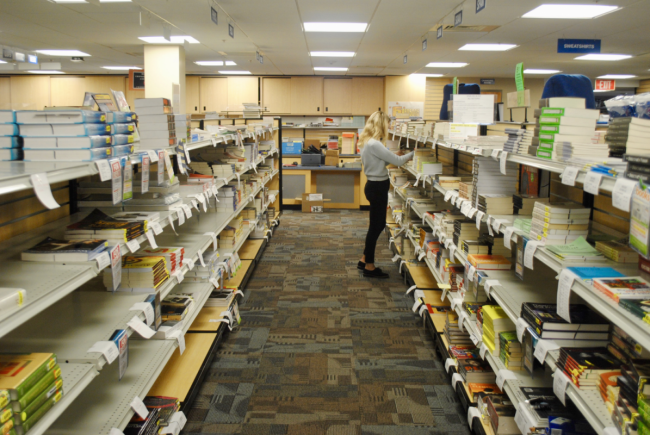 Hope Allison, The Middlebury Campus
The Middlebury College bookstore doesn't look much like a bookstore anymore. The textbooks that once lined its shelves were cleared out earlier this year, making room for more Middlebury-branded sweatshirts, T-shirts and coffee mugs.
The bookstore, like many others at colleges across the country, had suffered from declining sales and stiff competition from large online retailers such as Amazon.
Bookstore manager Erin Jones-Poppe said it simply didn't make sense for the store to keep stocking books.
"We cannot afford to continue in our current trajectory," she told the student newspaper, The Middlebury Campus, in 2017.
Last spring the bookstore switched to an online-only book ordering system, offered through MBS Textbook Exchange -- a company that was acquired by Barnes and Noble Education in 2017. Under the new system, students can still pick up their books from the bookstore -- they just have to order them online first. The system is supposed to provide better value for students. But faculty members at Middlebury say they want the old system back.
In a letter to the college administration, published in The Middlebury Campus on Oct. 11, faculty from the English and American literature and theater departments and 12 individual faculty members from other disciplines said the new online system had "a significant negative pedagogical impact."
Students won't order books in advance of their first classes because they are unsure of their schedules, the professors wrote. When the students do order their books, it can take up to three weeks for them to arrive.
To get the books to arrive faster "costs our students extortionate amounts in shipping costs," they said.
"Professors are spending valuable time during the early weeks of the semester photocopying materials and trying in other ways to help increasingly anxious student chase down books," the faculty members wrote. "The whole situation has a significant negative impact on the central thing -- teaching -- that we do. It undermines the process and experience of teaching and learning, as well as sending a message that course materials are devalued or irrelevant."
Don Wyatt, John M. McCardell Jr. Distinguished Professor of History at Middlebury, said he signed the letter because it's hard for students to achieve an appreciation of the importance of books "without access to them."
Since the system changed, many more students have shown up to class without their books, he said.
Because of the "emphasis on the close reading of texts" in humanities studies, the delayed arrival of textbooks is "extremely disadvantageous," said Wyatt. "Students are behind almost before they begin."
Antonia Losano, a lead author of the letter and chair of the Department of English and American Literature, said after the letter was published numerous members of the college administration got in touch to "express concern and commitment to working on this." Many members of the administration also teach regularly, so this is "not an abstract issue to them," she said.
A spokeswoman for Middlebury College declined to comment while discussions between faculty, staff and administrators are ongoing. Losano said a meeting between the relevant parties has been scheduled for mid-November.
Bill Dampier, executive vice president of MBS Textbook Exchange, said he "understood the concerns of Middlebury faculty" and would be working with the college "to ensure students have access to the materials they need for success in the classroom."
Students who buy directly from MBS's inventory are offered a low rate on second-day air shipping, or they can pick up their purchase from the Middlebury bookstore without any shipping cost, said Dampier.
However, many students at Middlebury chose to purchase their books from individual sellers in the MBS marketplace -- where items are shipped by the seller and not by MBS, often at lower cost.
"It is clearly stated on the website at the point of purchase that the shipping window can be up to 18 days," said Dampier.
Middlebury College is not alone in eliminating books from its bookstore in recent years.
Robert Batyko, social media and digital manager of the National Association of College Stores, said a few hundred institutions have moved course material ordering and delivery online. Nearly all the others do some combination of both online and physical textbook ordering and delivery, he said.
Institutions that move book sales online "generally do so in response to the increasing number of students who purchase online, and increasing usage of digital materials," said Batyko. "Additionally, some institutions have moved in this direction for financial reasons, as it allows them to repurpose the space for other offerings."
Going online-only is "complex, and if not well executed, susceptible to difficulties," said Batyko. "The most common complaints center around delays in the ordering and delivery of course materials, along with the shipping fees."
Colby-Sawyer College in New Hampshire switched to an online-only ordering system from MBS in 2016.
Administrators at Colby-Sawyer initially "got a tiny bit of pushback" from faculty who didn't like the new system, said Beth Crockford, chair of the business administration department. "It was a challenge for a few faculty members, but now that we are used to it, I have not heard complaints," she said.
The MBS system allows students to buy used, new or digital books, and offers to buy back print textbooks once students are done with them.
"It's a wise business move for small schools," said Alison Seward, manager of the Colby-Sawyer college store. The system might not be perfect, but she wouldn't go back to putting books on the shelves.
"I vote to keep the online ordering system," she said.