You have /5 articles left.
Sign up for a free account or log in.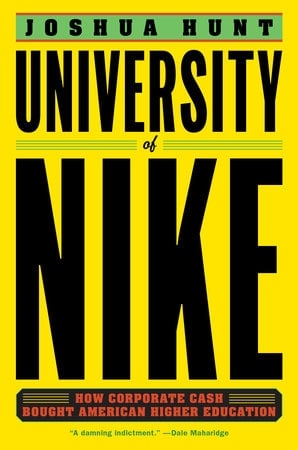 A new book about Nike Inc. and company founder Phil Knight has renewed debate about the corrosive influence of big donors on higher ed and the serious consequences of the unchecked power the author says is wielded by rich benefactors.
The book, University of Nike: How Corporate Cash Bought American Higher Education (Melville House) by journalist Joshua Hunt, is a searing indictment of how corporations in general, and Nike in particular, have compromised the integrity and independence of college administrators, especially presidents of public institutions operating with decreased state funding.
The book also argues that Nike founder Knight used his wealth to shape university policies and practices at the expense of students, faculty and even taxpayers.
A large part of the book is focused on what the author describes as Knight's officious and sometimes bullying behavior as the University of Oregon's top donor. The book also delves to a lesser extent into Nike's actions at other colleges and universities to which the company or Knight donated money, or with whom Nike did business.
In example after example, Hunt details how Knight, an Oregon alumnus and now chairman emeritus of Nike, has used his gifts to control and systematically transform the football program at Oregon into a national powerhouse and gain increasing say over the university's athletic department, including hiring and firing decisions. Along the way, academic programs became secondary to football, according to the book.
For instance, in 2000 Knight temporarily froze his ties with Oregon over its decision to join a labor consortium pushing for better working conditions at Nike factories in developing countries. He withheld $30 million he planned to give Oregon and instead made a large donation to Stanford University, where he attended business school. As a result, a stadium expansion at Oregon that Knight money was to help fund was halted and became "saddled with ballooning costs," according to an article by Hunt published in Pacific Standard last week.
"Instead of a projected $80 million price tag, the expansion would cost $89 million, plus unforeseen extras, like $1.3 million worth of brand-new artificial turf that had to be replaced after it proved to be too slick in the rain. Instead of the original $30 million pledge, Knight would pay nearly twice that sum toward the stadium expansion, while the remaining $29 million was funded by issuing state bonds that came with hefty interest payments," Hunt wrote.
"What wasn't covered by state bonds or Knight's money were the various operating costs -- like the $2 million that Oregon's athletic department siphoned from the school's general fund each year -- that got passed on to students whose tuition dollars replenished the fund whether they liked athletics or not. While the University of Oregon's top administrators scrambled to cobble together $90 million to improve the … football stadium, its faculty was earning less than their contemporaries at each of the 61 universities in its cohort of similarly prestigious public research institutions."
Hunt wrote that "the $90 million makeover that began in August of 2001 sparked both great hope for the football program's future and great anxiety over the school's priorities."
During that period, Oregon "spent $250,000 on a massive 80-by-100-foot billboard" in Manhattan to promote its star quarterback for the 2001 Heisman Trophy. It also paid the Oregon Ducks' head football coach a $750,000 salary with escalator clauses that made it possible for him to make $1 million per season because he'd led the team to a record 10 victories in 2000.
"Just as Nike had become the national face of concerns over sweatshop labor, Oregon's football program suddenly became the focus of those concerned that academics had become secondary to athletics at a number of American universities," Hunt wrote.
According to the book, Knight at times became so frustrated with university decisions that ran counter to his wishes that he appeared to go out of his way to punish administrators. The labor consortium was a particular sore spot.
That same year he stopped supporting the stadium expansion, he also withheld his annual donation of $1 million to the Fanconi Anemia Research Fund, a nonprofit organization that Dave Frohnmayer, who was president of the university at the time, founded with his wife, according to the book. Three of Frohnmayer's children had Fanconi anemia, a rare inherited blood disorder, and would eventually die from complications related to it. Knight resumed those donations the following year after the dispute with the university had largely been resolved, with a $2 million gift. Nike and Oregon's relationship also deepened after that time, as the football team continued its rise.
Frohnmayer died in 2015. His wife, Lynn, has challenged some of Hunt's claims in the book, including that Knight withheld support for the research fund as retribution.
Others said the events described in the book were accurate.
"The reason why this book is so important is because it highlights an example of a university that's been bought by an individual who has outsized control," said Nathan Tublitz, a biology professor at Oregon and a vocal critic of the university's relationship with Knight. "One of the consequences of that is not enough money going to students or to making sure they graduate on time, not enough money for other educational resources to help students, and not enough money to help students who can't afford to go to the university.
"Instead we're using that money to build a sports empire and to pay tribute to a single individual, and that's just wrong."
Tublitz's complaint is not new. Faculty have been publicly expressing similar concerns for more than a decade. Some 92 faculty members signed a scathing op-ed article in 2007 accusing the university of gambling its academic future to "become a minor-league training ground for elite athletes."
Tublitz concedes that state funding cuts put the university under financial pressure and forced Frohnmayer to find alternative sources of support, but he says administrators ceded too much control to Knight over the years.
"They have kowtowed to this donor because he's far and away the largest donor we have," he said. And as a result, "he has forced the university to accept the strings attached to those donations and he has had a significant effect on the direction and the integrity of the university."
Knight could not be reached for comment. Nike's representatives have not publicly addressed the book's claims and declined to weigh in.
"We don't have a comment on the book," said Greg Rossiter, a Nike spokesman.
University of Oregon administrators and counterparts at various other institutions that the book's author contends have also been co-opted by Nike declined to respond to the many specific examples and incidents described in the book.
"Given our focus on the university's future, we will not engage in debate over Mr. Hunt's book, which largely speculates about and rehashes historical events that have been covered elsewhere," a written statement from Oregon said in part.
The statement also said the university was "extremely grateful to both Nike as a company and to Phil and Penny Knight individually for their generous support" over many decades. It noted that the gifts came "without strings attached."
Hunt, a former Tokyo correspondent for Reuters, said the events he wrote about are "well documented and pretty incontrovertible."
Among the many examples of aggressive efforts by Knight to make Nike the dominant force in college athletics, the book chronicled how the company struck multimillion-dollar deals with various universities to exclusively sell athletic apparel to those institutions. Florida State University had a $6.2 million deal with Nike in the mid-1990s, including a $225,000 stipend that was added on top of the football coach's salary, according to the book. Nike also signed an $8 million deal with the University of Michigan and a $7.2 million deal with the University of North Carolina. It paid Pennsylvania State University $2.6 million over three years.
While these deals benefited the colleges, they were also highly profitable advertising opportunities for Nike, Hunt explained.
"Nike is essentially buying the coaches, and on top of that, the schools are getting this money," he said. "So it becomes this whole new avenue for making money, and for the schools what they're selling is advertising space on the backs and feet of their athletes."
When the colleges sign these deals with Nike, Hunt said, "They try to keep the contracts as secret as possible and frequently make it very hard for reporters to get access to them."
He says that's because the contracts often have "elevator clauses" and benchmarks that coaches have to reach to get big bonuses. One of those benchmarks might be convincing all the college's athletes -- especially star athletes -- to exclusively wear Nike brands.
"The fine print is always very, very interesting," Hunt said.
Administrators at Michigan had little to say in response to inquiries about these deals with Nike.
"We have no comment," said Kurt Svoboda, associate athletic director for external communications and public relations.
Florida State representatives said they reviewed records of donations from Nike going back to 1996 and determined the university received nearly $3.9 million in total during that time period, "none of which had any conditions placed on them," said Browning Brooks, assistant vice president for university communications.
She characterized the donations as "not substantive" and said the university "has no further comment."
In an earlier emailed statement, David Coburn, FSU's interim athletics director, drew a distinction between donations from Nike Inc. and from Knight or Nike's charitable foundations.
"FSU is not aware of any gifts whatsoever from Phil Knight or the Nike Foundation," he wrote.
He said $2.8 million of the $3.9 million donated was used in 1996 toward the cost of building skyboxes at the university's stadium, and $1 million went to the Human Performance Center Building Fund in 2005.
Penn State administrators declined to discuss the book or the author's assertions about the influence donations by Nike and Knight may have had on the campus. University officials also declined to say how much Knight or Nike donated over the decades, which programs the money supported, or how it was used. Instead the university issued a brief statement that did not address points raised in the book.
"Phil Knight is a modest scholarship and programmatic donor to Penn State," the statement said. "Nike, whose last gift was in 2000, has also given modestly to scholarship and program funds, and also toward a renovation of the Knowledge Commons at Pattee Library. All of Mr. Knight's personal gifts and Nike's corporate gifts are governed by university policy, which prohibits donors from being directly involved in the use of their gifts once given."
Hunt took issue with the claim that the deals with, or donations from, Nike or Knight were modest.
"They're modest maybe by today's standards, that's the only measure by which they're modest," he said.
Welch Suggs Jr., an associate professor at the Grady College of Journalism and Mass Communication at the University of Georgia and former associate director for the Knight Commission on Intercollegiate Athletics, said the revelations in the book were "very troubling."
"It was really surprising, assuming everything in the book is accurate, the degree to which a donor would want to have so much say over university matters," he said. "The other piece of it is the extent to which Nike wanted to use Oregon as a training lab of sorts for some of their own technology and products. But more troubling to me was the degree to which Knight wanted to have control over the university policies."
Suggs, author of A Place on the Team: The Triumph and Tragedy of Title IX (Princeton University Press), said the acquiescence of Oregon and other colleges in the face of encroaching control by Knight was revealing.
"It raises questions about universities being moral leaders in society," he said.
Suggs said business deals such as those made between Nike and Oregon or the other colleges undermined the autonomy of the institutions.
"University boards and governance have not been active in addressing this and raising concerns when contracts like these infringe on academic freedom and free speech, or when faculty publish findings that are contrary to individual donors," he said.
Tublitz, who has taught at Oregon for 33 years and was active in faculty governance issues during that time, agreed. He has been president of the faculty senate on three separate occasions but says he's not active anymore because the university administration no longer values faculty input.
"I've been a big proponent of shared governance and faculty involvement, and over the last 30 years I've seen that steadily eroded to the point that it no longer exists," he said. "There was a partnership with the university; decisions were made in tandem. Now it's not at all. Instead, the university has shifted its ways, its ear and its gaze towards donors."
Tublitz said Oregon and other colleges with influential donors are no longer structured as traditional institutions with a leadership hierarchy made up of a president, provost and deans.
Instead, the presidents have reorganized universities in "a vertical or corporate structure" where presidents are considered CEOs -- some even have that title, along with "president," on their business cards -- provosts are vice presidents and deans are associate vice presidents.
This "corporatizing of the university" is "very telling," and "the symbolism of that cannot be ignored," he said.
Tublitz also criticized Knight for requiring Oregon to raise money to help pay for specific projects he was funding. University leaders would then request funding from the state Legislature, which in turn would agree to float bonds to help fund the project.
"There's an enormous amount of bonding going on, and that's saddling universities with enormous amounts of debt," he said. "Donors are taking advantage of this and leveraging their donations."
He pointed to a $500 million donation in 2016 by Knight and his wife, Penny, for a new science center as an example. The university has to raise $50 million per year over 10 years to help pay for it.
"So now all the fund-raising is focused on making sure that $500 million is found, and everything else on the vine is left to die," Tublitz said. "They're under the gun to find this money, and it becomes the top priority."
For his part, Hunt said he learned about the depth of the power dynamics between big donors and universities during his reporting and research for the book.
"Maybe the most surprising thing I learned was how widespread all of this is and how vulnerable our public universities are as institutions. They're very, very vulnerable to any corporation with money and have been increasingly vulnerable because they're getting less and less government funding," he said.
"The total transformation that can take place when the school has a nonpublic donor and the way it grows into a corporation within the university" bears watching, he said. "The faculty has no say and nothing to do with it, and sometimes even the athletic department has no say."
Meanwhile the corporations bring their own public relations and marketing staff to the campuses, and pretty soon they, a handful of top university administrators and the general counsel "are calling the shots," he said.
"At Oregon and many, many public universities, these are the key people making the decisions and replacing university trustees," he said. "They become mini-corporations that grow inside the university."
More from Books & Publishing