You have /5 articles left.
Sign up for a free account or log in.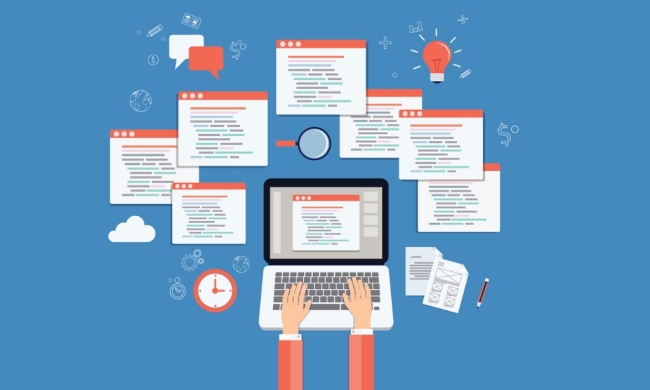 Hundreds of colleges and universities across the country are currently under investigation by the Education Department's Office for Civil Rights for failing to make their websites accessible to people with disabilities.
Universities that receive federal financial aid are required by law to make reasonable accommodations to ensure their web content is accessible to everyone, including, but not limited to, people who are blind, deaf or have limited mobility.
Awareness of the importance of web accessibility has grown among university leaders in recent years partly due to numerous well-publicized lawsuits. Yet ensuring that every aspect of a university's sprawling web presence meets recommended web-accessibility standards remains a huge challenge.
Part of the problem is the sheer volume of content universities have online, said Scott Lissner, Americans With Disabilities Act compliance officer at Ohio State University. Universities can have thousands of webpages, with hundreds of faculty members and staff constantly adding, removing or changing content. This "amoeba-like" quality makes it difficult to monitor content for accessibility, said Lissner.
When Lissner asked colleagues how many webpages Ohio State has, they told him to "multiply the grains of sand on the shore by the stars in the heavens" to get a close approximation. The true number is "somewhere between five and eight million," he said, "depending on what definition you're using and what moment in time it is."
Lissner needs to know the total number of webpages so he and his colleagues can review every single one as part of a requirement by the Office for Civil Rights. The office opened an investigation into Ohio State's web accessibility two years ago following a complaint. To resolve this complaint, Ohio State must audit its webpages -- identifying any areas that need work and proposing a time frame to fix them.
Ohio State isn't expected to check millions of webpages overnight, but even the initial audit of the university's public-facing webpages represents a significant undertaking. There is software that can automatically test webpages for accessibility, but it's far from perfect, said Lissner.
"These tools do an OK job on very static, content-oriented webpages," he said. "But depending on the tool and the design of your web space, they are only between 30 and 45 percent accurate."
Web-accessibility software can, for example, check to see if webpages have descriptions known as alt-tags on images. These alt-tags should describe an image so that people who use screen readers can know what's there. But Lissner said the software doesn't tell you if a description is good or not.
"If I have a picture of the Oval on a webpage, and the alt-tag says 'image 27' -- that's not going to mean much to anyone," he said.
Though auditing websites is time-consuming and potentially costly for institutions, Lissner does not resent doing the work. Ohio State's resolution agreement with the OCR set out a strategy for improving the institution's web accessibility, which includes developing a web-accessibility policy, performing audits and training staff. Ohio State was already doing many of these things but at a slower pace and with a slightly different approach. The agreement requires that institutions perform an initial audit of their websites within 180 days of OCR approving the institution's proposed web-accessibility policy. Lissner estimates Ohio State is probably about two years ahead of where it would have been had it not received the complaint.
John Ellinger, chief information officer at Bowling Green State University in Ohio, said it wasn't a surprise when the university received a letter last year saying that OCR had opened an investigation into BGSU's web accessibility. Ellinger, who had been in contact with IT staff at other Ohio-based institutions, knew that many of them were already under investigation by OCR.
"We didn't wait for the letter to arrive to start the work," said Ellinger.
A Department of Education spokesman would not say how many universities are currently under investigation by OCR for web accessibility issues. He previously told Inside Higher Ed that there were 556 open cases as of Aug. 7, 2017. The spokesman said OCR receives thousands of complaints alleging violations of federal civil rights laws every year, and the number "has generally increased over time."
When OCR reviews a website as a result of a complaint, it doesn't do a comprehensive audit. It instead typically lists a small sample of webpages where it has identified web-accessibility issues. Problems highlighted at BGSU included a lack of alt-tags on some images and videos that were not appropriately captioned.
There were also some surprises -- Ellinger's team thought they were using accessible fonts and colors on the BGSU website, but in fact, their choices were not compatible with the required web-accessibility standards. The website has since been updated to reflect this, with added features such as a button that allows users to toggle between normal and high-contrast webpages.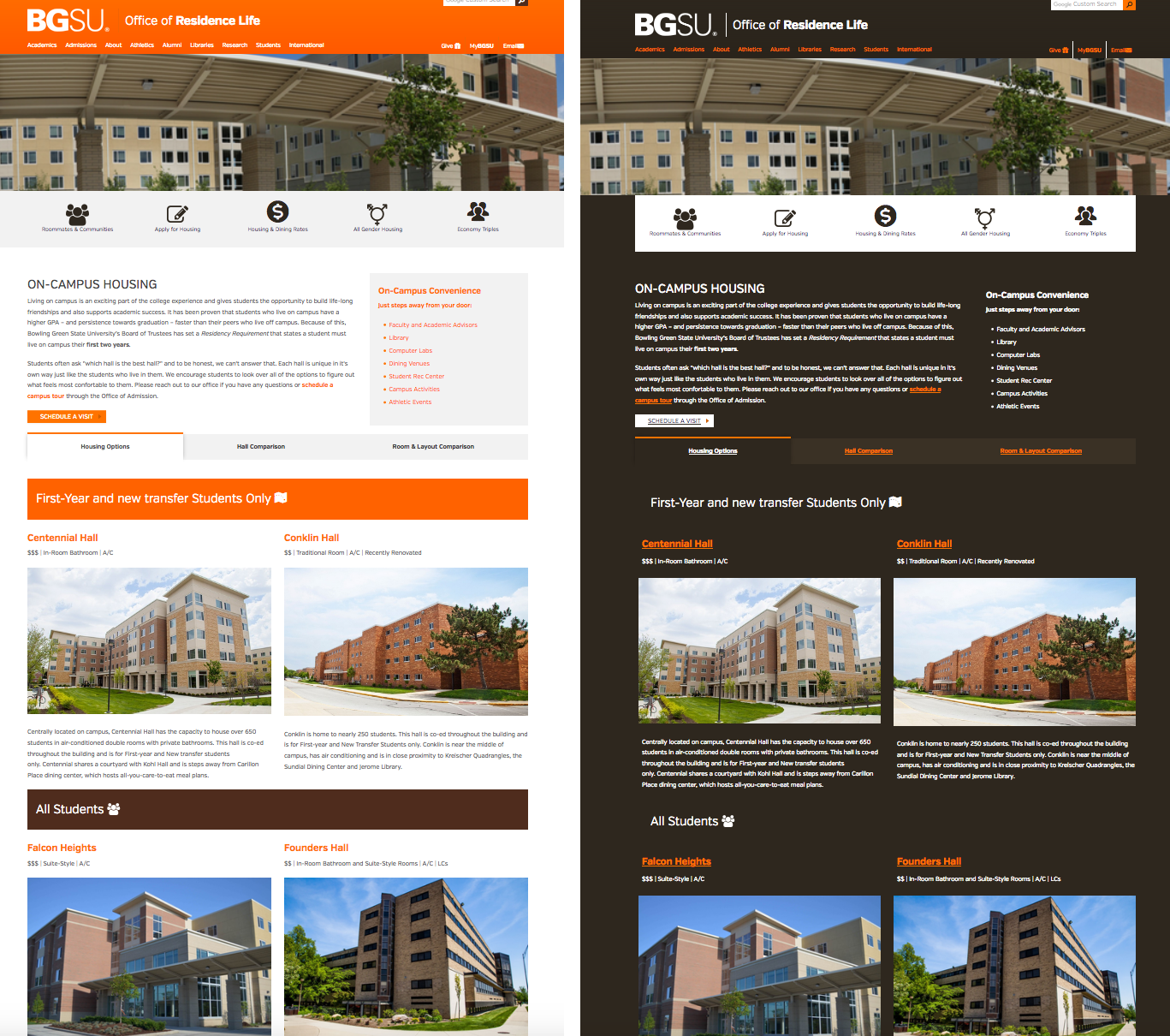 Ellinger said BGSU has approximately 15,000 webpages. These webpages are controlled by 610 content moderators, all of whom must be trained as part of the university's resolution agreement with OCR. So far, around 150 have completed the training BGSU created. A small team is working to audit BGSU's webpages and is on track to report the results of their audit by next February, said Ellinger.
"I'm very comfortable with where we are," he said. "We haven't thrown a lot of resources at this work -- it's just become part of our day job."
Jeremy Thompson, assistant vice president of marketing and enrollment management at Lesley University in Cambridge, Mass., oversees web content at the university. He said that the university had just completed an 18-month project to update its website when they received an OCR complaint in July 2017.
"The site was only two weeks old and we were still testing it," said Thompson.
He said it took a few months to draw up the terms of the resolution agreement with OCR. The agreement is similar to those drawn up by OSU, BGSU and other universities under investigation by the OCR. Thompson said his institution is "fully onboard" with completing the steps outlined in the agreement but notes it is "impossible to achieve complete perfection." Web-accessibility standards "change very regularly, and the methods are constantly evolving," he said.
Lesley University consolidated its webpages when it redesigned its website, but the total number is still in the thousands. There are about 30 staff members who can upload and edit the institution's website, said Thompson. All of them have now been trained in web-accessibility best practices.
"I would encourage other institutions to make accessibility a key consideration with any website," said Thompson. "They need to be making every effort to move in that direction -- it's mission appropriate. Universities should be accessible to anyone interested in pursuing education."
Gabe Cazares, government affairs specialist for the National Federation of the Blind, said higher education institutions are more aware of what is required of them by law than they were in the past.
"There have been some improvements from when we started doing this work," he said. "But there's still more to be done."
Common issues that NFB members encounter on university websites are a lack of alt-tags and documents being uploaded as image files rather than text files that can be read by screen readers, said Cazares.
The federal government recommends that institutions meet web-accessibility standards known as Web Content Accessibility Guidelines 2.0, but these are not the latest standards -- new, better ones have been released, said Cazares. Government policy is "very slow" to reflect these developments, he said.
Resolving a web-accessibility complaint can take years. The OCR can take several months to respond to the reports that institutions send as part of their resolution agreements, and institutions can ask for extensions on their reporting deadlines. George Washington University, for example, recently secured an extension from OCR for its first reporting deadline. The Education Department spokesman did not comment on whether it is common for institutions to be granted extensions, nor under what conditions they may obtain them, saying only that "as a matter of policy, OCR does not discuss details of open cases."
Sometimes institutions are "overoptimistic" in how quickly they can improve their web accessibility, said Cazares. He'd like the work to happen quickly but says he is more concerned when institutions miss deadlines than when they ask to extend them.
Though several university accessibility staffers said it is impossible to make sure every webpage of a university website is accessible, Cazares disagrees. "You can create something inherently accessible," he said. "It just requires a change in culture."
Earlier this year, OCR changed the way it processes web-accessibility complaints, releasing a new case-processing manual. This change means that OCR can dismiss complaints that appear to be part of a pattern. What exactly constitutes a pattern is unclear, said Marcie Lipsett, an education rights advocate, who since January 2016 has single-handedly filed thousands of complaints against universities, colleges, schools, public libraries and state education agencies.
Lipsett said that since the OCR changed its case-processing manual, hundreds of her complaints have been dismissed -- including 571 cases that were already under investigation by OCR. "I started getting bulk letters and emails. I had more than 100 dismissals in one letter," she said.
Cazares noted that the NFB was "very disappointed" when OCR announced the processing changes. The NFB is one of the lead organizations in a lawsuit against OCR regarding this change.
Terrill Thompson, a technology accessibility specialist at the University of Washington, said he doubts there are any universities that have fully accessible websites. "If it exists, it would have to be at a very centralized institution, where every webpage has a standard template or theme," he said.
At Washington, where many different staff members add website content using different tools and hosting platforms, Thompson thinks it will be difficult to ever attain 100 percent compliance.
It's "kind of a wild west," he said. "We are seeing improvements -- we just need to keep that momentum going."
Thompson said he and his colleagues at Washington are talking less and less about being compliant with web-accessibility standards and thinking more about universal design -- creating things that work for everyone.
"My conversations with web developers in-house and at vendors indicate there is a real motivation to create things that don't shut people out," he said.
Legal requirements and the threat of being sued are motivators for some institutions to take accessibility seriously, said Thompson. OCR complaints have had a mostly "positive impact" and prompted more institutions to pay more attention to improving web accessibility, he said
"There are some accessibility staff having a hard time convincing university leaders that this is important," he said. "A complaint or lawsuit can give them some leverage. And some of the best models for accessibility have emerged out of legal complaints."
The University of Washington hasn't had to work with OCR to respond to any web-accessibility complaints, said Thompson.
"The nice thing about being at an institution where we're not complaint driven is that we can strategize and come up with our own accessibility solutions," he said. "We have a lot more freedom to address problems creatively and find solutions that work with our culture, without the Department of Justice or OCR dictating what we should be doing."
"We're not going to make everything accessible overnight -- that's an unrealistic expectation," said Thompson. "It's important to prioritize, have a road map and demonstrate our progress."