You have /5 articles left.
Sign up for a free account or log in.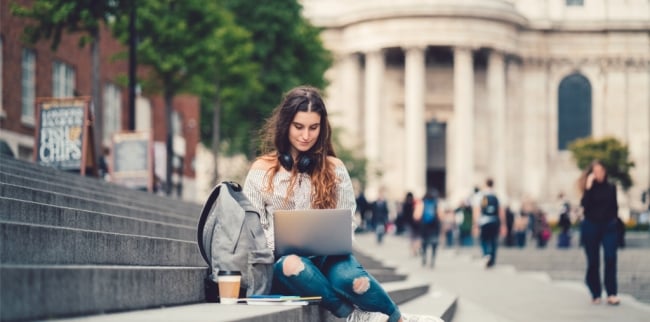 The number of American students studying abroad continues to steadily increase, growing by 2.3 percent in academic year 2016-17 compared to the previous year, according to new data from the annual Open Doors report released today by the Institute of International Education.
A total of 332,727 students studied abroad for credit in 2016-17. IIE estimates that about 10.9 percent of all undergraduate students -- and 16 percent of those earning bachelor's degrees -- study abroad at some point in their undergraduate careers.
The profile of study abroad students continues to become more racially and ethnically diverse, though is still a long way from reflecting the diversity of enrollment in U.S. higher education, which is about 42 percent nonwhite. About 29.2 percent of students who studied abroad in 2016-17 were nonwhite, compared to 18.1 percent a decade earlier.
Study Abroad Participation by Race/Ethnicity
| | | |
| --- | --- | --- |
|   | 2006-07 | 2016-17 |
| White | 81.9% | 70.8% |
| Hispanic or Latino | 6% | 10.2% |
| Asian or Pacific Islander | 6.7% | 8.2% |
| Black or African American | 3.8% | 6.1% |
| Multiracial | 1.2% | 4.3% |
| American Indian or Alaska Native | 0.5% | 0.4% |
| Total Number of Students Studying Abroad | 241,791 | 332,727 |
Women have historically studied abroad at higher rates than men, and the gap has only widened over the last decade. Women made up more than two-thirds (67.3 percent) of students studying abroad in 2016-17, compared to 65.1 percent a decade earlier.
Meanwhile, efforts to make study abroad appealing to a broader array of students outside those studying foreign languages or international studies have borne fruit. Slightly more than a quarter (25.8 percent) of study abroad students in 2016-17 were studying STEM fields, up from 17.5 percent in 2006-07.
Students studying STEM fields make up the largest group of students studying abroad by field. Rounding out the top five fields of study, about a fifth (20.7 percent) of students studying abroad are studying business, 17.2 percent are studying social science fields, 7.3 percent are studying foreign languages and international studies, and 6.3 percent are studying fine and applied arts.
The proportion of students studying on short-term programs continues to grow: 64.6 percent of all students who studied abroad in 2016-17 did so on summer programs or those that were eight weeks or fewer in length. "As you try to expand the diversity of study abroad, more community college students, more students of color, more students from different fields, you're going to get students who can only go for a shorter period of time," said Peggy Blumenthal, a senior counselor to the president at IIE.
Indeed, the growth in study abroad participation is being fueled by the growth in short-term programming. The absolute number of students studying on short-term programs has risen rapidly -- more than 40,000 more students studied on short-term programs in 2016-17 compared to five years before that -- while the number studying on medium-term programs lasting a quarter or semester in length rose much more slowly. And the absolute number of students studying abroad for a whole academic or calendar year has actually declined (see chart below).
Total Numbers of Students Studying Abroad by Duration of Study
| | | | | | |
| --- | --- | --- | --- | --- | --- |
|   | 2012-13 | 2013-14 | 2014-15 | 2015-16 | 2016-17 |
| Short-term (summer or eight weeks or fewer) | 174,513 | 189,074 | 197,883 | 204,972 | 214,798 |
| Midlength (one semester or one or two quarters) | 105,634 | 106,259 | 107,559 | 112,126 | 110,269 |
| Long-term (academic or calendar year) | 9,261 | 9,134 | 7,973 | 8,241 | 7,660 |
| Total  | 289,408 | 304,467 | 313,415 | 325,339 | 332,727 |
Europe remains the top destination for American students, accounting for more than half (54.4 percent) of all students studying abroad, the same proportion as last year.
Though the bases are much smaller for the other world regions, there was year-over-year growth from 2015-16 to 2016-17 in the number of students going to Asia (up 6.7 percent), the Middle East and North Africa (up 14.2 percent), Oceania (up 6 percent), and sub-Saharan Africa (up 5.5 percent). There was a decline in the number going to Latin America and the Caribbean (down 3 percent) and elsewhere in North America (down by 4.5 percent).
The five most popular countries students chose for study abroad were all in Europe: the United Kingdom, Italy, Spain, France and Germany.
Notable shifts in country-specific destinations include a 4.4 percent decline in the number of students going to the No. 4 destination, France, following a 5.4 percent decline the year before that. Rajika Bhandari, a senior adviser for research and strategy and director of the Center for Academic Mobility Research & Impact at IIE, said the decline in the number of students going to France is likely attributable to concerns about student safety following terror attacks.
Also of note, the number of students going to No. 6 destination China increased by 1.9 percent after declining for four straight years.
The number of students going to No. 12 destination Mexico increased by 10.8 percent, the fourth straight year of growth following steep declines due to concerns about student safety.
The number of students going to No. 14 destination India increased by 12.5 percent.
Finally, the number of students going to No. 15 destination Cuba also increased following the opening of the U.S. embassy in Havana in 2015 and a loosening of restrictions on American travel to the island nation. The period the report covers -- academic year 2016-17, including the summer of 2017 -- would have largely been before the Trump administration moved to tighten up travel restrictions again.
Top Destinations for Americans Studying Abroad
| | | | |
| --- | --- | --- | --- |
|   | Total Students Studying Abroad in 2016-17 | Percent of Total | Percent Change from 2015/16 |
| 1. United Kingdom | 39,851 | 12% | +1.8% |
| 2. Italy | 35,366 | 10.6% | +1.4% |
| 3. Spain | 31,230 | 9.4% | +4.2% |
| 4. France | 16,462 | 4.9% | -4.4% |
| 5. Germany | 12,585 | 3.8% | +5.8% |
| 6. China | 11,910 | 3.6% | +1.9% |
| 7. Ireland | 11,492 | 3.5% | +3.8% |
| 8. Australia | 10,400 | 3.1% | +9.1% |
| 9. Costa Rica | 8,322 | 2.5% | -9.9% |
| 10. Japan | 7,531 | 2.3% | +5.4% |
| 11.South Africa | 6,042 | 1.8% | +4.5% |
| 12. Mexico | 5,736 | 1.7% | +10.8% |
| 13. Czech Republic | 4,777 | 1.4% | +3.6% |
| 14. India | 4,704 | 1.4% | +12.5% |
| 15. Cuba | 4,607 | 1.4% | +21.8% |