You have /5 articles left.
Sign up for a free account or log in.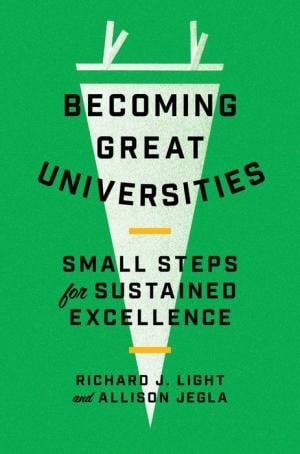 During her husband's campaigns and eight-year tenure in the White House, former first lady Michelle Obama remained fairly silent about her experience at Princeton University.
In her autobiography Becoming (Penguin Random House), released Tuesday, Obama disclosed for the first time details about her experience at the Ivy League university, one marked by feelings of otherness and a strong determination to disprove the negative racial stereotypes held by some of her professors and classmates. She graduated in 1985.
"If in high school I'd felt as if I were representing my neighborhood, now at Princeton I was representing my race. Anytime I found my voice in class or nailed an exam, I quietly hoped it helped make a larger point," she wrote.
While she was a student, Princeton was "​extremely white and very male."
Because of this, Obama quickly made friends with other students of color and discovered that the harmonious diversity portrayed in college brochures didn't translate to her own college experience.
"I imagine that the administrators at Princeton didn't love the fact that students of color largely stuck together. The hope was that all of us would mingle in heterogeneous harmony, deepening the quality of student life across the board. It's a worthy goal. I understand that when it comes to campus diversity, the ideal would be to achieve something resembling what's often shown on college brochures -- smiling students working and socializing in neat, ethnically blended groups," Obama wrote. "But even today, with white students continuing to outnumber students of color on college campuses, the burden of assimilation is put largely on the shoulders of minority students. In my experience, it's a lot to ask."
Obama graduated in the top 10 percent of her high school class and participated in a number of extracurricular activities, including serving as class treasurer, that made her a good candidate for top universities. But, early in the book, she recounted a meeting with a high school college counselor that she had, for the most part, "blotted out" of her memory.
"It's possible, in fact, that during our short meeting the college counselor said things to me that might have been positive and helpful, but I recall none of it," she wrote. "Because rightly or wrongly, I got stuck on one single sentence the woman uttered. 'I'm not sure,' she said, giving me a perfunctory, patronizing smile, 'that you're Princeton material.'"
Even after Obama was admitted, some questioned her belonging at the university.
"It was impossible to be a black kid at a mostly white school and not feel the shadow of affirmative action. You could almost read the scrutiny in the gaze of certain students and even some professors, as if they wanted to say, 'I know why you're here.' These moments could be demoralizing, even if I'm sure I was just imagining some of it," she wrote. "It planted a seed of doubt. Was I here merely as part of a social experiment?"
During her freshman year, Obama lived in a triple in Pyne Hall with two white students, whom she remembered as nice for the most part, although she didn't spend much time hanging out in their room. Midway through the year, one of her roommates, Cathy, moved into a single, and Obama discovered many years later that "her mother, a schoolteacher from New Orleans, had been so appalled that her daughter had been assigned a black roommate that she'd badgered the university to separate us."
Other parts of her life at Princeton came out during the campaigns, including her senior thesis, a survey of African American alumni about their perceptions of race and identity after having attended Princeton. Obama wrote that right-wing media used the thesis to paint a picture of her as a radical determined to "overthrow the white majority" and to further alienate her and her husband in the eyes of American electorate. "For reasons I'll never understand, the conservative media was treating my paper as if it were some secret black-power manifesto, a threat that had to be unburied. It was as if at the age of twenty-one, instead of trying to get an A in sociology and a spot at Harvard Law School, I'd been hatching a Nat Turner plan to overthrow the white majority and was now finally, through my husband, getting a chance to put it in motion," she wrote.
Obama included little about affording college, but did mention that her parents "never once spoke of the stress of having to pay for college, but I knew enough to appreciate that it was there." At Princeton she received a financial aid package that required she have a work-study job, and throughout her four years she served as an assistant for the Third World Center, a support center for students of color that Obama described as "poorly named but well-intentioned." The center was renamed 20 years later as the Carl A. Fields Center for Equality and Cultural Understanding, which it is still called today.
As a first-generation college student, Obama remembers the steep learning curve required to pick up college lingo.
"What was a precept? What was a reading period? Nobody had explained to me the meaning of 'extra-long' bedsheets on the school packing list, which mean that I bought myself too-short bedsheets and would thus spend my freshman year sleeping with my feet resting on the exposed plastic of the dorm mattress," she wrote.
Obama also noted how different life on campus was to her childhood on the South Side of Chicago, which she proudly announced whenever anyone asked where she was from.
"At Princeton, it seemed the only thing I needed to be vigilant about was my studies. Everything otherwise was designed to accommodate our well-being as students," she wrote. "The dining halls served five different kinds of breakfast. There were enormous spreading oak trees to sit under and open lawns where we could throw Frisbees to relieve our stress. The main library was like an old-world cathedral, with high ceilings and glossy hardwood tables where we could lay out our textbooks and study in silence. We were protected, cocooned, catered to. A lot of kids, I was coming to realize, had never in their lifetimes known anything different."
More from Books & Publishing