You have /5 articles left.
Sign up for a free account or log in.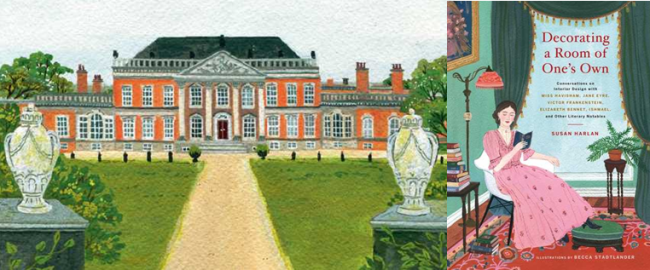 Which of Mr. Darcy's portraits is Elizabeth's favorite? How would Lady Macbeth describe her style? What inspired the paint color of Dorothy's rural Kansas home?
In her new book Decorating a Room of One's Own (Abrams Books), Susan Harlan, an English professor at Wake Forest University, answers these questions and others through Apartment Therapy-style interviews with some of literature's most famous characters.
The idea for the book was born out of an essay, a "house tour" with Jane Eyre, that Harlan wrote for The Toast, an online humor and feminist writing website.

"Thornfield Hall became an accidental decorating inspiration, an idea that struck me as darkly funny, given the tragedies and horrors that the house holds. I grabbed my laptop and started to take notes while I watched the movie," she wrote in the book's introduction. "What if Jane were interested in paint colors and cushions? Maybe scorched-by-a-fire-set-by-your-husband's-doomed-secret-wife is the new shabby chic."
Her first essay turned into a series for The Toast, and after the site shut down in 2016, she decided to turn the essays into a book.
"Literary houses are just so important, and there's so many books that we can't even think about without thinking about where these characters lived," Harlan said. One of those homes is Pemberley, Elizabeth and Mr. Darcy's home, which Harlan teaches about when her students read Pride and Prejudice.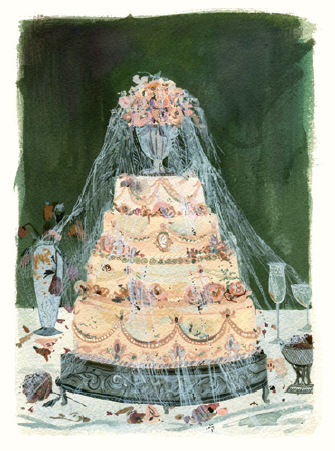 For a year, Harlan bought subscriptions to many popular decorating and home design magazines and revisited her favorite books to imagine how each character would plan, talk about and decorate their own space. Some books had already laid out the characters' homes in great detail. For others, she got more creative.
"In some cases I wanted to be really faithful to the descriptions in the book, but of course, parody operates with exaggeration and license, so some [chapters] are more fanciful than others," Harlan said. "Howards End by E. M. Forster … is more strict. In Sir Gawain and the Green Knight, I think I'm just kind of playing around a little bit more and imaging this knight/fertility god having a house filled with plants."
Each chapter begins with an introduction to the characters that also gives readers a reminder about the book's plot. Then, Harlan "interviews" the character about their style, important influences and favorite pieces à la an Apartment Therapy house tour. Harlan's real-life Winston-Salem home was featured on the site in 2016.
"I am quite skilled at tablescapes. I love a good centerpiece heavily overhung with cobwebs and infested with speckled-legged spiders with blotchy bodies. My real pièce de résistance was for my wedding. You think I was going to let all that go to waste? Christ, no. You don't throw out a perfectly good wedding cake just because you don't actually get married," Harlan wrote in the voice of Miss Havisham from Charles Dickens's Great Expectations. "The moldering bride cake really ties the room together, and one day, when I die, my corpse will be laid out on the table, too -- in what you might call the ultimate tablescape."
Harlan's interview with Father from Swiss Family Robinson about the family's elaborate treehouse home reflects his personality and the time period.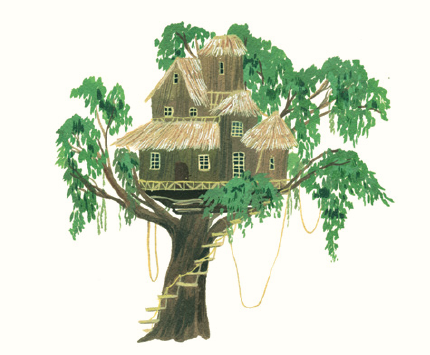 "Ship chic meets tiki, with a soupçon of colonialism, although we haven't found any savages," Father said about the family's style. "It is important to control the natural world, to transform nature's bounty into useful things that make your life more comfortable and meaningful. There's no limit to what a man can do! And by that I really do mean a man."
Harlan strives to embody the character's voice in each interview.
"Characters that I really admire like Elinor Dashwood of Sense and Sensibility or Jo in Little Women … I wanted them to be themselves," she said. "Think about what kinds of things they would actually like."
Along the way she pokes fun at the format of modern home decorating media, which, she said, promotes certain styles or items as "fetish objects that everyone is supposed to want."
"I wanted them to speak with that voice as well, since the joke, obviously, was kind of imaging the way that these literary characters talk about their homes the way that HGTV does," she said.
She also included interviews with characters she didn't particularly like, such as the Professor in C. S. Lewis's The Lion, the Witch and the Wardrobe. In the book he comes off as distant, snobbish and old -- traits that are reflected in his style.
"The perfectly splendid property boasts a wireless, a lot of books, an odd-looking front door, a balcony, long passages and rows of doors leading into empty rooms, a Green Room, and the relentless sound of owls," Harlan wrote.
Designing a home for a stereotypical "professor" was an interesting exercise for Harlan, who is often told she doesn't look the part.
"I have had so many people tell me I don't seem like a professor or don't look like a professor, which is something that so many women and people of color in the field deal with," Harlan said.