You have /5 articles left.
Sign up for a free account or log in.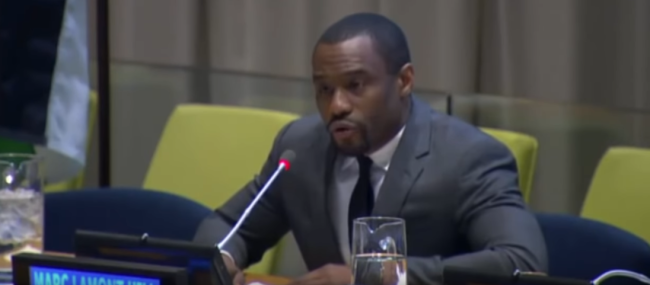 Marc Lamont Hill lost his job as a commentator for CNN last week after he gave a speech about the Palestinian cause at a forum at the United Nations. The speech was harshly critical of Israel, but it was his closing lines that have prompted many to call for Temple University to fire him from his job there as professor of media studies.
Hill ended the speech by saying that he hoped for a free Palestine "from the river to the sea." That phrase is commonly used by Palestinian supporters and is viewed by many as a call to eliminate Israel. The river in the phrase is the Jordan River, which marks the eastern border of Israel and the Israeli-occupied West Bank with Jordan. The sea is the Mediterranean, which marks Israel's western border. A Palestinian state from the river to the sea, many say, means one in which Israel does not exist.
Other critics noted that Hill's speech (viewable here on YouTube), while endorsing nonviolent protest, said that Palestinians should not be limited to nonviolent tactics.
After CNN fired Hill, Temple initially said that his views were protected free speech. On Friday, President Richard M. Englert issued a new statement. This one referenced Hill's right to free speech, while disassociating his views from the university. "Let me be clear: Professor Hill does not represent Temple University, and his views are his own. Further, Professor Hill's right to express his opinion is protected by the Constitution to the same extent as any other private citizen," the statement said.
It went on to say, "Temple condemns in the strongest possible terms all anti-Semitic, racist or incendiary language, hate speech, calls to violence, and the disparagement of any person or persons based on religion, nationality, race, gender, sexual orientation or identity. The university, in the best interest of its community, will take necessary and proper action to protect these values when they are threatened."
Faculty leaders became alarmed, however, when The Philadelphia Inquirer published an article on the controversy Friday night, quoting Patrick O'Connor, chair of the Temple board. O'Connor not only denounced Hill's remarks but made comments suggesting he did not think the speech might be protected. "It should be made clear that no one at Temple is happy with his comments," said O'Connor. "Free speech is one thing. Hate speech is entirely different."
O'Connor was also quoted as saying that he had instructed Temple's legal office to consider steps the university could take in response to Hill's comments. "I'm not happy. The board's not happy. The administration's not happy. People wanted to fire him right away," O'Connor said. "We're going to look at what remedies we have."
He added that Hill's speech "blackens our name unnecessarily."
A Temple spokesman did not respond to questions about whether the board chair's comments indicated that Hill's comments were not being treated by the university as protected speech.
The faculty union at Temple, affiliated with the American Federation of Teachers, on Saturday afternoon issued a statement questioning the board chair's comments.
The Temple Association of University Professionals "finds unacceptable the statements by Temple's chairman of the board, Patrick O'Connor, in response to Professor Marc Lamont Hill's speech about Israel and Palestine at the United Nations," the statement said. "Professor Hill's remarks are clearly protected by the principles of free speech -- as President Englert noted in his message to the Temple community -- and by academic freedom, which we are disappointed to find has thus far not been mentioned by Temple's administration.
"We are also deeply disturbed by Chairman O'Connor's claim that the administration is looking at 'what remedies we have' to discipline Professor Hill. Professor Hill is covered by the TAUP contract, which begins with the principles of academic freedom, and which clearly sets out procedures for disciplining faculty members. We trust that the contract will be followed; if it is not, the administration can count on a vigorous defense by TAUP of Prof. Hill's rights as set forth in it."
Hans-Joerg Tiede, associate secretary of the American Association of University Professors' Department of Academic Freedom, Tenure and Governance, said via email that Hill's comments were protected free speech. The AAUP believes that professors should "have the freedom to address the larger community with regard to any matter of social, political, economic, or other interest, without institutional discipline or restraint, save in response to fundamental violations of professional ethics or statements that suggest disciplinary incompetence."
The board chair's statement, Tiede said, suggest that he "appears to be micromanaging a personnel matter" that should be left to campus officials. If the president believes some sort of review of Hill is needed, he should ask appropriate faculty bodies to do so, Tiede said.
Adam B. Steinbaugh of the Foundation for Individual Rights in Education also criticized the board chair's statement. He said via email that Temple "had it right the first time" when it said simply that Hill's comments were protected free speech. "This is very clearly protected speech on a matter of public concern, and Temple cannot take steps to penalize Hill for his speech. The chair of a Board of Trustees of a public university, an attorney himself, should know better than to steer his institution toward infringing First Amendment rights," said Steinbaugh.
Hill did not respond to a request for a comment on the latest developments.
On Twitter, Hill said that he did not call for Israel's destruction. (In his speech, he called for a return to pre-1967 borders, which did have Israel as a state.)