You have /5 articles left.
Sign up for a free account or log in.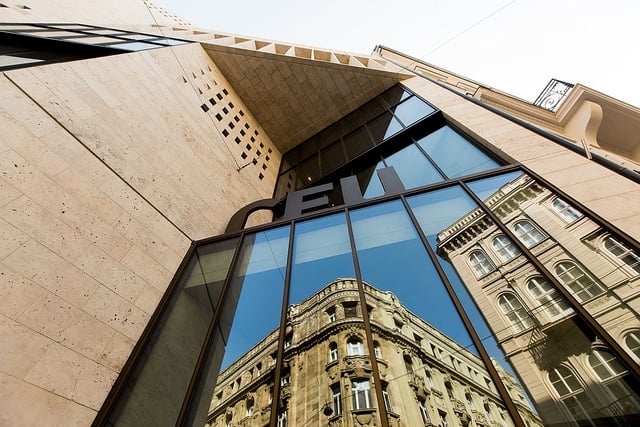 Central European University
Central European University announced today that it has been forced out of Hungary and will move its U.S.-accredited academic programs from Budapest to Vienna in September 2019.
CEU says the Hungarian government refuses to ratify an agreement that would allow it to continue to operate its campus in Budapest under the terms of an April 2017 law on foreign branch campuses. The law was widely seen as a targeted attack by Hungary's increasingly illiberal government on CEU and its founder and honorary board chairman, the liberal financier George Soros.
The institution previously said it would move out of Hungary if the Hungarian government did not ratify an agreement that would let it continue to offer U.S. degree programs in Budapest by Dec. 1, a deadline that passed Saturday.
"Basically this is a dark day for freedom in Hungary," said Michal Ignatieff, the president and rector of CEU. "And it's a dark day for academic freedom."
CEU's future in Hungary came into question in April 2017 when the government passed a law on foreign branch campuses that many said seemed designed to specifically target the American-accredited institution. Among other things, the law required foreign branch campuses to have a campus in their home country, which CEU didn't have.
CEU officials say they have complied with the terms of the law by establishing academic programs in New York State. But the Hungarian government has refused to sign an agreement it negotiated with New York that would ensure the university's long-term future.
"We can't do anything about that," Ignatieff said. "But we can't continue to play these games for another day, or another week. We have a university that we want to move to a country, Austria, where these games are not played, a country where the rule of law and respect for free institutions still means something.
"Let me make it clear that we are not going to Vienna to be a university in exile," Ignatieff added. "We're much more ambitious than that. We'll do what we do here, which is maintain world-class teaching and research in partnership with the great institutions of science and knowledge in Austria."
CEU, a graduate-only institution focused on the social sciences, humanities and law, traces its history back to 1989, when, according to a brief history on the university's website, a group of intellectuals "conceptualized an international university that would help facilitate the transition from dictatorship to democracy in Central and Eastern Europe and the former Soviet Union." The university opened its doors in Prague in 1991 and moved to Budapest in 1993.
The institution, which has both American and Hungarian accreditation, is highly regarded internationally, with scholars and administrators from Harvard, Oxford, Stanford and other elite institutions on its board. CEU says it receives more competitive European Union research grant funding than any other institution in Central Europe, having received more than 19 million euros (more than $21 million) in E.U. funding for the 2018-26 period.
But for all its international renown, the university has come under attack at home under the right-wing populist rule of Prime Minister Viktor Orbán, who has waged a prolonged attack on Soros.
The expulsion of CEU -- what government officials have referred to as the "Soros university" -- comes amid wider attacks on academic freedom in Hungary, including a recent move by the government to withdraw accreditation from gender studies programs and to impose a tax on academic programs for migrants and refugees. The European Parliament invoked concerns about the erosion of academic freedom and other freedoms of expression in Hungary in voting in September to ask member states to determine if Hungary is at risk of violating the founding values of the union -- a first step in a process that could eventually lead to E.U. sanctions against Hungary.
"It's a sad day for the European Higher Education Area," said Michael Gaebel, the director of the European University Association's Higher Education Policy Unit. The EUA previously described the attacks on academic freedom and institutional autonomy in Hungary as "unprecedented in the European Union."
"We are worried about the implication that this has obviously for CEU but also for the higher education community in Hungary" more broadly, Gaebel said. "The government has demonstrated that it can close down or drive out a university. I think that's a good demonstration of the power that the government has on these issues. I will assume that this will have an impact on the higher education and research sector in a way that people might feel intimidated, and might take to self-censorship. If the government has already decided that there should be no teaching on gender studies, the question is what comes next?"
In a statement, a spokeswoman for the U.S. Department of State expressed disappointment but not condemnation. The spokeswoman, Heather Nauert, said the U.S. is "disappointed that the Hungarian government and CEU have not concluded an agreement that would allow the university to continue its U.S.-accredited programs in Hungary … The departure of these U.S.-accredited programs from Hungary will be a loss for the CEU community, for the United States, and for Hungary."
The U.S. ambassador to Hungary, David B. Cornstein, was involved in trying to negotiate a solution that would have allowed CEU to stay. The Washington Post reported that in an interview last week Cornstein declined to criticize Orbán for the failure to find a solution, instead blaming Soros for not developing a better relationship with the Hungarian prime minister.
According to the Post, Cornstein downplayed CEU's importance -- contrasting its 1,500 students to the much larger enrollments of major U.S. universities like Ohio State University -- and described the dispute as a personal one between Orbán and Soros.
"It had to do with two men," Cornstein told the Post. "It doesn't have anything to do with academic freedom."
The Hungarian government did not comment on CEU's announcement Monday, but likewise has previously suggested that academic freedom is not at issue. Hungary's government maintains that CEU can continue to operate in Hungary through an affiliated institution.
"The CEU has an affiliate, the Közép-europai Egyetem, that is registered and accredited in Hungary. Courses may continue to be held and diplomas awarded from this Hungarian-accredited institution. So how does this have anything to do with academic freedom?" a government spokesman, Zoltán Kovács, said in November.
A spokeswoman for CEU, Ildiko Rull, said in October that the university hopes the Hungarian entity, known by the acronym KEE, "will remain intact. However, as currently all of our students are enrolled into American programs, and KEE has significantly fewer programs than CEU, it is unclear whether KEE will be viable in the long run."
Ignatieff said Monday that CEU plans to retain some teaching and research activities in Budapest, but it is unclear just what the government will permit it to do.
"We retain accreditation and are proud of the fact that we secured accreditation in Hungary in March 2018 after external international review. So we'll proceed on the basis that this can continue to be a teaching site of some kind. We will maintain research activities, research centers, if we can -- but notice the way I'm saying this. I have to tell you we're in a lawless situation," Ignatieff said.
"We want to continue in Budapest as long as we can; we want to maintain this beautiful building as a resource for all the citizens of Budapest," he said. "But we're in uncharted territory here. We're not seeking to provoke the government. I'm just saying we actually don't know what it's going to be possible for us to do."