You have /5 articles left.
Sign up for a free account or log in.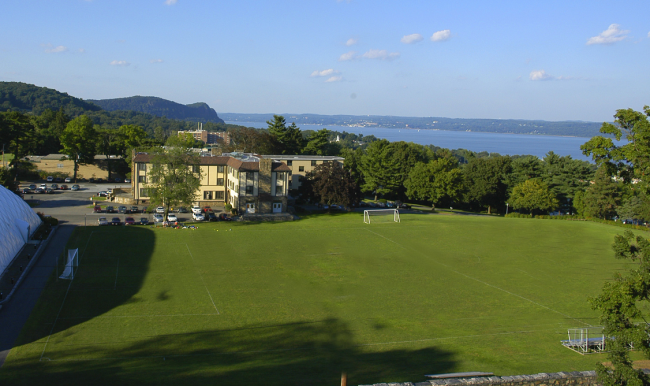 Mergers among small private colleges have been in the news lately. In 2017, Wheelock College said it would merge into nearby Boston University, and a recent survey by Inside Higher Ed found that 24 percent of financial officers at private baccalaureate colleges say leaders have had "serious" discussions about a merger.
But another kind of consolidation is playing out among a few small private institutions: they are closing far-flung branch campuses, squeezing students into fewer locations or, if they can't accommodate them, simply helping students enroll elsewhere.
Among the latest to downsize: Nyack College, a small private Christian institution in New York's Hudson Valley, which last month said it would close its long-standing campus in Rockland County, north of New York City, and move all of its operations to a high-rise building at the southern tip of Manhattan, about a half mile south of 1 World Trade Center. College officials said they can better advance academic programs on a single campus.
Originally known as the Missionary Training Institute, Nyack was the first Bible college in North America, according to college officials. Founded in Manhattan in 1882, it moved to the Hudson Valley in 1897 after founders bought 28 acres in South Nyack, N.Y. They renamed it Nyack Missionary College in 1956, then shortened it to Nyack College in 1972.
Nyack re-established the Manhattan campus in 1997, in response to what it said was growing enrollment, but it now says it wants to be based solely out of New York City. Nyack declined to comment on the move, but President Mike Scales told the Rockland/Westchester Journal News last month that shutting the Rockland campus will "minimize rising costs and maintain high academic standards." Jeff Quinn, Nyack's vice president of college relations, said the college is "looking for ways to reduce our operational footprint."
Nyack has not said what it plans to do with its 100-plus-acre South Nyack campus or a 21.7-acre seminary in Upper Nyack. It is working with a commercial realty firm and last month borrowed $38.5 million against the South Nyack property from the New Jersey lender Procida Funding & Advisors, whose CEO called the campus parcel "some of the best real estate the Hudson Valley has to offer."
The college hasn't immediately said how the closure will affect about 140 full-time employees in South Nyack, but it said the 600 students enrolled there can take course work in Manhattan or online -- Nyack, which currently offers housing through New York's 92nd Street Y, a Brooklyn-based nonprofit called Educational Housing Services and via other arrangements, is also working to house students in nearby Jersey City, N.J., officials said.
Last June, Northwest University, a four-year Christian college based in Kirkland, Wash., closed its Sacramento campus. The location had been the home of Capital Bible College until 2013, when Northwest took it over. Northwest still operates a second satellite campus in Salem, Ore.
Last August, New Orleans' Tulane University said it would suspend admissions to the Biloxi, Miss., campus of its School of Professional Advancement in the spring 2019 semester -- the campus had operated there since 2001, offering degrees in eight areas. It moved into Biloxi's Edgewater Mall in 2015, The Advocate reported. Another satellite campus, in the Jackson, Miss., suburb of Madison, closed earlier.
Tulane said the latest closure in Biloxi is due to "a steady decline in student admissions" there over the past seven years. The campus recorded its best year in 2011, with 205 students, but since then enrollment had fallen to under 100. It now enrolls just 92 students, Tulane said.
Suri Duitch, dean of the School of Professional Advancement, said Tulane would work with students to help them complete their degrees and certificates, including the option to finish at Biloxi, through online courses at Tulane's New Orleans campuses or at other local institutions. Tulane said it would also develop teach-out partner agreements for Biloxi students. It will help the campus' three staff members and 25 part-time faculty members find new positions, including elsewhere at the university. The planned closure still must be approved by the Southern Association of Colleges and Schools.
In a statement, Duitch called the closure disappointing. "We've worked so hard to turn around a long-term enrollment decline and had tremendous support from members of the Biloxi and Gulfport communities," she said. "The campus, however, is simply no longer financially viable."
Tulane still operates a satellite campus in the New Orleans suburb of Elmwood, La., in adjoining Jefferson Parish, about six miles west of its home campus.
In 2014, George Fox University, in Newburg, Ore., about a half hour southwest of Portland, closed its Boise, Idaho, center after 19 years. The branch campus, which had opened in 1995, 450 miles and an entire time zone away, focused on degree completion for adults. It also offered an M.B.A. and a master's degree in education, among others.
Ahead of its time when it opened, by 2014 it was a victim of a regional education market that had become saturated with degree programs, from both for-profit and nonprofit providers; students also began taking online courses.
"There are many costs associated with operating a full-service satellite campus hundreds of miles from our main campus," said spokesman Rob Felton. "As a nonprofit organization, we couldn't operate long-term at a loss." He said George Fox would actually consider opening a new site "if the location and programs fit our mission and show potential to become self-sufficient."
Felton said George Fox still offers online course work for Boise-area students that requires "limited travel" to the Portland area. But its brick-and-mortar campuses are limited to areas closer to home in Portland, Salem and Redmond, Ore.
Paul Hassen of the National Association of Independent Colleges and Universities said small private colleges' "retrenching and consolidating" is to be expected as regional needs change. "From our perspective, it's more a function of the ebb and flow of the environment," he said.
He noted that leaders of a few small institutions have actually found ways to expand -- Hassen noted new programs in cybersecurity and allied health at St. Bonaventure University in western New York. Just five years ago, the Roman Catholic college was pursuing a merger with nearby Hilbert College.
"You see campuses doing things where they think there's an opportunity to maximize their enrollment -- or to conserve their operating capital," he said.
Expansions Elsewhere
At other institutions, regional job shortages are driving expansion of branch campuses.
In California's Central Valley, Fresno Pacific University enrolls about 5,000 students, but only half of them actually attend class at its main campus in Fresno, where virtually all students are traditional undergraduates. The other 2,500 attend at one of four regional campuses, all of them operating in leased space.
About 950 adult learners and graduate students attend class in a leased Fresno high-rise that houses the university's North Fresno campus; about 1,150 attend class in Visalia, with another 234 students in an office building in Merced. About 100 miles southeast of Fresno, 227 students attend class in Bakersfield.
Jorge Lopez, director of regional campus operations, said the far-flung satellites are "thriving." Far from closing or consolidating, there's talk of where to open the next one, he said.
"Those campuses reach out to the community or the regions," he said, "and they serve that population of adult learners" who are pushing to finish degrees. Part of the system's success, he said, was targeting adult and graduate students who badly need training for in-demand jobs.
Leasing space instead of building new facilities "allows you the flexibility to move quickly in the way of adding programs, sunsetting programs [and] developing new programs to meet the region's career needs," he said.
In two of the locations, Fresno Pacific formed partnerships with community colleges that sublease space from the university and offer their own two-year course of studies. "It creates that stream of students," Lopez said, offering them the opportunity to complete a four-year degree in a single location.
Fresno Pacific focused on just a few sectors with yawning regional employee shortages, such as nursing, education and social work, he said. In each city "they have community colleges, but no university that's close to them," Lopez said. "We find a niche, basically -- several niches, actually -- and then serve that community."
In northeastern Pennsylvania, Lackawanna College last year expanded from its base in Scranton to Sunbury, an hour-and-a-half drive southwest, where it opened its sixth regional center. Like Fresno Pacific, it saw a niche, in this case for a more affordable private two-year degree for working students.
"We're really tapping into the local region and trying to fulfill a need within the local communities," said Philip Campbell, Sunbury's director. Unlike the Scranton campus, Sunbury serves virtually all commuters -- and like Lackawanna's other centers, it solely offers associate degrees in high-demand fields like criminal justice, sports management, accounting and business administration.
The center, housed in a repurposed retail space in a strip mall -- its neighbors are a dollar store, a hair salon and a brew pub -- also offers what's perhaps the most valuable perk to commuter students: acres of free parking. The program enrolls about 50 students, with hopes to add as many as 30 more in the spring.
Campbell attributes the centers' success, in part, to an economy that, for many workers, has not yet recovered. "When the economy is doing well and businesses are staying open -- and factories are staying open -- people aren't looking to further their education so much," he said.