You have /5 articles left.
Sign up for a free account or log in.

Several dozen teaching assistants at the University of North Carolina at Chapel Hill started a grade strike Friday, saying that they will withhold student grades as long as the university moves ahead with the idea of constructing a building to house the Confederate monument known as Silent Sam. The strike comes after classes have finished for the semester and students are preparing for final exams and normally would be soon receiving final grades. Many students and faculty members are also speaking out against the university's plan for the monument, which they see as a reflection of white supremacy.
As of early Friday afternoon, the organizers said that they had nearly 80 teaching assistants on strike, and that they were holding back the grades of more than 2,000 students. The banner above was an early listing of the number of teaching assistants on strike and the number of students affected.
The organizers say that their move is an "action," not a strike, because they are working, grading student papers and so forth, and they are simply not handing in grades.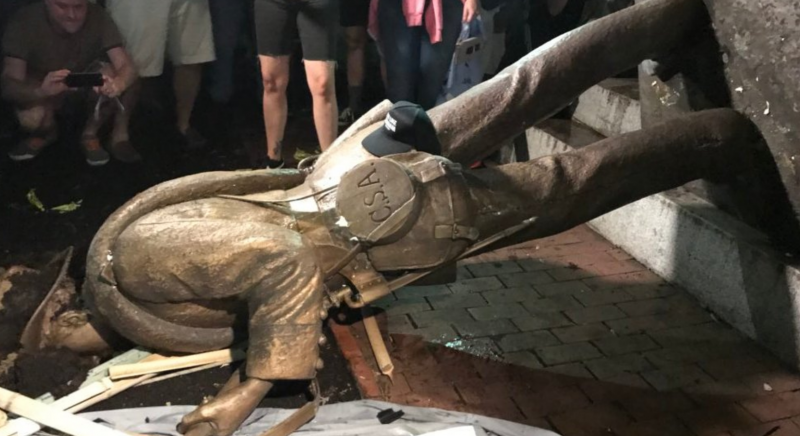 Silent Sam was toppled by protesters in August (at right). Protesters used ropes to take down the statue, which was then removed by the university, setting off a debate on whether and how it would return to campus.
The action came after years of debate. As many other colleges and universities removed Confederate statues and symbols, UNC officials said that they lacked the power to remove the statue, with the campus deferring to the system, and the system board in July saying that any decision needed to come from a state agency and that the system had no plans to ask that agency to act.
On Monday, university leaders announced a plan -- widely criticized by student and faculty groups -- to spend more than $5 million on a building on campus to house Silent Sam. They said this was necessary to comply with a state law that monuments not be moved off campus, although university leaders said that they would prefer to do so. University officials have also said that the building would house exhibits about the university's history with issues of race, which includes periods of slavery, the Civil War, Jim Crow and the civil rights movement.
Those organizing the strike said that the plan would amount to glorifying a monument to white supremacy and would waste money.
Many students are taking to social media to support the strike.
Faculty members in education were among those issuing a call to the university to reconsider its plan.
A joint statement by 123 faculty members as of Sunday morning focused on the history of the statue and its impact on the campus.
"In speeches dedicating the monument, Silent Sam was erected as a symbol of hatred, bigotry, and white supremacy. It was part of a movement that worked to suppress the political and economic power of black Americans, to establish structures to extend white dominance, and to suppress the aspirations of people of color," the statement said. "The monument's continuing presence on our campus is contrary to our school's commitment to the transformative power of education. It is contrary to our belief, as embodied in our mission, that 'education has the power to break down barriers, lift up individuals, and empower communities to rise and thrive.' It is contrary to the ideas and practices that we and many of our alumni have worked to implement to dismantle the vestiges of a history that included laws forbidding slaves to learn to read or write and making it a crime for others to teach them."
Black student leaders also interrupted a faculty discussion of Silent Sam on Friday and said UNC was failing them, saying that the university does not care about diversity if it pushes for the statue to remain. Many professors at the meeting stood and applauded the students.
Bob Blouin, executive vice chancellor and provost at Chapel Hill, sent an email to the campus objecting to the strike.
Said Blouin, "This type of action violates our university's instructional responsibilities, which include: 1) to deliver instruction; 2) to evaluate student performance; and 3) to record/document performance and progress toward degree completion. Our students are entitled to receive their grades in a timely manner. It is especially critical for the students preparing to graduate next Sunday, as well as the thousands of students whose scholarships, grants, loans, visa status, school transfers, job opportunities and military commissions may be imperiled because lack of grades threaten their eligibility. The proposed strike exposes the university and individuals who withhold grades to legal claims for the harm they cause to students."
He added, "Finally, this afternoon it came to my attention that some instructors have used their roles in the classroom to ask students to take a stand on the strike. The university has received student and parent complaints. Such actions have been interpreted as coercion and an exploitation of the teacher-student relationship and in fact are a violation of students' First Amendment rights as well as federal law."
Meanwhile, the Sons of Confederate Veterans have put up a large Confederate flag beside a North Carolina highway and announced that they plan to put one in every county in the state to protest the toppling of Silent Sam.