'A Marginally Better Year' for State Funding
Latest annual survey finds state support for higher education rose 3.7 percent in fiscal year 2018-19, up from just 1.6 percent the previous year.
Public higher education leaders may have reason to be cautiously optimistic this spring: an early indicator of states' fiscal health shows modest, if uneven, improvements.
States spent 3.7 percent more supporting higher education in fiscal year 2018-19 than in the previous year. The small rise continued a five-year trend of upward support that this year totals about $91.5 billion.
In the previous fiscal year, support for higher education grew just 1.6 percent, according to the Grapevine survey, an annual early survey of state indicators.
And while five states reported funding decreases between FY18 and FY19, that represents a small fraction of the 18 states that reported declines the previous year.
"We've had, over all, a marginally better year," said James Palmer, a professor of higher education at Illinois State University and editor of Grapevine, a project of Illinois State's Center for the Study of Education Policy and the State Higher Education Executive Officers Association.
Palmer said the 3.7 percent rise "continues a trend in what can only be called modest annual increases to state higher education funding over the past five years."
The recent higher education expenditures were uneven across states, with only Colorado and the District of Columbia increasing appropriations by double digits. Funding in Colorado grew by 12 percent, while D.C. grew by 11.7 percent.
In the five states that provided less funding -- Ohio, Alaska, Minnesota, Kentucky and South Carolina -- the drop ranged from 0.1 percent in Ohio and Alaska to 1.4 percent in Minnesota. In Kentucky, it dropped by 2.4 percent. South Carolina reported the largest one-year drop of all states at 3.7 percent.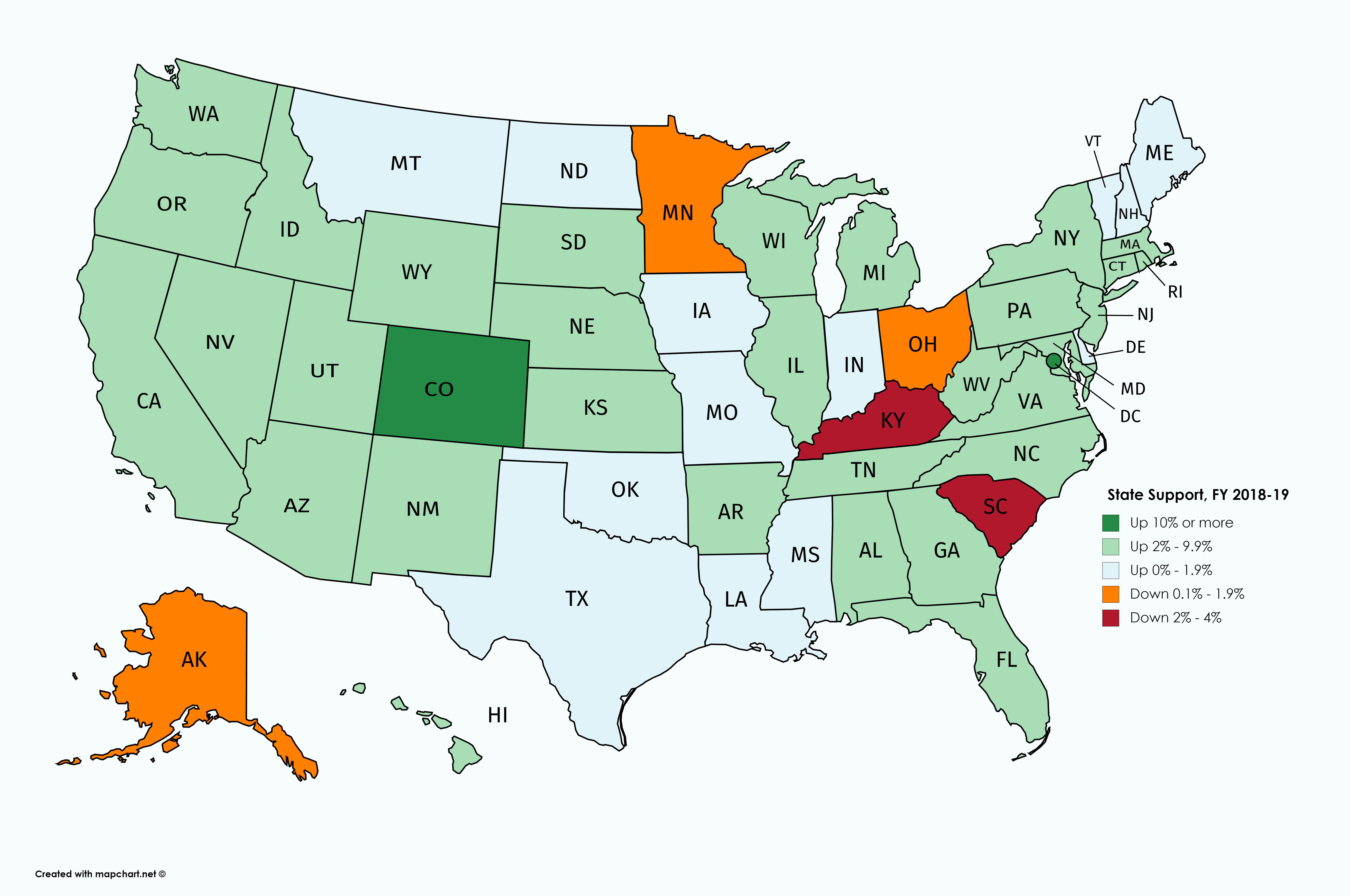 The data show that more than two-thirds of the growth nationwide -- nearly 70 percent -- can be attributed to gains in just nine large states: California, Colorado, Florida, Georgia, Illinois, New York, North Carolina, Virginia and Washington. Together, these states increased funding for their higher ed systems by 5.4 percent, while the remaining 41 states saw a much smaller 2.1 growth.
While California's state support grew by just 6.6 percent, the state is so large that it accounts for 29.3 percent of the total increase nationwide, the survey found. California is among the states where a growing population creates more demand for public higher education.
"There are 50 different stories here," said Palmer.
Looking out over the past five years, five states -- California, Colorado, Hawaii, Oregon and Wisconsin -- have increased support for higher ed by more than 40 percent, while eight have seen it flat or declining. They range from essentially flat funding in New Mexico to 21 percent less in Oklahoma.
Over five years, state funding rose 18.2 percent.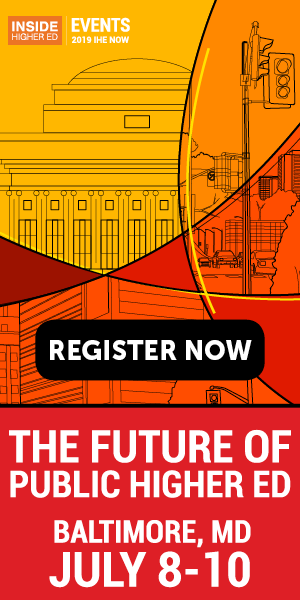 While Grapevine has reported data from Puerto Rico since 2017, subsequent years' data aren't available but will be posted online when they are.
Palmer said each year's small annual increase "kind of reflects the ongoing struggle of the states to sustain the revenue needed to increase funding for colleges and universities." Economic downturns, legislative tax cuts and, in a few cases, the large burdens of obligations like state pension fund payouts are all weighing on various states. "In other words, the fiscal capacity of many states to increase funding for higher education just isn't there," he said.
The Grapevine findings typically appear a few months before a more comprehensive State Higher Education Finance report issued by the State Higher Education Executive Officers Association. That report found in 2017 that for the first time more than half of states relied primarily on tuition to fund higher education.
Grapevine data cover tax and nontax state support for college and university operations each fiscal year, roughly coinciding in most states with academic years. The data include funding for four-year institutions, community colleges and vocational-technical colleges, as well as appropriations to coordinating and governing boards, appropriations to state student financial aid, funding bound for higher ed but appropriated to other state agencies, and appropriations for private institutions.
The data don't include appropriations for capital costs, debt service, money drawn from most federal sources, or funds drawn from tuition, student fees and auxiliary enterprises.
While it's called a survey, the data is provided directly to Grapevine by state agencies, which upload it to a server that SHEEO maintains.
Because the survey doesn't track enrollments, analyses of funding per student aren't included. So, for instance, in a state where funding is declining, the effects may not be as severe if enrollment is declining as well. By contrast, if funding is declining and enrollment growing, per-student funding may be heavily affected.
Enrollments nationwide have fallen slightly for the past several years -- in 2018, overall postsecondary enrollments decreased 1.7 percent, led by sharp drops at four-year for-profit institutions, which saw 15.1 percent fewer students, and at two-year public institutions, where enrollment dropped 3.2 percent.
Meanwhile, enrollments at private, nonprofit four-year institutions grew 2.4 percent. Enrollments at public four-year institutions were basically flat.
While Palmer noted that the past five years have seen uninterrupted annual funding upticks, he said state support of higher education rises and falls with business cycles, with gains easily erased due to conditions.
"We'll need to keep an eye on the economy," he said. If a recession hits any time soon, "then all bets are off."
State Support for Higher Education: Grapevine Data
State Fiscal Support for Higher Education ($)
 
FY14
FY17
FY18
FY19
 
Alabama
1,444,764,352
1,557,047,574
1,588,026,154
1,645,894,944
Alaska
399,052,668
352,480,709
343,870,898
343,486,475
Arizona
897,579,300
860,387,400
875,132,900
902,095,800
Arkansas
1,001,496,233
974,615,738
978,568,798
1,012,705,646
California
10,765,415,955
13,562,573,000
14,489,452,000
15,439,058,000
Colorado
677,086,916
866,808,182
887,037,491
993,825,292
Connecticut
1,026,156,341
1,152,055,154
1,071,282,616
1,115,487,119
Delaware
227,606,200
234,722,700
237,069,500
237,443,800
Florida
3,925,291,451
4,537,335,070
5,037,744,203
5,323,619,860
Georgia
2,790,040,144
3,210,406,736
3,443,626,402
3,622,236,182
Hawaii
530,388,306
667,478,019
716,718,368
777,647,851
Idaho
374,642,100
460,323,000
478,997,900
502,954,900
Illinois
4,295,926,531
4,535,178,335
4,129,826,231
4,315,738,835
Indiana
1,663,061,249
1,745,379,182
1,773,727,687
1,779,141,830
Iowa
823,333,019
829,402,839
804,642,010
815,518,230
Kansas
771,121,325
769,175,109
772,091,220
801,527,217
Kentucky
1,194,587,857
1,170,767,200
1,173,159,100
1,144,995,600
Louisiana
1,125,250,832
1,083,387,063
1,159,690,661
1,163,071,254
Maine
271,864,121
299,740,529
302,551,904
305,883,736
Maryland
1,721,006,820
1,983,512,996
1,997,863,397
2,066,976,438
Massachusetts
1,342,072,529
1,544,319,564
1,564,337,918
1,606,272,299
Michigan
1,669,524,700
1,877,039,600
1,917,024,500
1,954,421,700
Minnesota
1,394,503,000
1,543,313,000
1,653,249,000
1,630,558,000
Mississippi
973,846,876
1,013,678,408
900,155,014
904,710,576
Missouri
954,236,519
1,011,797,327
988,536,584
998,983,910
Montana
226,961,354
252,366,788
243,920,115
244,454,061
Nebraska
688,183,035
753,553,849
745,710,158
762,533,014
Nevada
485,640,591
570,958,220
622,021,005
655,333,247
New Hampshire
109,000,000
125,200,059
127,935,617
128,543,198
New Jersey
1,990,469,000
2,083,569,000
2,065,933,000
2,155,024,000
New Mexico
856,215,012
854,808,000
836,246,000
855,931,200
New York
5,306,812,959
5,735,095,034
5,918,513,522
6,045,266,911
North Carolina
3,617,627,709
3,982,126,724
4,086,567,077
4,283,647,083
North Dakota
409,693,640
419,650,340
358,491,256
358,491,256
Ohio
2,104,931,061
2,303,647,976
2,300,904,761
2,299,505,863
Oklahoma
1,053,566,920
863,204,515
824,226,487
832,707,167
Oregon
631,121,950
816,722,620
851,699,382
884,722,988
Pennsylvania
1,644,692,000
1,693,108,000
1,713,363,000
1,756,295,000
Rhode Island
167,567,862
188,739,813
199,553,587
208,435,318
South Carolina
909,110,205
1,094,964,380
1,097,979,545
1,057,670,049
South Dakota
207,837,626
238,612,300
234,058,232
238,879,017
Tennessee
1,587,786,604
1,732,289,377
1,844,857,699
1,923,836,726
Texas
6,948,653,093
7,614,429,799
7,493,114,733
7,577,802,811
Utah
798,346,200
978,663,600
1,025,936,100
1,113,971,200
Vermont
92,686,200
93,158,125
95,533,067
95,494,089
Virginia
1,780,468,378
2,051,845,077
2,013,572,522
2,120,330,179
Washington
1,570,807,000
1,878,116,000
1,906,810,000
2,037,367,000
West Virginia
516,276,320
484,109,151
470,910,031
489,388,995
Wisconsin
1,114,018,800
1,473,947,300
1,509,157,200
1,573,280,133
Wyoming
352,669,707
382,164,128
373,759,707
384,799,235
Total, 50 states
77,430,998,570
86,507,974,609
88,245,156,259
91,487,965,234