You have /5 articles left.
Sign up for a free account or log in.
You've read the stories about liberal arts college grads doomed to a life of poverty, paying back their student loans while living in their parents' basement. And if you've been reading Inside Higher Ed, you have read about studies questioning that narrative.
The Andrew W. Mellon Foundation has now released a new analysis by two economists that examines the questions of the economic payoff of a liberal arts college education. The study makes no claims that liberal arts grads outearn those in, say, engineering. But the report says the claims that a liberal arts degree isn't worth its cost or will hurt a graduate's career prospects prove untrue. Specifically, the report says attending a liberal arts college for most students leads to meaningful economic mobility.
"Critics claim that a liberal arts education is worth less than the alternatives, and perhaps not even worth the investment at all. They argue that increasing costs and low future earnings limit the value of a liberal arts education, especially compared to alternative options such as pre-professional programs that appear to be better rewarded in the current labor market," says the report. "Existing evidence does not support these conclusions."
The report's authors -- Catharine B. Hill and Elizabeth Davidson Pisacreta -- are both at Ithaka S+R, which conducts extensive research on the economics of higher education. Hill is a former president of Vassar College.
Throughout the study, the authors draw attention to misconceptions about liberal arts education. They note that, to the extent some liberal arts graduates end up in relatively low-paying careers, this reflects their career interests and market forces, and would likely be the same even if they attended another kind of institution.
"If someone chooses to be a musician or elementary school teacher, their income is dictated by the labor market," said Hill in an interview. Further, she said that "students who choose to be artists or elementary school teachers may not be people who would want to be an engineer."
That distinction is important, the study says, because there is for many an income gap based on type of institution attended. What is false is the idea that the income gap is so large as to make a liberal arts college education not worthwhile.
The link of institution type and field of study is one of the myths about liberal arts colleges, the authors write. Many pundits and politicians bash liberal arts colleges, and say that the country needs more people with science, mathematics and technology degrees (which are widely seen as leading to more lucrative careers). Using various federal data sources, the study shows that those in private higher education outside liberal arts colleges are more likely to major in engineering (many liberal arts colleges, of course, don't have engineering programs). But for the rest of the STEM fields, liberal arts colleges (at various levels of competitiveness) award larger shares of STEM degrees than do comparable private, non-liberal arts colleges.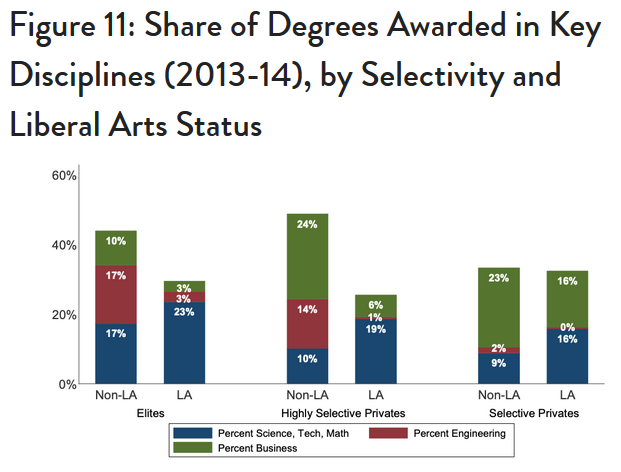 The data are why the report (and Hill in an interview) sometimes talk about students experiencing "liberal education," not liberal arts, even when the samples are of students at liberal arts colleges. Hill said that too many people equate liberal arts with humanities study alone, or imagine that "liberal" refers to politics. She said that one reason liberal arts graduates earn more than expected is the diversity of fields studied beyond the humanities. Many of the comparisons in the report are of private liberal arts colleges to other types of institutions. But Hill said she believed many of the findings would be similar if studying those enrolled in liberal arts programs at colleges and universities with a broad range of pre-professional programs.
With regard to actual income, the study relies heavily on the data of Opportunity Insights, which the study refers to by its former name, the Equality of Opportunity Project. Raj Chetty of Harvard University is the leader of the project, which the researchers used to compare the impact on economic mobility of liberal arts colleges graduates and those who attended other kinds of institutions. The important thing about that data is that they recognize that one of the best ways (regardless of what one studies in college, or where) to end up wealthy is to start out wealthy. Chetty looks at various institutions and tracks the movement of students from various quintiles of income in their family background to where they end up after graduation.
The data show that those who started out in lower quintiles and studied at elite private colleges show significant gains and entry into the top quintile of income, even if they are not as large as those gains achieved by those attending other kinds of institutions.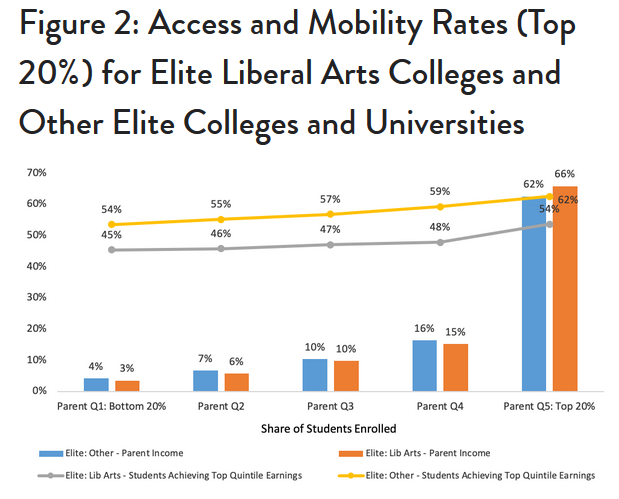 Other comparisons in the study look at the shifts for students, by entering economic quintiles, and those who end up in the top two quintiles, or the top 40 percent of American income. For some of these comparisons, the analysis also considered STEM-intensive institutions.
Not surprisingly, the STEM-oriented institutions do quite well in terms of lifting up the economic status of graduates, and for some groups they outperform other types of colleges.
But here again, there are substantial gains for those attending liberal arts colleges, such that more than 60 percent of them are ending up in the top two quintiles of income postgraduation, even if they started out in the bottom three quintiles.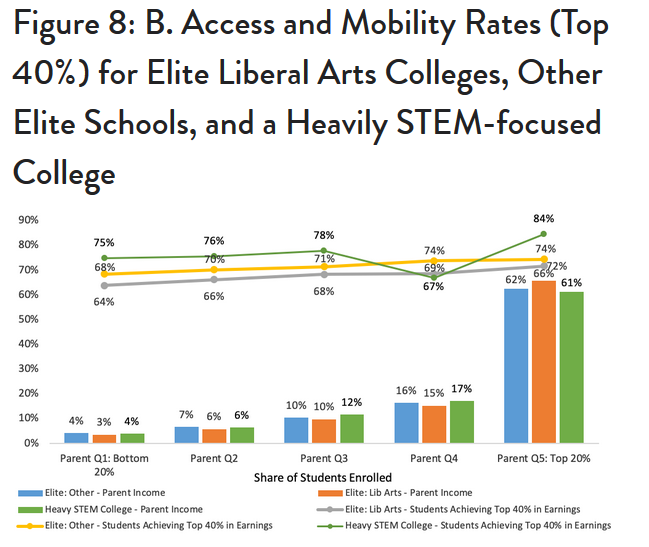 Other parts of the analysis look at graduation rates (where private liberal arts colleges do better than do other private institutions, across levels of competitiveness). And the study looks at the availability of aid, which finds that actual costs are substantially lower than sticker price.
These figures are important, the authors say, in that questions of the "worth" of a college are based on cost and economic outcomes.
The authors acknowledge in the report the many limitations that remain -- and say that they would like to explore finer subgroups of students both at liberal arts and other types of colleges (including testing their assumptions about those who study the liberal arts at non-liberal arts colleges and universities).
But they point to the Chetty data they have applied to say that attending liberal arts colleges leads to economic mobility across income groups.
"All the evidence shows that the bashing of liberal arts colleges, and the liberal arts, just isn't well founded, just isn't based on evidence," Hill said.
Hill said that she hoped the study would counter some of the prevailing myths, such as the one that says going to a liberal arts college means one isn't studying STEM, when in facts such majors have seen gains at liberal arts colleges.
"If you think back 10 or 15 years, we worried that there weren't enough students in STEM fields, and we've actually succeeded" in changing that, she said.
But Hill said she realized that it would be a continued, uphill battled to argue against the view that studying the liberal arts is economically foolish. "The more evidence we can get out, the better," she said.