You have /5 articles left.
Sign up for a free account or log in.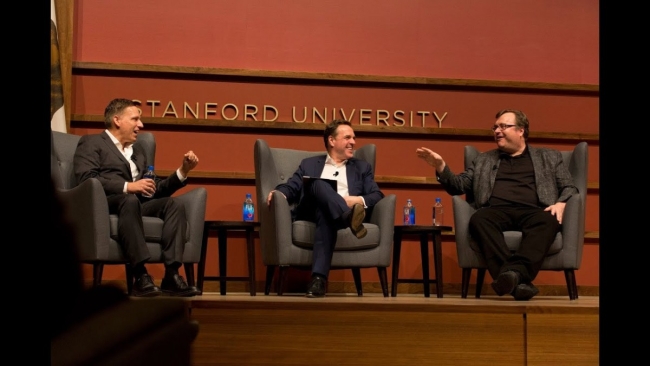 A speaker series at Stanford University meant to promote diversity and a free exchange of ideas will be revamped after criticism that its mostly white, male contributors did not fulfill the program's goals -- a lesson, experts say, in planning such initiatives in the name of diversity.
Stanford officials set up the series last year. Two speakers would argue consequential issues: so-called fake news, populism and sexuality and politics, among others.
Administrators were searching for a way to more constructively promote free expression on the campus, which had experienced many conflicts over speech (offensive political fliers on immigration plastered around a dormitory, for one). These were debates that might generally be more limited at a private institution. But as a California college, Stanford was subject to the state's unique Leonard Law, which applies the First Amendment even to private, secular universities -- and the university has repeatedly proclaimed to treasure diverse perspectives and the right to share the most controversial of ideas.
The response to the first five sessions of the series -- which administrators called Cardinal Conversations and which continued only through the spring of 2018 -- was deemed "decidedly mixed" by Provost Persis Drell in September, a milder way of phrasing the heaping criticism for the program.
One of Cardinal Conversations' leaders, the divisive British historian Niall Ferguson, resigned from his role after emails leaked that he had directed Republican students to conduct "opposition research" on a liberal student activist.
Students quite vehemently condemned some of the speaker selections, which were in part jointly coordinated by the institution's right-leaning Hoover Institution and its Freeman Spogli Institute for International Studies. Many of the participants were white men (six of the 12 speakers), talking on conservative topics, which some on the campus viewed as odd given the series' declared mission of intellectual diversity. An invitation to social scientist Charles Murray was particularly derided, and some students called for it to be withdrawn. Murray is well-known for his theory in his book The Bell Curve (often panned as racist) that black and Hispanic people are genetically predisposed to have lower IQs than white men and women.
Last month, in response to the admonishments, Stanford administrators floated a new structure for choosing speakers (a process that was mostly a mystery). The proposal calls for a 10- to 15-member student committee, led by three faculty members appointed by the provost, to pick the speakers. This group will "will look for partnerships with other organizations and oversee efforts to publicize events and engage the broadest possible audiences," Stanford said in a statement.
The series has also been moved from the purview of the two campus institutes (though Hoover Institution director Thomas Gilligan is one of the three advisers) to the Office of the Provost. Drell said she and President Marc Tessier-Lavigne will be uninvolved in selecting speakers.
The challenges with Cardinal Conversations show that simply holding these speaker series, which have become near ubiquitous on college campuses, does not guarantee inclusivity. Student affairs professionals said in interviews that administrators must be deliberate and intentional about which speakers they recruit and that they should involve students more.
"A planning committee that is able to gain suggestions and input from across the campus, and have committee members representing different stakeholder groups, is more likely to have a diverse speaker series," said John Taylor, chief executive officer of the Association of College Unions International, the organization that represents college and university activities centers. "Deliberations in such a group may take longer and be more challenging, but the end result may be a stronger set of speakers to present to the larger campus community."
This appears to be the route that Stanford is taking with its new planning committee, after having acknowledged its missteps in having a not-so-diverse leadership team. In her statement, Drell said that administrators struggled to find the right student and professor representation for the program. Progressive and minority groups on campus complained that "there was no public knowledge" of everyone who was a part of the original group or how it was created.
"The leadership of Cardinal Conversations as a whole leans toward the right of the political spectrum, thus the speakers the initiative invites neither represent both sides of the story nor raise the voices of communities that have been historically silenced," the student groups wrote in a letter to the student newspaper, The Stanford Daily, in February, after Murray was asked to speak.
In inviting white conservatives to campus, people like Murray, presidents may be responding to critiques from the right that colleges and universities are "liberal utopias" intent on suppressing the conservative voice, said Eric Anthony Grollman, an assistant professor of sociology at University of Richmond who writes periodic columns for Inside Higher Ed. (Grollman uses the pronouns they/them/their.)
Grollman's institution hosted Karl Rove, former deputy chief of staff to President George W. Bush, to deliberate immigration as a part of its final leg of its speaker series last year. Richmond's president, Ronald A. Crutcher, wrote a vigorous defense of Rove's visit in The Hechinger Report, arguing that "substantive conversations are never one-sided."
"As campus leaders, we must be unapologetic champions for the free and open exchange of ideas and for the potential of debate and discussion to transform society," Crutcher wrote.
But this arrangement is flawed, Grollman said. These (typically) men have historically already been given a broad and preferred platform in society, they said.
"We already know what people who are opposed to trans rights are going to argue," Grollman said. "There's nothing more they can say. But we haven't heard from trans people themselves. What's missing from this conversation is an aspect of power and resources. There's more power and privilege afforded to dominant group members, who are disproportionately conservative and so forth. The odds are always stacked against the marginalized group."
Giving more power to students to plan speakers helps ensure this diversity, said Kevin Kruger, president of NASPA: Student Affairs Administrators in Higher Education. This is despite the fact that sometimes students will make "bold and outrageous choices" simply to stir controversy, Kruger said. He gave the example of the right-wing students who have tried before to invite ex-Breitbart personality Milo Yiannopoulos to campuses, not for the sake of robust discussion, but for intentional pot-stirring. A speaker series at Williams College, run by students, was called Uncomfortable Learning, and intentionally tried to rattle students' views by bringing in provocateurs. But on multiple occasions, speakers were uninvited. The group rescinded an invite to Suzanne Venker, a self-described critic of feminism, in 2015 amid student protests. The college's former president, Adam Falk, canceled a talk by John Derbyshire, who has been called racist and sexist and currently writes for VDare, a known white supremacy website. Falk, who left the private institution in 2017, said at the time that Derbyshire promoted hate speech.
Kruger added that speaker series are a minute part of the campus experience -- while they might be quite visibly advertised in a student union, there are countless other activities happening that represent the entire campus contingent.
The problem of one-note series is also not isolated to Stanford.
Lectures at Arizona State University's School of Civic and Economic Thought and Leadership -- which was bankrolled by the state Legislature and has attracted criticism for housing research centers funded by the Charles Koch Foundation -- were nearly all given by men.
"This for me underscores the challenges that campuses are facing trying to strike the right balance between programming and speakers and things that support and underscore both conservative and liberal thinking," Kruger said.