You have /5 articles left.
Sign up for a free account or log in.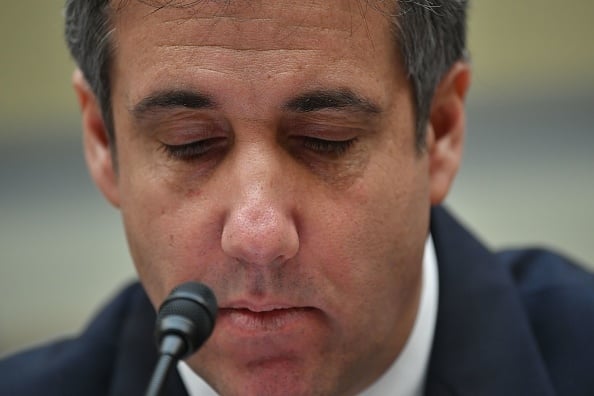 Getty Images / Mandal Ngan / AFP
Donald Trump and his representatives threatened the colleges he attended and the College Board that he would sue them if records about his academic performance ever became public, Michael Cohen said Wednesday in testimony to a House of Representatives panel.
In explaining why he calls the president a con man, Cohen said, in prepared testimony, "When I say con man, I'm talking about a man who declares himself brilliant but directed me to threaten his high school, his colleges and the College Board to never release his grades or SAT scores. As I mentioned, I'm giving the committee today copies of a letter I sent at Mr. Trump's direction threatening these schools with civil and criminal actions if Mr. Trump's grades or SAT scores were ever disclosed without his permission."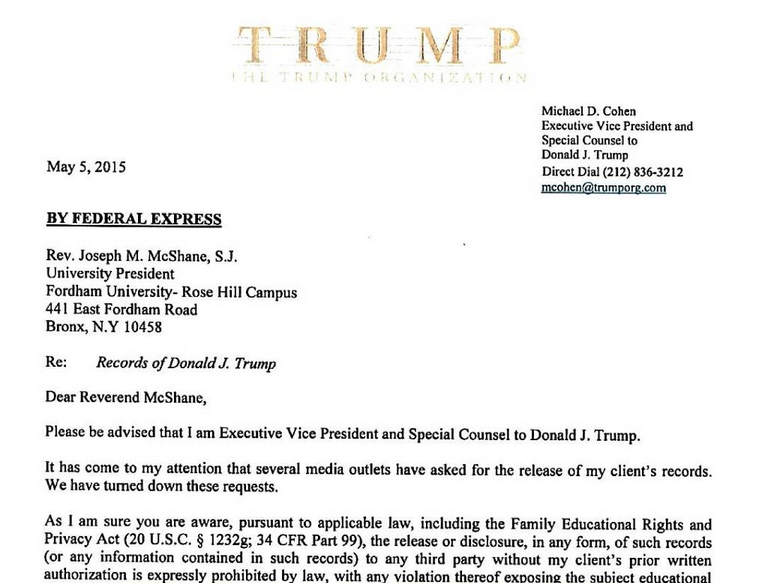 Trump attended Fordham University before transferring to the University of Pennsylvania, where he earned a bachelor's degree. Cohen released the letter he sent on Trump's behalf to Fordham, which cited the Family Educational Rights and Privacy Act, which indeed would bar any college from releasing grades without the permission of a student or former student. The letter said that Trump had become aware that journalists were asking for his grades, and so he wanted to reach out. The letter said that Trump would "hold your institution liable to the fullest extent of the law" for any release of his records.
The P.S. to the letter changes tone and says, "Mr. Trump truly enjoyed his two years at Fordham and has great respect for the university."
A spokesman for Fordham released this statement to Inside Higher Ed: "The university received a call from someone on the Trump campaign as now President Trump was gearing up for his run. We told the caller that Fordham is bound by federal law, and that we could not/would not reveal/share any records (as we would not reveal any student records) with anyone except Mr. Trump himself, or any recipient he designated, in writing. Fordham received a follow-up letter from one of Mr. Trump's attorneys summarizing the call and reminding us that they would take action against the university if we did, in fact, release Mr. Trump's records. Our stance remains the same: we obey federal law and don't release student records to anyone but the student/graduate or anyone that the student designates, in writing."
The College Board declined to comment on Cohen's testimony. Penn also declined comment.
Cohen's testimony noted that Trump, in 2011, had "strongly criticized President Obama for not releasing his grades" Cohen noted that "Mr. Trump declared, 'Let him show his records' after calling President Obama 'a terrible student.'"
Some grades of past presidential candidates have been released, sometimes with surprises. Documents that came out after the 2004 election showed that President George W. Bush earned slightly better grades at Yale than did John Kerry, his Democratic opponent, who was generally seen as the intellectual of the two 2004 contenders. But as NPR noted, Bush saw political benefit in boasting about himself as a C student.
Michael Reilly, executive director of the American Association of Collegiate Registrars and Admissions Officers, said via email that colleges would never release transcripts without student permission. "Student consent is the foundation of FERPA, and institutions cannot and will not release student records, including grades, without the student's consent," he said. "Many institutions have prominent graduates, and their records are protected by FERPA, as are all students'."
Another issue related to FERPA rights came up in recent years with regard to comments from professors about their views of the intelligence and character of students who went on to become political candidates. The issue surfaced in regard to Donald Trump, and also other candidates.
When Academic Records of Candidates Become Public
In some cases, the academic records of candidates have become public -- and generally not in cases where the records were about making the dean's list.
Joe Biden, then a U.S. senator, ended his campaign for the Democratic presidential nomination in 1988 shortly after he faced allegations of plagiarism. Some of those allegations focused on speeches that Biden made as a politician that contained sections from the speeches of other politicians. But Biden also faced reports that he had been found guilty of plagiarism while he was a law student at Syracuse University.
Biden said other campaigns had obtained and distributed information about the incident. He then obtained and released Syracuse's records on his time as a law student, including  a 1965 faculty report that found Biden had  ''used five pages from a published law review article without quotation or attribution." A New York Times article on the incident at the time said that the documents revealed Biden earned "relatively poor grades in college and law school." At the time, Biden said he didn't understand citation rules and that the plagiarism was not "not malevolent."
Rick Perry, currently the U.S. secretary of energy, was in 2011 the governor of Texas and was getting ready to seek the Republican presidential nomination in 2012, when The Huffington Post published his college transcript from Texas A&M University. The website said it received the transcript from "a source in Texas."
Huffington Post's description of the transcript: "The future politician did not distinguish himself much in the classroom. While he later became a student leader, he had to get out of academic probation to do so. He rarely earned anything above a C in his courses — earning a C in U.S. history, a D in Shakespeare, and a D in the principles of economics. Perry got a C in gym. Perry also did poorly on classes within his animal science major. In fall semester 1970, he received a D in veterinary anatomy, a F in a second course on organic chemistry and a C in animal breeding. He did get an A in world military systems and 'Improv. of Learning' — his only two As while at A&M."
While Perry did not win the nomination, many factors have been cited by political observers as far more important than his college grades.