You have /5 articles left.
Sign up for a free account or log in.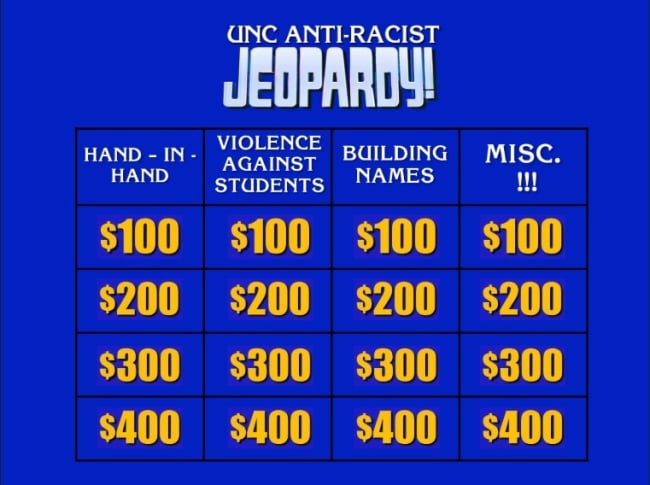 A student at the University of North Carolina at Chapel Hill alleges that the institution took down her parody website that lampooned officials' handling of race relations and only restored it after a lawyer and civil rights group intervened.
The website, called UNC Anti-Racist Jeopardy, modeled off the game show, asked questions about the university's history and ties to racism and police and administrators' interactions with activists. For instance, in the category "violence against students," the game asks what was deployed against students at a dance party in August. Answer: pepper spray.
The accusations of censorship come at a particularly strained time for the University of North Carolina System's flagship. UNC has been embroiled in a debate on the Silent Sam Confederate monument. And the website -- which officials considered "personal work" and not appropriate for the university's service -- was shut down despite many other instances where students' blogs were allowed to remain up. The student, Annie Simpson, said administrators likely flagged her creation because of her campus activism, partially around the Silent Sam statue.
What to do about the monument, which protesters tore down in August, seemingly spurred the exit of Carol L. Folt, former UNC chancellor. Folt announced her resignation simultaneously with the decision to remove the remnants of Silent Sam from the center of campus, a controversial move that many students celebrated but that did not erase the lingering tensions between them and politicians who liked the idea of a Confederate statue on campus.
Joanne Peters Denny, UNC spokeswoman, declined to provide additional comment.
Simpson, a senior visual arts student, created the website in December. It was not built for a class, but rather as an online art piece and part of Simpson's portfolio, she said.
Simpson has been involved in the Silent Sam protests, but also a campaign in the art and art history departments to add arts faculty and classes and improve facilities. She said her efforts hurt her relationships with UNC officials.
"Silent Sam's toppling did not end white supremacy at UNC," Simpson wrote in an email. "In fact, we've watched the rise of the far right on our campus. I've seen friends pepper sprayed in the face at protests, seen Klan members parade through campus with Confederate flags, flanked by police. Friends of mine bought Kevlar sleeves for when armed hate groups show up on the weekends. University administrators have called student activists, alumni and neighbors 'outside agitators' while they have failed to even once condemn the individuals (who come from counties or states away) affiliated with the Ku Klux Klan or far-right militia groups that show up to intimidate students and defend racially motivated violence. I built UNC Anti-Racist Jeopardy to center and platform the decades of black-led, woman-led, student-led activism at UNC that the school has tried to whitewash and suppress.
"I guess being censored by UNC proved my point better than any website I built could have."
Emails among administrators obtained in public records requests show that the website was discussed at the top levels -- from an official at the North Carolina system down to officials in UNC's Information Technology Services.
Simpson said that in mid-December, art department chairwoman Carol Magee told her that administrators wanted her to remove the website, which Simpson refused to do.
Days later, Chris Kielt, then the chief information officer and vice chancellor for information technology, wrote to Simpson in an email that the Jeopardy site violated the university's terms of service on the platform. In that email, Kielt never specified what part of the agreement the website infringed upon, but UNC's senior counsel later told a lawyer Simpson had been told that the university's domain was not for "personal projects."
The emails referenced another website Simpson was working on, a wiki page about the UNC Board of Governors, but it is unclear if it was ever affected.
Kielt wrote in his email that website would be deactivated if Simpson did not shut it down within a day. Simpson wrote back to Kielt and said that the website was university research.
"I feel that the targeting of them [was] not content neutral," she wrote.
Kielt replied that if Simpson would give him a faculty contact she was working with, he would verify it was related to the university. Having a professor sponsor the creation of website is not part of UNC's terms of service.
Simpson never contacted Kielt after that email, and the university deactivated the website.
She began working with the Foundation for Individual Rights in Education, a civil liberties watchdog group in academe, which wrote on Feb. 1 to Folt, who had not yet stepped down.
Sarah McLaughlin, senior program officer at FIRE, wrote that the web policy was vague and enforced inconsistently.
Though Simpson was told her website was personal and in violation of the policy, FIRE unearthed multiple cases in which UNC had allowed pet projects to stay live.
One student literally deemed her UNC website a "personal blog" and wrote at length about her dog Snickers, her favorite color and her adoration for coffee. That website, My Carolina Blue Bubble, was still up as of Thursday afternoon -- the student's last blog entry was from 2015.
Administrators' emails seem to reinforce the theory that Simpson's website may have been targeted.
Shortly after the website was created, Dennis Schmidt, assistant vice chancellor and chief information security officer, wrote on a late December night to several other administrators asking if they could determine who had made it. The emails don't reference how Schmidt was alerted to the website.
Kate Hash, director of communications and chief of staff for Information Technology Services, identified several other of Simpson's websites on the UNC platform.
Kielt, who was looped in on the email chain, asked if a policy existed around how many websites a user could make or what they could be used for.
Hash wrote back with a link to the terms and services and cited the stipulation about personal use, but added, "I think it's important to add that we don't regularly enforce the 'not for personal projects' aspect. The most common use case for that are professors trying to create business/consulting websites using the platform."
The morning after the email exchange, the administrators held a conference call, according to their emails. Days later, Simpson was informed her websites would be removed.
The emails also show that Thomas Shanahan, senior vice president and general counsel for the University of North Carolina system, forwarded the URL of Simpson's website to Mark Merritt, former UNC vice chancellor and general counsel, who left the university in December.
Shanahan did not respond to a request for comment. A system spokesman declined interviews and directed all questions to Chapel Hill.
Last week, Simpson was told by J. Michael Barker, the interim vice chancellor for information technology and chief information officer, that the university would revive the Jeopardy website within 24 hours.
A separate message was sent to FIRE in which the university said it would review its web policies.
McLaughlin said in an interview that UNC should clarify what "university related" and "personal project" means in its policies.
She said she was unaware of any other case where administrators had apparently gone after a student website, though colleges and universities have written unclear or poor policies around internet usage.
"As we argued, there are some First Amendment concerns," McLaughlin said. "UNC did create a designated public forum with this web hosting service, and by engaging in viewpoint censorship, that could be concerning from a First Amendment standpoint."