You have /5 articles left.
Sign up for a free account or log in.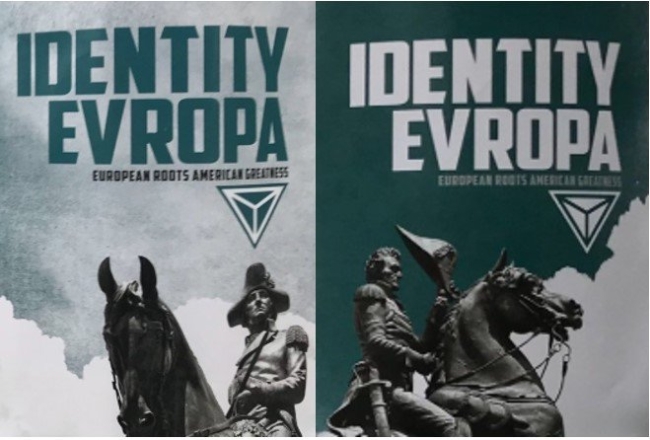 Even as college administrators denounce (and in some cases ban) white supremacists who come to campus to anonymously distribute their literature, these outsiders are still doing it with greater frequency, a new analysis shows.
The Anti-Defamation League's Center on Extremism tracked and verified 319 incidents of white nationalist propaganda at more than 200 college and university campuses in 2018.
This was about a 9 percent increase from 2017, when ADL recorded 292 on-campus incidents.
Generally, the postings are being done by white nationalists who are unaffiliated with the university in any way. While the ADL said that the campus trend is concerning and white supremacist activities are not likely to slow any time soon, the more significant increase in their efforts is away from colleges. White nationalist literature was documented 868 times off campuses in 2018 versus 129 incidents recorded in 2017.
The ADL attributes the only modest rise on campus compared to off campus to the attempts by college police forces to stop white nationalists from trespassing.
"That's the key to campus safety for any measure," said Carla Hill, a senior investigative researcher with the Center on Extremism. "I think warning these people -- don't come back on campus -- who want to put their hate on the campus is the key."
Hill, who helped create the new report, said that alt-right group Identity Evropa was responsible for the bulk of the incidents.
Founded in 2016 and deemed a hate group by the Southern Poverty Law Center, Identity Evropa spreads its white nationalist message by sneaking literature onto college campuses with its logo -- a triangle with three triangles in the middle -- and slogans such as "you will not replace us," coined by its founder, Nathan Damigo.
Its members will typically take a picture of where they hung an Identity Evropa poster and then post the photo online. When students find these posters on campus, many fear that Nazi sympathizers are at their college, and many report feeling hurt or scared by materials, even if they later learn the hate wasn't posted by someone on campus.
"They are trying to change the conversation on campus," Hill said. "They view campuses as liberal bastions, and they want to change that and put in their perspective on these campuses and what they think will influence the campus."
Identity Evropa's presence has grown significantly -- its mission, according to executive director Patrick Casey, is to "take over the GOP as much as possible," he told NBC News last year.
Hill said that she estimates the group has ballooned to about 500 members nationwide, with about a third of them being "active" -- going onto campuses to flier. Other times, usually off campus, Identity Evropa supporters will gather for a "flash demonstration," a brief, unannounced rally around white supremacist causes that quickly disbands.
Ever since the Unite the Right rally in Charlottesville, Va., in 2017, the white supremacist protest that resulted in the death of a woman and that Identity Evropa helped orchestrate, many of its members operate in secret, Hill said.
Following the Charlottesville riots, where white supremacists were openly photographed, many of them were "doxed" -- the practice of leaking personal and identifying information online, Hill said. Some of the white nationalist protesters were fired from their jobs or ostracized by their families, Hill said, leading many to take their activities underground.
If white nationalists such as members of Identity Evropa appear publicly, they often conceal themselves -- wearing masks or making sure they're not spotted if they tread onto campuses, Hill said. Online, they'll take up pseudonyms or -- if they're broadcasting -- use a podcast and not a video, she said. The group offers "behind-the-scenes" roles for those who might be at risk for being fired, Hill said.
Hill emphasized how police can curb their activities -- and administrators can take steps, too.
Last year, the University of Virginia barred Jason Kessler, a white nationalist who led the Unite the Right rally, from the grounds, citing the fact that he "threatened the health and safety of the community." This was done only after pressure from the campus, however -- students complained that he was allowed to walk the property and use the facilities.
The group Patriot Front also contributed to incidents on college campuses last year, though their efforts have largely moved away from colleges, Hill said. She said that as of Sunday, she has documented 66 incidents on campuses this year.