You have /5 articles left.
Sign up for a free account or log in.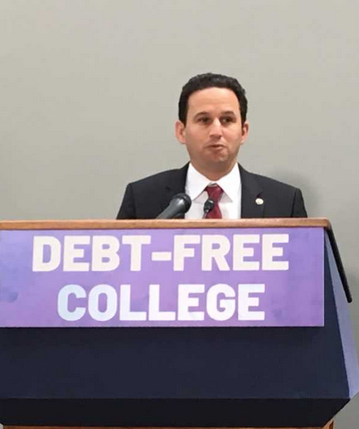 Senator Brian Schatz and top progressive Democrats are looking to frame "debt-free" college as the solution to the growing cost of higher education.
Schatz on Wednesday announced he would reintroduce legislation first filed last year that aims to cover all costs associated with attending a public college without forcing students to take out loans. His bill, dubbed the Debt-Free College Act, and identical House legislation have support from 40 Democrats, including 2020 presidential contenders Kamala Harris, Cory Booker, Elizabeth Warren and Kirsten Gillibrand.
Putting a focus on debt-free college could have implications for the 2020 presidential primary as well as a reauthorization of the Higher Education Act. The approach offers a contrast with proposals from Senator Bernie Sanders, a Vermont Independent and 2020 hopeful himself, whose call for tuition-free public college helped to define the last Democratic presidential primary campaign. Supporters of the Schatz bill say it is more comprehensive because it addresses college costs beyond tuition.
Schatz said at a press conference that any bill taking on student debt must address two key problems.
"First, we need to get states back into the game and get them to reinvest back into higher education. This not solely a federal responsibility," he said. "Second, we have to deal with the whole cost of college. It is not just tuition."
The bill would create a one-to-one federal match for state spending on higher education and use those funds to fill unmet need for students pursuing college degrees. Any college costs above a student's expected family contribution would be covered -- with priority going to Pell Grant recipients.
The concept of a state-federal partnership to address college affordability got an endorsement last week from Senator Patty Murray, the ranking Democrat on the Senate education committee. In a speech laying out her priorities for updating the Higher Education Act, she said the idea should be included in a new higher ed law and argued that college affordability should be a top priority for lawmakers.
Representative Mark Pocan, a Wisconsin Democrat and co-chair of the Congressional Progressive Caucus, a 90-plus-member bloc of left-leaning lawmakers, will sponsor a House version of the Debt-Free College Act. He called the bill the "most comprehensive and progressive legislation yet" to address student debt.
And Representative Barbara Lee, a California Democrat and emeritus chair of the CPC, said pursuing debt-free college would make a big difference for African American students who disproportionately struggle to pay back their student loans after leaving college.
Murray stopped short last week of saying a new HEA law would be the right vehicle to pursue debt-free college, saying the idea likely wouldn't be achievable in a bipartisan deal. But Schatz said the CPC will push for incorporating the bill into the Higher Education Act in the House, where Democrats hold the majority.
As candidates have jumped into the Democratic presidential race, they've been pushed to take a position on how they would address college affordability. Only one, Senator Amy Klobuchar, a Minnesota Democrat, has so far rejected calls for free college, saying instead that she would support free community college. Several others have backed legislation introduced by Sanders or Schatz.
Schatz said he hopes the bill will focus those debates on the entire cost of college.
"We benefit from a competition of ideas here," he said. "I don't object to Bernie's proposal. I do think ours is more comprehensive."