You have /5 articles left.
Sign up for a free account or log in.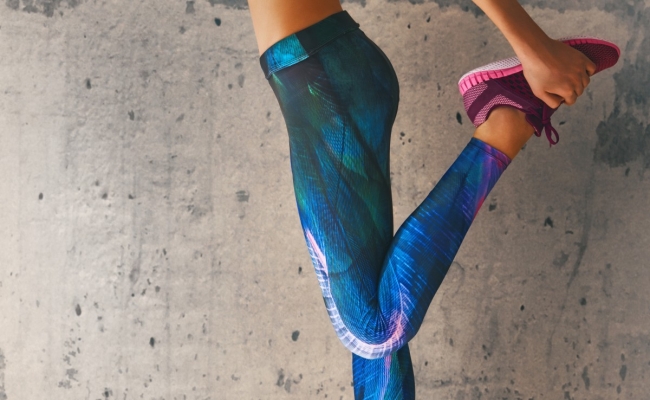 The fashion sense of a contingent of female Roman Catholic students at Mass one day at the University of Notre Dame was too much for one Maryann White, a self-described God-fearing mother of four boys. She wrote an essay urging women there to reject a dastardly kind of dress -- leggings.
The letter signed by White appeared last week in Notre Dame's student newspaper, The Observer, describing how the writer had purportedly been aghast by the presence of leggings so tight they appeared to "had been painted on" their wearers at a university service last fall.
"I wonder why no one thinks it's strange that the fashion industry has caused women to voluntarily expose their nether regions in this way," the letter reads. "I was ashamed for the young women at Mass. I thought of all the other men around and behind us who couldn't help but see their behinds."
The behinds, the letter went on to describe, were "blackly naked." It ended with a plea: please, Notre Dame "girls," buy jeans instead.
Students on the campus -- one of the most prominent Catholic institutions in the country -- rallied against the letter's arguments.
The words spawned multiple demonstrations around campus. This perhaps wasn't an unforeseen consequence -- battles over the formfitting fashion outside the gym have been waged in local school districts, especially -- see here for a case of a Minnesota principal who emailed every family in the school, asking his female students to cover their behinds if they were wearing leggings because they were distracting. In another bizarre display, an assistant principal at a North Dakota high school used clips from Pretty Women to link leggings to being a sex worker.
And Notre Dame has already encountered a similar controversy. In 2011, a male student wrote to The Observer that he was appalled by a woman wearing tights in the dining hall, apparently exposing her private area to him in the process. "Ladies, Be Decent," the headline read.
"My reasoning is that if a woman apparently doesn't respect herself enough to present herself in a nonrisqué manner in everyday life, I cannot trust her to respect me. I'd be wary about pursuing anyone like that," the student wrote at the time.
Throughout last week, students at Notre Dame donned leggings in protest of the new letter.
"Join in our legging-wearing hedonism!" the creator of one of protests last Tuesday, Love Your Leggings Day, wrote on Facebook. "Or not because what you wear is completely your own choice!"
A student group called Irish 4 Reproductive Health also deemed Tuesday Leggings Pride Day. On Facebook, more than 1,400 people expressed interest in the event.
In interviews with Inside Higher Ed, members of the group described how the issues hit on in the letter were connected to much broader problems that affect women, such as sexual violence.
After news of the controversy spread around the country, some of the students publicly posted tweets that were subject to ridicule -- commentators shamed their weight, questioned why the group existed and threw foul language at the women.
A graduate student and group member, Chissa Rivaldi, said that the criticism around leggings may seem minor, but when women are constantly exposed to passing sexual comments or attacks on how they should dress, it shapes their worldview. She noted too how the letter placed responsibility on women to change how they dress, rather than chastising men for looking at them inappropriately.
"In some ways, it's illustrating the very point that women are being attacked for just having bodies," said Kate Bermingham, another graduate student and member of Irish 4 Reproductive Health. "This is feeding into that dangerous narrative."
Rivaldi said even undergraduates who are not always as politically attuned to campus or broader issues have taken notice -- she said after the essay was published, she heard small clusters of women around campus chatting about it. Others have made leggings-related memes and posted them around social media -- a good measure of how much undergraduates are interested in something, Rivaldi said with a laugh.
And The Observer has been constantly pushing out responses to the initial letter all last week. Major news outlets, and Inside Higher Ed, failed to locate White or evidence of her four sons, perhaps lining up with theories online that she doesn't exist and the opinion piece was an early April Fools' Day prank or merely meant to incite debate through parody.
One male student, Shane Combs, wrote in The Observer that the women on campus should be able to wear whatever they like. He said he was raised with two sisters and feels a natural protectiveness, but that they should be allowed to express themselves how they wish.
"I, like my male classmates, know the responsibility to see a person for their whole self is my own. If either of my sisters are ever mistreated or disrespected by a man, at no time will I ask what they were wearing. It is simply not relevant," Combs wrote.