You have /5 articles left.
Sign up for a free account or log in.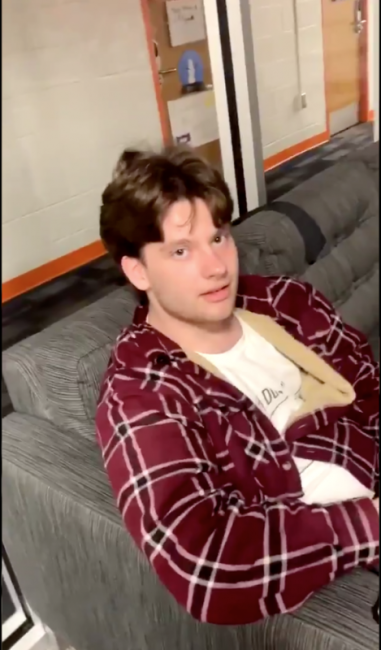 This article contains explicit and potentially offensive terms that are essential to reporting on this situation.
A video of a white American University student using a racial slur has gone viral on the campus, prompting outrage from a student body that has already experienced a series of racist incidents in recent years.
A first-year student, Aise O'Neil, was filmed by one of his peers saying "nigger" in a campus dormitory lounge. The 15-second clip shows O'Neil explaining that he feels it's acceptable to use any word. The university said later that O'Neil used the term in a discussion among students about language and freedom of expression.
O'Neil did not respond to request for comment.
Some students said the video was particularly upsetting because of the university's history with racially charged episodes. In 2015, the university came under fire for racist language used in the now-defunct mobile application Yik Yak, which enabled its users to post anything anonymously. University leaders sharply criticized the platform, but at the time, students still felt they needed a more direct response to the bigotry. And in 2017, bananas were found on campus hanging in the shape of nooses. Sketched onto the fruit was "AKA," or Alpha Kappa Alpha, referring to the sorority for African American women, and "Harambe bait," referring to the gorilla killed at the Cincinnati Zoo and Botanical Garden in 2016. They were discovered the same day a black woman started her tenure as the student government president.
The student who posted the new video to Twitter tagged university president Sylvia Burwell, with the caption "This is why I don't feel welcomed at American University." It has been viewed almost 80,000 times as of Monday evening.
In a statement posted on Sunday, the university said it "does not condone the use of a racist term associated with discrimination and violence."
"We recognize the harm this can cause in our community," the statement reads. "We will work with all concerned to understand what happened and to recognize that freedom of expression comes with responsibility."
In a follow-up message, Fanta Aw, vice president of campus life and inclusive excellence, said that it is vital that the campus recognize "the historical context" of language.
"A slur that has been used in the context of racism, bigotry, discrimination and violence does harm when it is used without understanding its context and painful impact on members of our community," Aw said.
She added that the university "would be guided by" its student code of conduct. Aw specifically referenced two sections of the conduct code that laid out definitions of misconduct and possible sanctions. Students can be punished for a "bias incident," which is an act targeting these protected classes: "race, color, national origin, religion, sex, pregnancy or parenting, age, sexual orientation, disability, marital status, personal appearance, gender identity and expression, family responsibilities, political affiliation, source of income, veteran status, an individual's genetic information."
Possible punishments range from a warning to a service project to a dismissal.
In an email to Inside Higher Ed, a spokeswoman for the university said, "We will not comment on the specifics of an individual student's record. Generally, however, if speech is used as an expression of bias in the context of threats, acts of violence, discrimination, or in conjunction with other violations of the Student Code of Conduct, then disciplinary action as articulated in the code is warranted. The code does not prohibit any specific words, even when they are abhorrent, without also considering the circumstances in which they are spoken. When abhorrent speech does not rise to the level of a code violation, but is harmful to the community and works against an inclusive climate, we use educational approaches to address impact and set expectations for civil discourse."
The university's public statements did little to assuage some students and professors.
"Then do something," one Twitter user wrote in response to the university's first statement. Nickolaus Mack, an editor for the student newspaper The Eagle, in an editorial called the statement a 45-word "failure."
"From the onset, some students are informed that their success at AU can be achieved through the feigning of ignorance and the mere replication of our values rather than an embodiment of them," Mack wrote. "Others, often having already lived and overcome numerous social and economic obstacles, are told that they are not quite ready for the AU experience."
"But, what is that experience if not the valuing of privilege over lived experiences? What is that experience if not another way in which AU places the burden of fighting racism on black students?"
Valentina Fernández, president of American University Student Government, posted on Twitter that the campus must "do better."
"Learn about the historically racist and dehumanizing purpose of this word and don't accept this from those around you," Fernández tweeted. "We have such a long way to go until AU can pride itself in its 'inclusive excellence.'"
The American University Residence Hall Association, which represents those who live on the campus, wrote a lengthy response on Facebook, pledging to fill its executive board with those who "represent and speak to experiences we cannot."
"Racism does not begin and end with [the] N-word, and our efforts to stop it can't either," the association wrote. "Every day, students are left feeling everything from annoyed to depressed, scared to frustrated, and uncomfortable to unwelcome by language and actions from students, faculty, and staff alike."
Some commentators online called for harsher action. Ibram X. Kendi, an American professor and director of the university's Antiracist Research and Policy Center, wrote on Twitter that his institution should use a "zero-tolerance" policy for racism -- "Who and what do we want to feel welcome on our campuses?" he asked his followers.
American, as a private university, can adopt policies that restrict speech that is viewed as hateful. The Faculty Senate also adopted a resolution on free expression that states:
Freedom of speech -- protected by the First Amendment to the United States Constitution -- undergirds the cherished principle of academic freedom. As limits, either subtle or explicit, are increasingly placed on intellectual freedom in venues of public discourse, the academy is committed to the full expression of ideas. American University is committed to protecting and championing the right to freely communicate ideas -- without censorship -- and to study material as it is written, produced, or stated, even material that some members of our community may find disturbing or that provokes uncomfortable feelings.
Other colleges -- public universities -- have sanctioned students for using racial slurs before. In 2015, David Boren, the former University of Oklahoma president, indicated he would kick out fraternity members who were caught singing a racist chant -- "There will never be a nigger at SAE," sung to the tune of "If You're Happy and You Know It."
This year, Oklahoma faced another similar controversy when a recording of two students in blackface went viral -- the university said those women left voluntarily.
A University of Alabama student was expelled last year after a racist diatribe went public. She ranted in the video, "I love how I act like I love black people, because I fucking hate niggers." At the time, free speech experts told Inside Higher Ed the ex-Alabama student would have a good case for suing the institution.