You have /5 articles left.
Sign up for a free account or log in.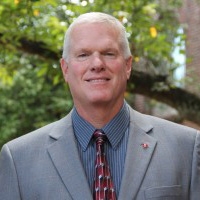 Mike Mullen resigned as vice chancellor for student affairs at North Carolina State University Thursday after complaints from conservative students that they did not feel comfortable with him. Their stated reason was his tweets.
He did not respond to requests for comment and the university said only that his resignation was personal. He remains on the faculty.
Minority students, among others, have praised Mullen for his support.
He had removed the Twitter account where he generated controversy and made a new Twitter account private.
He resigned the same day that College Republicans at NC State issued a call for him to do so.
"Targeted rhetoric that compares conservatives and Republicans on NC State's campus to 'neo-Nazis,' 'alt-right crazies,' and 'KKK members' has no place in the university system," said a statement issued by the group.
"This is the second instance in which Mr. Mullen has spewed harmful rhetoric on his official university account. In November of 2018, Mr. Mullen referred to three visitors of NC State as 'rednecks' in a derogatory fashion. This is an insult to the farmers and rural communities across the state and disrespectful to our university's long agricultural history."
Some of the tweets have been shared by Mullen's critics here.
Mullen apologized for the November 2018 tweet.
A spokesman for NC State stressed that Mullen's Twitter feed (which included NCSU in its name) was not one of the university's Twitter accounts and was not governed by its rules.
The NC State official rules for university Twitter feeds advise people to "Keep your personal views separate: Uphold the university's mission and values in your activities. Don't include political comments or comments on social issues, and do not conduct any political activities on behalf of any party or candidate."
On Twitter, NC State students debated Mullen's actions. Many said that it was inappropriate for a university administrator to express views like he did.
One student tweeted: "Uh, no, @NCSU_MikeMullen should be ashamed. Professors are supposed to support ALL students, not just ones that agree with their political or religious views. The students of @ncsu deserve better than Mike Mullen."
But another responded: "Disappointed to hear that Dr. Mike Mullen has stepped down. He is one of the few higher-ups at NC State that has been vocally and actively in favor of marginalized and minority students, and against growing bigotry and white supremacy on and off campus."
And another backer said: "Mike Mullen was one of the few non POC faculty members at NC State that really got it. A kind, understanding, accessible man. I once saw him offer to buy a student food because they tweeted about how they were hungry. I'm disappointed by his departure."