You have /5 articles left.
Sign up for a free account or log in.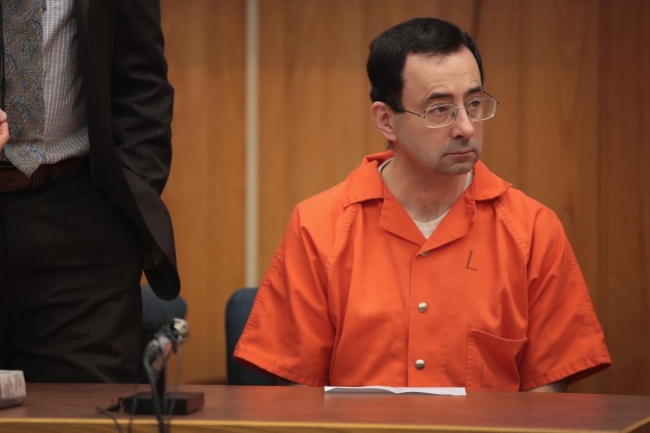 Michigan State University will pay a historic $4.5 million fine to the U.S. Department of Education after fumbling its response to the sexual abuse of hundreds of athletes by former team doctor Larry Nassar.
The Education Department's sanctions are the latest development in one of the most massive sexual abuse scandals in higher education. The university, facing a torrent of lawsuits accusing officials of disregarding sexual assault by Nassar, reached a $500 million settlement last year with more than 300 of his victims who attended Michigan State.
More than 100 women are still suing the university, which has sought to dismiss their claims.
Education Secretary Betsy DeVos slammed Michigan State in announcing the record-setting penalty on Thursday, the largest fine ever under the Clery Act, the federal law formally known as the Jeanne Clery Disclosure of Campus Security Policy and Campus Crime Statistics Act. The law requires institutions to publicize violent acts on campus and share crime data. The Education Department found the university had bungled not only the sexual abuse allegations against Nassar and his former boss, but also failed "systemically" in meeting Clery mandates.
In a conference call with reporters, DeVos called the Nassar case "abhorrent," criticizing Michigan State's handling of the sexual violence against hundreds of women for which Nassar was criminally convicted.
Nassar, who also treated the USA gymnastics team, was jailed and is serving life sentences. Allegations against him were made public three years ago. The fallout from administrators either purportedly concealing his behavior or ignoring reports from his victims led to the resignations of Lou Anna K. Simon, the former president, William Strampel, the former dean of Michigan State's College of Osteopathic Medicine and Nassar's former supervisor, as well as other high-ranking administrators and athletics officials.
The latest departure was provost June Youatt, who resigned on Thursday morning, the university announced.
Michigan State entered into two agreements with the Education Department, the agency announced on Thursday, ending its probes into the university's breaches of Clery and Title IX of the Education Amendments of 1972, the federal law banning sex discrimination and sexual violence on college campuses.
One of those resolutions dictates the university will investigate -- and possibly punish -- employees who may have known about the sexual abuse on campus and Nassar's misconduct, including Youatt and Simon. These disciplinary measures could range from the revocation of tenure or honorary or other titles to prohibition from the university grounds to the removal of employment benefits or pay reductions.
The department found Michigan State officials had not addressed Strampel's alleged sexual harassment.
Youatt for years ignored continual reports of Strampel routinely making sexist and inappropriate comments and sexual references around students and others, according to the department's findings. In one case, Strampel reportedly told a story about having sex with underage women while at a conference in Thailand but brushed the accusation off during his employee review with Youatt in 2015, saying he had never been to the country.
His simple explanation appeased Youatt, despite the repeated sexual harassment allegations against him. She wrote an email to a human resources representative: "Finished with my meeting. He says he's never been to Thailand ☺️."
"The Office for Civil Rights' letter of findings is very clear that the provost and former president failed to take appropriate action on behalf of the university to address reports of inappropriate behavior and conduct, specifically related to former Dean William Strampel," Michigan State president Samuel Stanley said in a written statement. "In my effort to build a safe and caring campus, we must have a culture of accountability."
Simon has already been charged with potentially lying to police during the criminal investigation of Nassar. Her lawyer did not respond to a request for comment. Simon recently went through a preliminary hearing to determine whether her case will reach a jury trial, which has not yet been decided.
Strampel is serving a year in jail after being found guilty of felony misconduct in office and willful neglect of duty, a misdemeanor. Strampel had ignored rules meant to limit Nassar's interactions with patients after he was accused of sexual assault in 2014. A woman said he rubbed her breasts and vagina during a checkup for hip pain. The complaint was largely dismissed.
Strampel himself was acquitted of criminal sexual abuse.
"The crimes for which Larry Nassar and William Strampel have been convicted are disgusting and unimaginable. So too was the university's response to their crimes. It must not happen again there or anywhere else," DeVos said.
The Education Department is requiring Michigan State to rework its Title IX office and elements of how it investigates and adjudicates sexual violence on campus. It directed the university to hire a consultant who has never worked with the institution before to review the university's previous decisions in sexual abuse cases and judge whether the university's processes in those cases complied with legal standards.
Michigan State must advertise a link on its homepage where Nassar's survivors can report his abuse. His victims could be entitled to mental health counseling services, adjustments to their grades, tuition reimbursement and the opportunity to retake courses without penalties.
The university did not comply with multiple parts of the Clery law, according to the department. It did not disclose Nassar's sex crimes, which reportedly date to the 1990s. And it did not issue public warnings about the sexual abuse, as Clery requires.
Officials must hire a Clery compliance officer, who will make sure the institution is following the law. It must also form a Clery Compliance Committee.
The university must inform the department within three days if it disciplines or fires an employee for a sexual offense, or if a major criminal offense that falls under Clery occurs on campus that involves members of a student organization, athletes or employees.
The Education Department will visit Michigan State at least three times in the next several years to ensure Clery compliance.
Despite the sanctions, some of Nassar's victims and their attorneys remain dissatisfied. One of the survivors, former Michigan State student Tiffany Thomas Lopez, said in a joint statement with her lawyers that the department's penalties were inadequate. She and other survivors called for a federal criminal investigation into Michigan State, and demanded members of Michigan State's Board of Trustees who served during the Nassar scandal resign.
Lopez, who said she reported Nassar's abuse to Michigan State in 1999, said "it should not have taken the federal government more than 20 years to investigate."
The fine is less than 1 percent of the settlement between the victims and Michigan State, the statement notes.
That $500 million settlement eclipsed the $109 million payout to the sexual abuse victims of former Pennsylvania State University assistant football coach Jerry Sandusky. Penn State received more than a $2 million Clery fine in the Sandusky case.
"A $4.5 million settlement is not a punishment for knowingly allowing little girls to be molested for more than 20 years," John Manly, a lawyer and partner at Manly, Stewart & Finaldi, which represents 200 of Nassar's victims, said in the statement. "It is a gift. The Department of Education could have sent a strong and meaningful message that MSU's behavior is not acceptable. Instead, they sent a message to every university in America that if you ignore reports of sexual assault on your campus and cover-up the crimes of perpetrators, you will get a slap on the wrist. This is completely inadequate and an insult to survivors."
But the department's decision also represents its intent to step up Clery enforcement, said S. Daniel Carter, president of Safety Advisors for Educational Campuses, which consults with colleges and universities on security issues.
Clery investigations typically have been prolonged, occasionally lasting up to a decade, and the department only has five years to issue a fine from when a Clery violation occurred. For instance, if a university failed to publicly report a sexual assault in 2015, it could not be fined for that mistake after 2020.
The resolution with Michigan State is unlike any other and should signal to other universities the seriousness with which Trump's Education Department is taking Clery, Carter said.
The agreement also states that Michigan State will only be provisionally eligible to participate in federal financial aid programs as long as it complies with Clery, which is a unique warning, Carter said. Michigan State will also be on heightened cash monitoring, meaning it is subject to greater financial oversight than other institutions participating in federal aid.
Carter said that he has seen the threat used when universities had rampant financial mismanagement, but never under Clery.
"This is not just about Nassar," Carter said. "It's systemic. It's partially to make sure a case like Nassar never reoccurs, but the rest of it is related to systemic procedures at the university and making sure the entirety of Clery compliance is in full effect."