You have /5 articles left.
Sign up for a free account or log in.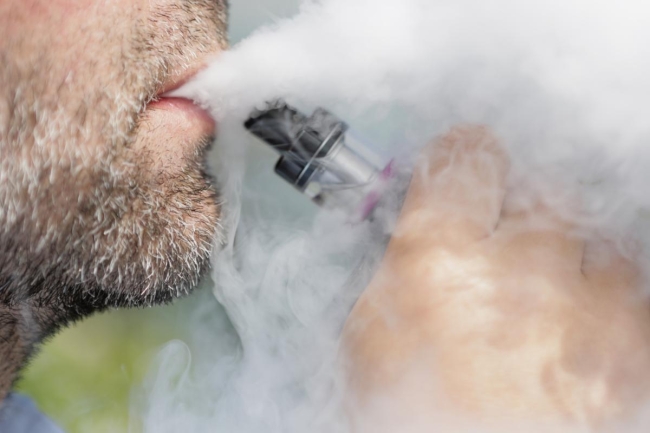 Despite nearly nationwide smoking bans on college campuses, a new study found that students use of marijuana "was at the highest level seen" in more than three decades.
According to the University of Michigan's annual, national Monitoring the Future Panel study, marijuana use skyrocketed nationally in 2018 and reached "historic highs" not seen since 1983.
The study also found that the use of vaping products, or e-cigarettes, to vape marijuana as well as nicotine, doubled between 2017 and 2018.
"This doubling in vaping marijuana among college students is one of the greatest one-year proportional increases we have seen among the multitude of substances we measure since the study began over 40 years ago," John Schulenberg, principal investigator of the study, said in a written statement.
While the researchers are worried about the increased marijuana use, the vaping trend is particularly concerning because students often perceive vaping to be a safer alternative to smoking cigarettes. E-cigarettes work by heating up a liquid filled with certain chemicals and flavors, which is then aerosolized and inhaled.
"There's this sense this it's culturally approved," Schulenberg, who is also a psychology professor at the University of Michigan, said in an interview. "There's this question of -- 'how bad can it really be?'"
While the long-term health effects of e-cigarettes are generally unknown, health professionals say users' respiratory systems can be harmed by inhaling vapors from flavored water, which also contains nicotine, the powerful stimulant found in tobacco products. Vaping nicotine can still lead to addiction, as certain devices, such as the popular Juul e-cigarette, deliver a particularly high dose of nicotine.
At least 450 patients in 33 states have been treated for a life-threatening illness linked to vaping as of last week. And three people have died from severe lung infections believed to be caused by vaping in Oregon, Illinois and Indiana. The victim in Oregon was otherwise healthy but became ill quickly, according to reports from physicians who treated this person.
The Centers for Disease Control and Prevention has discouraged the use of e-cigarettes while the vaping-related illness is investigated.
The annual report -- which the university's Institute for Social Research has compiled for more than 40 years -- is funded by a grant from the National Institute on Drug Abuse, a federal government research center.
The study follows the drug use habits of youth, college students and adults. Schulenberg said researchers have tracked a group of 19- to 22-year-olds since their senior year of high school. About 1,000 of them attended either a two- or four-year institution, and 500 or so did not, he said.
Among the college students, roughly 11 percent reported that in 2018, they had vaped marijuana within 30 days of taking the survey. This was nearly a 6 percentage point increase from 2017.
More than 15 percent of the students indicated they had vaped nicotine in the last month, a jump of more than 9 percentage points from 2017, when only 6 percent of students had vaped nicotine in a month period.
The American College Health Association is writing an article for its member institutions on how college officials are combating e-cigarette use on campus, said spokeswoman Rachel Mack. The association is reaching out to universities now to figure out what programs exist, she said.
College administrators often include e-cigarettes in their campus smoking prohibitions, but vaping can be harder to monitor. Unlike cigarettes, vaping doesn't generate a smell.
Not every institution is banning the practice. Duke University, for instance, will allow e-cigarette use after a smoking ban on campus goes into effect next year.
Just banishing e-cigarettes from campus isn't likely to solve the vaping problem, Schulenberg said. A campaign to address vaping would probably need to both remove e-cigarettes and make them less appealing to students, he said.
"Because there's kind of opportunity and desire -- supply and demand -- any effective campaign will take on both of those domains," Schulenberg said.
About 43 percent of students surveyed said they had used pot sometime in the last year. A quarter of the students said they had used marijuana within the past month. This is the highest reported use since the '80s, when about 45 percent of students indicated they had used marijuana in the past year.
About 6 percent of students said they used marijuana daily, which was defined in the survey as having used it 20 or more times in the last 30 days.
Schulenberg said this was particularly concerning because heavy use of marijuana has been linked to poor grades and potentially dropping out of college. He noted binge drinking among college students has dipped, and cocaine use is far less than it once when it was popular in the 1980s and '90s.
Marijuana use could be replacing students drinking alcohol in some cases, Schulenberg said, noting that he was optimistic because abuse of other substances has dwindled in recent years.
"We have gotten the message out, and we are making a difference," he said.