You have /5 articles left.
Sign up for a free account or log in.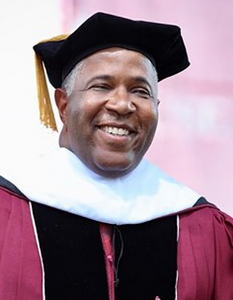 More than 400 new Morehouse College graduates received emailed letters Friday informing them of the amounts of their student loans that will be paid off by a billionaire donor who pledged last spring to wipe out the loan debt of the entire graduating Class of 2019.
The collective payoff, which includes loans taken out by the students' parents or guardians, amounts to $34 million. The payments will be made through the newly established Morehouse Student Success Program, a scholarship, loan debt, research and educational initiative established by the college's Board of Trustees "as a national investment strategy to curb student loan debt and help graduates to prosper faster."
The program was developed after Robert F. Smith, the founder, chairman and CEO of Vista Equity Partners, stunned graduating students and Morehouse administrators during the commencement ceremony at the private men's college in Atlanta last May with his surprise announcement that he would pay off the loans. College administrators spent the past four months poring over students' loan records to determine the total amount owed.
"We arrived at the $34 million figure by working with the U.S. Department of Education and reconciling their numbers with the loans that we have booked through our financial aid office," said David A. Thomas, president of Morehouse, which is a historically black college.
Thomas, who spoke during a call with reporters Friday, said the college and the department also worked with loan servicing agencies to make sure the college's numbers matched those of the Education Department and that the department's numbers matched those of the loan servicers. "And then we added it all up." (Note: This paragraph has been changed from a previous version to correct a reference to a loan servicer.)
Only student loans and parent loans approved by the college and the Education Department will be covered, and the payments will go directly to the loan servicers. The loans include federal subsidized and unsubsidized loans, Georgia Student Access Loans, Perkins Loans, Parent PLUS Loans and certain private student loans processed through Morehouse. The payments will cover the full principal and interest for education loan balances as of Aug. 28, 2019.
Thomas said the decision to also include loans taken out by parents was made by Smith.
"It was all really driven by Robert, who took his time to dig in and understand the issue of debt to finance student education," Thomas said. "Once he realized that it's not just student debt but debt that families take out to provide for the education that we provide … He decided that debt needed to be addressed as well. It would have been a significant gift if he was only … going to take on the students' debts, but it's even more significant that the parents were included, which increased the amount of the donation."
A small portion of the Smith donation, $400,000, is being set aside to support research on how the debt relief influences the economic and professional lives of the graduates, he said.
The impact of the Smith donation is still reverberating at Morehouse and elsewhere, not only because of its headline-grabbing boldness, but because it thrust the issue of crippling student loan debt, especially among black students and their families, into sharp relief. It also amplified national conversations about the debt gap between white and black college students and how it stifles wealth building in black communities, deters black college graduates from pursuing advanced degrees and saddles them and their parents with long-term debt that hurts their ability to access credit, buy homes or start businesses, among other effects.
More than 85 percent of Morehouse students have student loans, and by the time they graduate, their debt threshold is between $35,000 and $40,000, "which is higher than the average for HBCUs," according to a press release issued by the college.
Morehouse officials did not provide a numerical or percentage breakdown of the loan payments but a spokeswoman for the college said the majority of the $34 million went toward relieving the debts of parents.
"More of it went to paying off parent debt than student debt," said Aileen Dodd.
According to research by the United Negro College Fund, "HBCU graduates borrow nearly twice as much -- $26,266 on average -- than non-HBCU students. And one in four HBCU students borrows $40,000 or more to attend college," the press release said.
"Morehouse's program to provide debt relief to new graduates is a fundraising opportunity that should be studied and duplicated nationally," Michael L. Lomax, president and CEO of the United Negro College Fund, said in a written statement. "The impact of such a gift, particularly for minority or economically disadvantaged families, could accelerate the growth of a more diverse and robust middle class."
As part of the new initiative, "Morehouse will solicit and accept donations made specifically to reduce or eliminate the student loan debt of Morehouse men and their parents or guardians, thus creating an opportunity for greater financial freedom for new alumni and their families," the press release said.
Thomas said the college has received numerous inquiries from people inspired by Smith's donation and wanting to help but who do not have the same financial means as Smith.
"That did get us thinking about how can we create a vehicle for donors who wanted to participate in similar ways," Thomas said. Some people said they would be interested "in helping defray the debt of students going into low-pay, high-value occupations like education. That led us to create this student success program as a vehicle that would allow us to customize ways that individuals can support the program and not lock us into [thinking that] the only way that you can participate is to do what Robert Smith [did]."
Thomas said the inquiries have not yet led to donations, "But we are in discussions that if all the possibilities closed, we could have another eight figures to go toward those efforts."
He said the Smith gift has also had other positive outcomes.
"It has placed Morehouse at the center of a conversation about college affordability; it has also inspired other donors, including our alumni, to increase their giving and support of the college. It's also has called to the attention of individuals with the ability to give seven-, eight- or nine-figure gifts, that there are schools like Morehouse that have not received that kind of support but are doing something that deserves that kind of support," he said. "Many liberal arts institutions that are predominantly white get those kinds of gifts. Now individuals with that kind of ability can consider" giving to Morehouse and other HBCUs.
Thomas said Morehouse also has seen an "uptick in young men interested in attending the college" and that the gift has drawn increased public interest in HBCUs in general.
Thomas said the Smith donation -- he called it a "liberation gift" -- will be life changing for the graduates and their families.
"It is our hope that our graduates will use their newfound financial freedom to pursue their career goals, to lead and serve the community, and to remember the spirit of the gift given to them by paying it forward to support the education of future classes of Morehouse men."