You have /5 articles left.
Sign up for a free account or log in.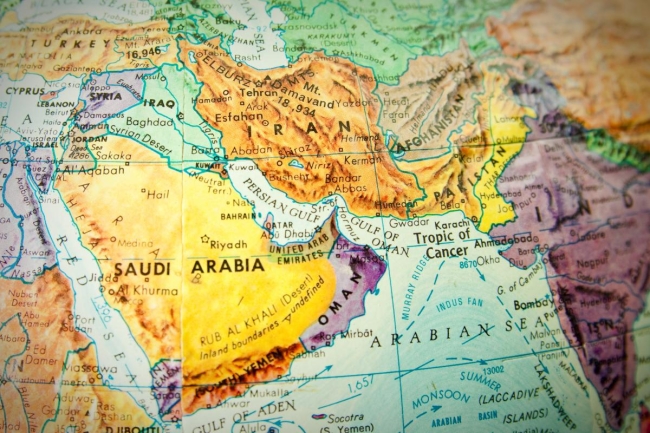 An inquiry by the U.S. Department of Education into the curricular programming of a Middle East studies center supported by federal funds has raised alarm bells in academe.
Henry Reichman, the chair of the American Association of University Professors' Committee A on Academic Freedom and Tenure, described the department's inquiry into the Duke-UNC Consortium for Middle East Studies' use of federal Title VI funds as "a chillingly inappropriate political intrusion into curricular decisions best made by faculty."
The Education Department wrote to the center jointly run by Duke University and the University of North Carolina at Chapel Hill on Aug. 29. The letter, published in the Federal Register last week, singled out various programs as allegedly having "little or no relevance to Title VI," a federal grant program that funds international studies and foreign language programs at U.S. universities. The Duke-UNC consortium is designated as a National Resource Center for the teaching of Middle East studies and languages of the region; it receives about $235,000 in annual Title VI funding.
Among the programs singled out for criticism by the Education Department were two humanities conferences. "Although a conference focused on 'Love and Desire in Modern Iran' and one focused on Middle East film criticism may be relevant in academia, we do not see how these activities support the development of foreign language and international expertise for the benefit of U.S. national security and economic stability," the letter from Assistant Secretary for Postsecondary Education Robert King states.
King alleges "a lack of balance" in the Duke-UNC consortium's programming and suggests that Islam is treated favorably compared to religious minority groups in the Middle East, including Christianity and Judaism. The letter accuses the center of "advancing ideological priorities" and singles out a teacher-training program in multicultural education in arguing that it uses such programs to "advance narrow, particularized views of American social issues" rather than focusing on language development or the geography, geopolitical issues or history of the Middle East.
The letter also criticizes the Duke-UNC center for placing more graduates in academe than in government and faults the Duke-UNC program for teaching structure that leaves most of the foreign language teaching to non-tenure-track faculty -- a common, albeit oft-lamented, structure within higher education.
Over all, the letter asserts that "foreign language instruction and area studies advancing the security and economic stability of the United States have taken 'a back seat' to other priorities at Duke-UNC CMES." To remain eligible for future funding, the department directed the university to "provide a revised schedule of activities that it plans to support for the coming year, including a description demonstrating how each activity promotes foreign language learning and advances the national security interests and economic stability of the United States."
The statute authorizing the Title VI international education programs identifies such goals as "producing increased numbers of trained personnel and research in foreign languages, area studies, and other international studies" and "to develop a pool of international experts to meet national needs." To the degree it references national security and economic interests, the law frames these concepts broadly: "The security, stability, and economic vitality of the United States in a complex global era depend upon American experts in and citizens knowledgeable about world regions, foreign languages, and international affairs, as well as upon a strong research base in these areas."
UNC's vice chancellor for research, Terry Magnuson, has written back to the Education Department defending the consortium's programs and pledging to create a new advisory board to review its proposed activities.
Magnuson writes that the consortium has the highest Urdu language enrollments in the country and the eighth-highest enrollments in Arabic and Turkish. He defends the consortium's cultural and historical programs as providing "essential preparation for work in areas of national need," and also highlights various programs focused directly on national security concerns, such as an event on combating violent extremism and a program on the U.S.-Israeli partnership in cybersecurity. The letter also states that two of the specific programs singled out by the Education Department for "advancing ideological priorities" were not in fact supported with Title VI funds.
"The consortium's activities 'reflect diverse perspectives and a wide range of views and generate debate on world regions and international affairs,' in compliance with" statutory requirements, Magnuson wrote. "The consortium organizes public events presenting diverse perspectives and a wide range of views on many of the Middle East's most challenging subjects, including -- in recent years -- conferences on censorship in Turkey, Islam and religious identity, World War I and the transformation of the Middle East, the aftermath of the Arab Spring; and lectures on human rights in Iran, civil war in Syria, repression in Egypt, and many other subjects."
The Middle East Studies Association (MESA) joined with 17 other scholarly associations, including the American Historical Association and the Modern Language Association,  in writing a letter expressing "considerable concern and surprise" regarding the department's intervention at UNC/Duke. "Your
letter, in tone and content, suggests an intention not only to significantly narrow the scope of Title VI activities, but also to micromanage them," the groups wrote in the joint letter to Assistant Secretary King, which is being sent today.
They wrote that King's letter "appears to be based on a fundamental misunderstanding of how expertise in foreign languages, cultural competencies, and area and international knowledge in general is obtained. The letter also constitutes an unprecedented and counterproductive intervention into academic curricula and programming that threatens the integrity and autonomy of our country's institutions of higher education."
'Old Hat'
While the department's letter may be unprecedented, allegations of bias in Middle East studies centers are not new -- particularly as they relate to programming about Israel. The inquiry into the Duke-UNC consortium's use of Title VI funding appears to have been launched in response to a complaint from a congressman about alleged anti-Semitic rhetoric at a conference about Gaza supported by the consortium. UNC estimated less than $200 in Title VI grant funds were allocated for the Gaza-related event, The News and Observer of Raleigh reported.
"This is old hat," said Joel Beinin, the Donald J. McLachlan Professor of History and Professor of Middle East History Emeritus at Stanford University and a former president of the Middle East Studies Association, from 2001 to 2002. In 2003, the U.S. House of Representatives passed a bill that would have created an advisory board to oversee Title VI-funded programs, but the bill was never taken up by the Senate.
"In the administration of George W. Bush and the aftermath of Sept. 11, people who were not familiar much with the Middle East or Islam deplored the kinds of explanations that many experts on modern Middle East or modern Islam gave on what it was about," Beinin said. "It was essentially the same thing. Title VI Middle East centers in general [were characterized as] too pro-Arab, too pro-Muslim, too critical of Israel, not supportive enough of basically the national agenda of the Bush administration, although it wasn't put in those terms."
More recently, in 2014, a coalition of pro-Israel organizations called for reducing or eliminating federal funding for Middle East studies centers unless alleged biases in their programming were corrected.
"The evidence shows that many centers funded under Title VI still do not serve the basic objectives of the program, namely, to advance American national security and international relations interests," the groups said. "They too often exclude scholars with diverse perspectives while stifling discourse on critical issues. The biased learning environment that results suppresses the academic freedom of students and faculty with different views. At some institutions, students are afraid to disagree with their professors."
One of the organizations involved in that statement was the Louis D. Brandeis Center for Human Rights Under Law, which at the time was headed by Kenneth L. Marcus, now the assistant secretary for civil rights at the Education Department. Marcus wrote in a 2014 op-ed in The Hill that Title VI funds were "being used to support biased and academically worthless programming on college campuses. And the Department of Education is failing to hold these programs accountable for their violations."
The Department of Education did not respond to inquiries about the investigation into the use of Title VI funding at Duke-UNC and whether Marcus has been involved in the inquiry.
Some have supported the inquiry as overdue.
"Recipients of Title VI taxpayer funds for NRCs must demonstrate viewpoint diversity on the region & how the programming advances foreign language training & [US] #NatSec & economic interests. Monitoring compliance is long overdue!" Miriam F. Elman, president of the Academic Engagement Network, a group of faculty who oppose the boycott, divestment and sanctions movement against Israel, and an associate professor of political science at Syracuse University, said on Twitter.
Others have more mixed views. "I worry that this letter may be politically motivated," said R. Kirk Belnap, a professor of Arabic at Brigham Young University. "Too narrow of a definition for courses that 'advance the national security interests and economic stability of the United States' would not to be in the nation's best interest. But we must address the dangerous trend that has resulted in most language faculty being second-class citizens in the academy. This is a battle that Title VI should fight, one clearly in the nation's interest."
Christopher S. Rose, a postdoctoral fellow at the University of Texas at Austin's Institute for Historical Studies who previously spent 15 years helping to administer a Title VI program, said that the Department of Education has every right to monitor compliance and to ask for clarification as to how specific programs meet the grant's objectives. But he questioned the public nature of the exchange, and what he characterized as the at times derisive or sarcastic tone of the department's letter -- which, he said, suggested judgment had already been passed. Rose blogged about the inquiry on his website.
"The thing that struck me the most about the way this has all shaken out is, No. 1, the public nature of the criticism and, No. 2, as I raised in the blog, the public criticism includes criticism of Duke-UNC of doing things that are actually perfectly acceptable under the program regulations," Rose said. "The grant regulations themselves specify that, for example, it is a perfectly acceptable outcome for graduates of a [National Resource Center] program that receive federal funding to go into higher education; yet the letter criticizes Duke-UNC for not placing enough graduates with the federal government because too many of them are going into higher education."
"Without really having a clearer understanding of not only what happened that put them under this scrutiny but also the reason that the critique has gone so public, there's just a lot of nervousness," Rose said. "Is this how business is going to be done now? Is this what it is going to be like working with U.S. Ed?"