You have /5 articles left.
Sign up for a free account or log in.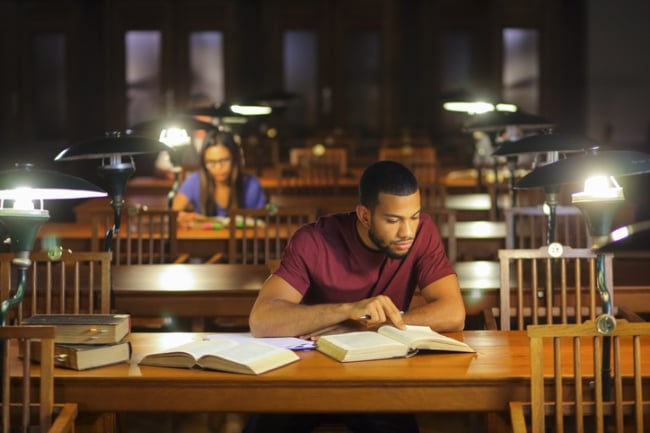 When Karen Stout was president of Montgomery County Community College, the Pennsylvania institution changed the way the library was designed. It was co-located with the student success center and changed to incorporate more student services.
The college saw an "immediate uptick" in use from students for services other than borrowing books, like printing and technology use, according to Stout, now president and CEO of the nonprofit Achieving the Dream. She also positioned her office in the middle of the library as a symbol that she was leading with student success in mind.
Montgomery might have been on to something.
A study released Monday by Ithaka S+R, the research arm of nonprofit Ithaka, found that students see libraries as a valuable space for services, including nonacademic services.
Through an initiative called the Community College Libraries and Academic Support for Student Success project, researchers first interviewed 37 students from seven community colleges about their largest needs and difficulties in college. They then created several "service concepts" based on the needs expressed by those students. More than 10,000 students at those seven community colleges were surveyed about which of those concepts would be most valuable to them and where they would most like to access them, as well as the largest difficulties they faced in attending college.
The government partner for the study was the Institute of Museum and Library Services.
Most students reported wanting to leave college with more knowledge first and the ability to make more money second. The challenges the majority face are balancing school, work and family and having enough money to pay for basic needs like housing and food.
In response to the concerns students raised in interviews, Ithaka S+R developed a list of possible approaches community colleges might adopt to address students' needs: a single point of contact to help students navigate available services; loan technology; a dedicated person available to help find sources for course work; social workers; childcare; information about digital privacy; community advocacy; and opportunities to display students' work.
Students were presented with the concepts and then asked which place on campus they would most like to access those services. The choices were randomized across surveys so as to avoid purposefully steering students toward libraries.
However, students most often chose the library as a potential provider for these services, according to the report.
"This project is really, in essence, about re-envisioning the role of the library," said Christine Wolff-Eisenberg, manager of surveys and research at Ithaka S+R and a co-author of the report.
The results present an opportunity to have a conversation about the roles libraries could play in wraparound services and academic support, said Braddlee, dean of learning and technology resources at Northern Virginia Community College and a co-author of the report (Braddlee uses only one name).
Each of the seven community colleges involved in the survey has agreed to pilot at least one of the programs, Braddlee said. At Northern Virginia, he plans to implement the social worker concept.
"That doesn't mean we'll hire six full-time people for each campus library, or convert librarians into [masters of social work]," he said. "What it is, rather, is that we're looking at the resources that are already available on campus."
This includes creating displays that provide information on housing and food insecurity and referring students to resources, leveraging "the role of the library as a trusted information source."
It also includes sending librarians to the campus's Center for Student Financial Stability to learn more about available programs, and letting social workers from the center use study rooms to meet with students confidentially when there isn't other available space.
"A lot of these services are going to require deep collaboration so the library is not reinventing the wheel when other resources exist," Wolff-Eisenberg said.
While the grant does not provide money to study the outcomes of the pilot projects, the researchers plan to publish a free tool kit colleges can use to conduct the survey and find out what their own student body needs and where.
Stout intends to take the concept of placing more supports, like writing centers, to Achieving the Dream's more than 280 member institutions. She also thinks it's important for institutions to include librarians in conversations about student success.
"Librarians are a natural bridge and hub in connecting academic affairs on our campuses with student affairs," she said.
Braddlee thinks this report provides data to help librarians think of their roles in different ways. While some of the concepts can seem daunting at first, he emphasizes that institutions don't have to take them literally.
"For example, on childcare, we're not thinking that the library's going to become a drop-off day-care center," he said. "But rather, what we're saying is what can we do to make the library more family friendly, more child friendly, and might that be an example to the rest of the institution to do small things as well?"