You have /5 articles left.
Sign up for a free account or log in.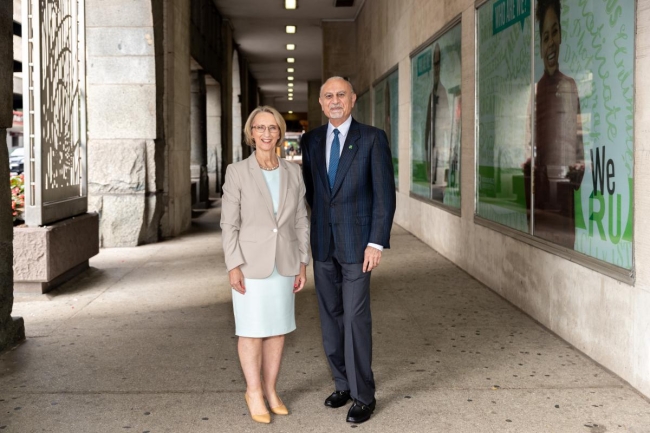 Two private nonprofit universities under enrollment pressure in the difficult Chicago market plan a tie-up, with Roosevelt University acquiring Robert Morris University in a process leaders hope gains accreditor approval in the spring.
Roosevelt is the larger of the two institutions, with enrollment of about 4,100 students compared to Robert Morris's 1,800. Roosevelt has a developed set of online programs but is built around a liberal arts and sciences core. Roosevelt also runs a broader set of graduate programs than does Robert Morris, which is career focused and brings two-year programs to the union.
Combining the two universities will hopefully create a single institution that can serve student demand for different types of education and programs, says Roosevelt's president, Ali Malekzadeh. A student might be finishing a nursing degree and decide to stick around to earn a pharmacy doctorate, for example.
"Those who are ready to continue, it would be great to keep them," Malekzadeh said. "From the students' perspective, it's really more and more choices."
Assembling scale and a range of degree offerings could be an important strategy for the future for institutions in a part of the country where higher education is under intense stress. Illinois and the Chicagoland area have long been exporters of students as colleges and universities in adjacent states seek well-off families who might be willing to send their students away from home to earn degrees. And the pool of traditional-age undergraduates is expected to shrink in the coming years.
A Competitive Market and Falling Enrollment
A larger and larger share of Illinois high school graduates who attend four-year colleges have been going out of state over time, according to the Illinois Board of Higher Education -- 48.4 percent in 2017, up from 46.6 percent in 2016. In 2002, just 29.3 percent of the state's high school graduates who went on to four-year colleges attended out of state.
Illinois high school enrollment has declined over the last decade and is expected to fall more sharply in coming years. The result is a drop in higher education enrollments across institution type in Illinois. Fall head-count enrollment in private nonprofit institutions fell by 7.4 percent between 2008 and 2017, IBHE data show, to 209,197.
Declining enrollment means shrinking revenue for many private colleges and universities, because they are dependent on tuition. Both Roosevelt and Robert Morris have lost students and showed signs of financial stress in recent years.
Roosevelt has reported operating deficits every year since 2014. It launched a five-year plan in 2017 that Malekzadeh has said was intended to eliminate deficits and rightsize operations. Today the university points to a "three-pronged" approach intended to improve enrollments, grow revenues and cut expenses, all while investing in academic programs.
In June 2018, Moody's Investors Service kept Roosevelt's bonds in junk territory because of a "material structural imbalance, with large operating deficits and insufficient debt service coverage that require draws on the university's reserves." The ratings agency noted that upcoming class sizes seemed to be stabilizing and that the university's management team had cut expenses.
But it kept a negative outlook on the university's debt, citing low retention rates and large graduating classes pushing down overall enrollment, as well as high financial leverage and fixed costs that were becoming "increasingly unaffordable as its scale declines."
Roosevelt has since restructured debt to free up funding for turnaround efforts. Its leaders expect a balanced budget in the coming year, Malekzadeh said. Projections show the budget balancing after the acquisition of Robert Morris.
The Situation Next Door
Robert Morris has been under its own financial pressures. It has been losing money for much of the last decade. In May, it moved to close a Springfield campus that enrolled 20 or so students. Then last month, it sold the campus to a credit union for just under $1 million.
Robert Morris has not stopped recruiting a new class of students for next year. The acquisition might increase Roosevelt's enrollment, but it will not swell head count to previously seen levels on its own.
If Roosevelt and Robert Morris were combined today, the resulting institution would have about 5,900 students. That's below Roosevelt's enrollment level from 2008, which was almost 7,700 students. Robert Morris enrolled about 4,600 at that time.
Presidents at both universities stressed the educational and programmatic upside of the deal. Both institutions stress missions to promote diversity, access to education and enrollment of first-generation and minority students.
"Even though it is a tough market with the outmigration and the decreased number of students who are graduating from high schools, there is still such a great need for students who need or want to stay locally and go to school," said Mablene Krueger, president of Robert Morris.
Acquisition Details
Several factors lined up to make the two institutions potential partners for a merger or acquisition.
Roosevelt's and Robert Morris's main locations are very close to one another. They are nearly back to back in Chicago.
"I'm 5'2", and it's 256 steps for me," Krueger said. "The vast majority of Robert Morris students take public transportation to come to class every day. As we were looking at the opportunity to acquire or be acquired, that's very important."
Leaders of the two universities also have a pre-existing relationship. Malekzadeh and Krueger became presidents of their respective institutions in 2015. The timing fueled a good relationship based in similar experiences, Krueger said.
The idea of a partnership first came up over a "friendly breakfast" between the two presidents, Krueger said. They were discussing ways Robert Morris students could have access to advanced science or math offerings, then they began talking about the possibility of providing Roosevelt students with career-focused programs. Talk moved into student housing, where the universities have worked together, and evolved from there.
Leaders at Roosevelt and Robert Morris were scheduled to tell their campuses about the acquisition Wednesday morning. They have submitted an application to their accreditor, the Higher Learning Commission, that they hope will be approved in the spring. The deal also requires approval from the Illinois Board of Higher Education, the U.S. Department of Education and each institution's governing board.
Plans call for Robert Morris to be absorbed into Roosevelt University and take the larger institution's name. Roosevelt will create a new college that will house many of Robert Morris's existing programs. It will be called the Robert Morris Experiential College.
Robert Morris's president, Krueger, will continue with the combined institution with the title of chief operating officer. Her focus will be growing the institution through external relationships with constituencies like employers and the City Colleges of Chicago.
Malekzadeh will remain president of Roosevelt. Roosevelt's 35-member board will remain intact. Robert Morris's 10-member board will not be integrated into Roosevelt and will dissolve, although individual board members could be brought onto the Roosevelt board as positions open up there over time.
Students will keep their enrollment at the merged institution, which will work to make sure they don't lose credits, Malekzadeh said. Roosevelt plans to offer employment to all Robert Morris faculty and staff members.
Roosevelt employed 201 full-time faculty members and 379 staff members as of last fall, the latest date for which data are available. Robert Morris had 49 full-time faculty members and 115 staff members.
Both institutions have been run efficiently, Malekzadeh said. Student demand will determine program mix, facilities use and other spending priorities in the future.
Full financial terms of the deal aren't being made public. University assets will be purchased from Robert Morris, but a spokeswoman declined further comment until the transaction is approved by the Higher Learning Commission.
Roosevelt has been working to boost its retention rates, Malekzadeh said. He sees that as a key strategy for the institution going forward.
"It's a contracting market, and we need to be cognizant of that," Malekzadeh said. "Adding the Robert Morris students to our students, we keep absolutely every one of them, if at all possible."
Wider Ramifications?
Higher education merger experts have been skeptical of the idea that institutions with falling enrollments, relatively small endowments and significant liabilities can reliably increase their strength through mergers and acquisitions. Yes, the merged institution may add scale and certain areas of strength. But mergers and acquisitions are likely to add each institution's weaknesses to the resulting university as well.
Still, in highly competitive markets with declining numbers of students -- like Illinois -- colleges and universities are likely to be under increasing pressure to find ways to cut capacity, add scale or realign themselves to meet changing student needs. That makes the Roosevelt and Robert Morris deal worth watching.
"An institution that's going to acquire another institution is going to have to really scrub and look through and see if there are programs they want," said David Tretter, president of the Federation of Independent Illinois Colleges and Universities. Tretter was interviewed before the deal between Roosevelt and Robert Morris had been announced. He was discussing mergers and acquisitions generally.
Infrastructure can make it hard for college mergers to pan out financially. Small institutions are the ones most likely to be in existential peril, so they are the most likely ones to be exploring deals. But two institutions that aren't very large might not have enough scale to realize cost savings, even after a merger.
"It's pretty hard to make that work with the cost of the physical plant and insurance," Tretter said.
Institutions that are close to one another might be able to find merger partners. So institutions in urban areas could be more likely candidates for the type of deal that Roosevelt and Robert Morris are pursuing than ones in rural areas.
"Probably my greater concerns are those institutions in those rural areas where you're not going to have an institution down the street," Tretter said.
Malekzadeh is a former business school dean who has studied strategic management and mergers. He said talk of such deals has become popular among college leaders recently.
"Almost any university president I had lunch or breakfast with for the past year or two has been mentioning mergers and acquisitions," he said.
Roosevelt's and Robert Morris's academic programs have about 40 percent overlap, Malekzadeh said. Robert Morris nursing programs and associate programs in allied health could fit with biology, biochemistry, allied health and health science administration baccalaureate programs at Roosevelt. Robert Morris has a master of information systems to be folded into Roosevelt's computer science programs.
Making it all fit together while focusing on retention will be complicated.
"True integration is looking at what each institution does well -- what we both do well, what we separately do well -- and leveraging that to help everybody," Krueger said.