You have /5 articles left.
Sign up for a free account or log in.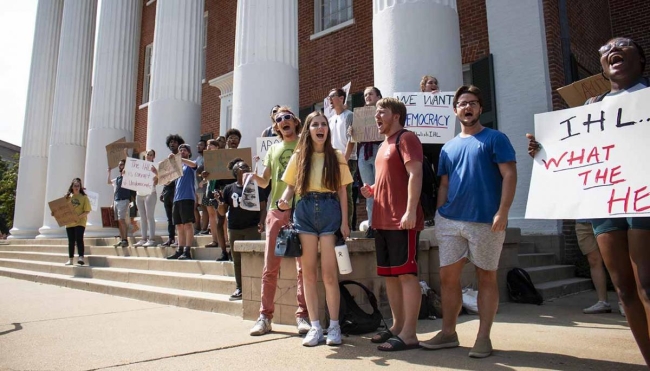 Billy Schuerman, The Daily Mississippian
The appointment of the University of Mississippi's new chancellor was met with protests by students and faculty members.
The Institutions of Higher Learning Board of Trustees appointed Glenn Boyce as chancellor. Boyce had been tasked with consulting on the search committee for the new chancellor and was never formally submitted as a candidate.
Boyce's name was not one of the eight candidates publicly presented.
Boyce previously acted as commissioner of higher education, associate commissioner for academic and student affairs for IHL, and before that as president of Holmes Community College.
The state board bypassed a multistep selection process in favor of Boyce, which drew cries of disapproval from critics who felt the board and the search process had been corrupt and predetermined.
Boyce allegedly become uninvolved in the search process in the spring, but that is contested.
Boyce was voted in unanimously by the board, all 12 members of which were appointed by Republican governor Phil Bryant.
When the formal announcement was made, students, faculty and some alumni flooded the room carrying signs and vocally expressing their displeasure. They had been tipped off the night before about the choice.
Protesters carried handmade signs reading "Glenn Boyce was not our choice," "joke of a process" and "#AbolishIHL."
The on-campus venue where the announcement was made had a moveable partition some protesters say was used to make the room smaller in order to keep protesters out. University police and officials cited fire code regulations as grounds to forcibly remove protesters.
Garrett Felber, assistant professor of history, was one of those protesters made to leave. Felber has been outspoken about his disappointment in the disregard for faculty and student opinion in the selection and lack of transparency in the overall proceedings.
"If they cared about what we thought, we wouldn't be in this position to begin with," Felber said of the board. "They're fully aware of what they're doing."
According to Felber, what most opponents of the protest were upset that Boyce was not an official candidate for the job.
"It's 12 people appointed by the governor who are unilaterally making decisions -- predetermined ones -- about the campus," said Felber. "These are the same people who deny us state funds every year, and who have no interest in higher education. If they could have it their way, they would have a football team, a bunch of venture capitalists and a racist fantasia."
When Felber first heard the news of Boyce's appointment, he said his first thoughts were "is this a joke?"
"We went from absurd to more absurd," said Felber of the announcement.
Anne Twitty, associate professor of history, first heard about the appointment via a text from a colleague, who heard about it from rumors on Twitter.
"One of the things we have all found so frustrating about so much of what has taken place is that it feels like not only was this an incredibly secretive process, and a process that didn't even accord to the schedule the IHL had laid out, but also we were having to find out about what was happening at our own university through social media and from the media rather than from the university or IHL," said Twitty.
Twitty said she felt "shock and surprise" that the board did not abide by the selection process they had sketched out for themselves and that they only went through the motions of considering faculty and outside input.
"I went through an extended period of disbelief that these initial reports were true," Twitty said. "When this news came out, I was really under the impression there was certainly another month if not two months left to go in this process, and that Dr. Boyce was not among those being seriously considered for the job."
"We were so adamant in the listening sessions -- which we all thought were fraudulent to begin with, but we dutifully went to these listening sessions and we said what mattered to us -- and the thing that mattered the most was transparency," Felber said.
"Transparency doesn't even begin to actually tell the story of political corruption at work here," Felber said. "It's a flagrant disregard of our community on campus, and it's an assertion by political powers that be in the state to run [the university] the way they see fit."
Felber's students on Friday were ready and eager to join in on the protests, feeling like they had not been appropriately heard in the process. Felber made it clear that no one was under the impression that students and faculty would be selecting their own chancellor, but they wanted at least the guise of being involved and having their opinions on the subject valued.
"I don't know how you can have a corrupt process and then talk about an outcome that's anything but corrupt," Felber said.
Twitty agreed with Felber saying that people understood that at the end of the day this was IHL's decision to make, but says it is "deeply insulting" that the board made it so apparent that they did not have any interest in considering outside feelings.
"I can't convey strongly enough what a punch in the gut all of this really feels like for those of us who work at the university and care about the university," Twitty said.
Twitty attended the Friday protests and said that as she walked across campus to the venue she was met with support and encouragement from her peers and community.
Twitty characterized the process as a sham and said that IHL had already determined who they would appoint long before the formal announcement was made.
"I think that the IHL is so incredibly out of touch that they probably didn't have any sense that this was the kind of reaction that this heavy-handed choice was going to engender," Twitty said.
Twitty said that board members' overall lack of academic backgrounds held them back from fully understanding the needs of the university. She also noted that there was no method for students, faculty, staff or alumni to have a say in the appointments of board members.
Twitty said that these frustrations toward IHL are felt across the state and system.
"They want a plantation-style government," Felber said, saying that the institutional knowledge of his peers is that IHL pushed out both of Boyce's predecessors.
Jeffrey S. Vitter stepped down in January after just three years as chancellor, which led to speculation about his departure. In 2015 the board ousted Dan Jones without much explanation, inspiring student protests. Jones had been in the position since 2009.
The student newspaper, The Daily Mississippian, did not hold back in an editorial in which they called the process and selection "bullshit."
The editorial board slammed IHL, saying that the board did not care what the university community thought about picking a new chancellor and calling Boyce's selection a "sham."
"Students, faculty and staff know and love this university more than the IHL board members. We deserve a say," the editorial read.
"Choosing Tony the Landshark as a mascot was a more legitimate process than the IHL's chancellor search; at least students had a say in choosing him," the editorial continued. "The IHL has no interest in student opinions, and now we know it with certainty."
(Tony the Landshark refers to the new Ole Miss mascot, which was officially changed in 2018 from the Rebel Black Bear.)
The editorial described the process as undemocratic and IHL as authoritarian.
"Dr. Boyce has deep ties to the University of Mississippi and within our state," said Alfred Rankins Jr., commissioner of higher education, in a press release. "He has a passion for the university, its students, faculty and administration."
Boyce has both a bachelor's degree in education and a doctorate in education leadership from the University of Mississippi.
"I am honored to be given this opportunity by the Board of Trustees and the Ole Miss family," Boyce said in the same release. "As an alumnus, I am deeply appreciative to the university for providing me the leadership skills and intellectual knowledge necessary for advancing my career. I am humbled by the responsibility given to me."
Upon his appointment Boyce has emphasized the importance of hearing input and learning from students. Other than that, he has not released a coherent plan for the university.
Boyce is set to begin his position around Oct. 13.
At this time no further statement has been released from the board regarding the backlash over Boyce. The Faculty Senate released a statement over the weekend calling out the process.