You have /5 articles left.
Sign up for a free account or log in.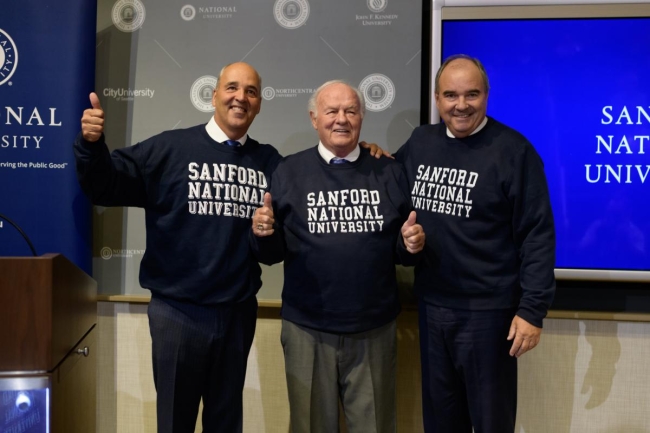 National University, a private nonprofit university that focuses on nontraditional students, will be renamed Sanford National University, after T. Denny Sanford, philanthropist and owner of First Premier Bank.
Sanford has been a benefactor of National University for the past six years and previously gave the university $150 million to launch several education and training programs. Sanford said he is now planning to donate $350 million over "a number of years."
"It's not just to put my name on the door, but rather to advance lots of programs that National University and myself have created," Sanford said.
National is the flagship of the National University System. Founded in 1971, the university focuses on working adults, with the average student age at 33. Classes are in a four-week format and can be taken online or on campuses in California and Nevada. Most students take courses online. Tuition is about $1,665 per undergraduate course, though Sanford and officials have said they are hoping they can lower that price.
"They get the job done," Sanford said, "without all the red tape and bureaucracy and so forth that the largest universities have."
Sanford has made headlines in the past decade for his commitment to "die broke" -- he plans to give away nearly all of his fortune in his lifetime. So far he has given away over $1 billion, mostly to education- and health-related causes.
His previous gifts to the university were primarily to initiate and expand various programs, such as the Sanford Harmony Program -- a pre-K-6 social learning program -- and the Sanford Institute of Philanthropy, which provides training to nonprofit fundraisers. While the university initially oversaw these programs, they are now managed by the broader university system.
Though officials at National will wait until December to consult formally with the board and stakeholders to nail down how to spend the money, they say they want to prioritize access and affordability while doubling down on some of their technological initiatives, such as predictive analytics.
The university previously invested $20 million in developing a new personalized education platform, an ongoing project. David Andrews, president of National University, said that using predictive analytics in higher education is fundamental to making college affordable and improving the outcomes and graduation rates of adult learners. Predictive analytics uses data to help students and faculty members stay on track, triggering early-warning alerts when a student slips.
Jeff Schreifels, senior partner at Veritus Group, a major gift consultant company, said the size of the gift is historic. "It will have a transformational effect on how that university moves forward from here," he said.
Schreifels also said National University is not typical for a recipient of a gift that size, but that the choice of National fits in well with Sanford's other donations. The fact that Sanford has given to the university before and expressed gratitude at how his donation was managed, Schreifels said, indicates that the leadership is excelling in their ability to understand donors' passions and interests while keeping them well informed of how their investment is being spent.
The renaming will be effective July 2020.